The summer fun continues for film fans in July, as Arrow deliver a bulging picnic basket packed with splatter flicks, J-Horror, crime classics, superior sequels and unmissable documentaries.
First up is the Dual Format special edition release of Jörg Buttgereit's 1991 splatter sensation Nekromantik 2, the follow-up to his controversial and groundbreaking masterwork. Starring the delectable Monika M. as a nurse with very dark desires, Nekromantik 2 sees Buttgereit, with a bigger budget, able to run riot with his truly depraved imagination in a jaw-dropping slice of German splatter. Presented with a new High Definition transfer approved by the director, and a host of behind the scenes features, this is a must for fans of the first film, and extreme cinema fanatics everywhere.
Also this month, J-Horror fans are in for a big treat with a Dual Format release of Kiyoshi Kurosawa's haunting Pulse, which sees people in Tokyo compelled to commit suicide after visiting a mysterious website. The special edition features a High Definition transfer and brand new interviews with the filmmakers.
July sees two fantastic releases for connoisseurs of crime cinema. Firstly, the arrival on Dual Format of Mike Figgis' acclaimed 1988 'Geordie noir', Stormy Monday, starring Sean Bean, Melanie Griffith, Tommy Lee Jones and Sting. Set in Newcastle, the film sees Bean as a nightclub janitor caught in a dangerous love triangle with Griffith and Jones.
Then there is the Dual Format release of New Battles Without Honour And Humanity - The Complete Trilogy, the 1970s Japanese crime classic series making its UK English-language home video debut. From legendary Battle Royale director Kinji Fukasaku, starring Bunta Sugawara in three separate yakuza stories set in various parts of Japan, the films are hard-boiled and action packed, and the limited edition set features new subtitle translations, a host of extras and a collectable book.
At the end of the month, the mother of all serial killers Norman Bates returns in Psycho II, released for the first time on UK Blu-ray. The 1983 sequel, directed by Richard Franklin, stars Anthony Perkins (as Norman), Vera Miles and Meg Tilly, and shocked cinemagoers when it first appeared, not least because it was so damned good – and has come to be regarded as one of the finest horror sequels ever made.
Also at the end of July, the release on DVD and Blu-ray of Future Shock! The Story Of 2000AD, a superb 2014 documentary about arguably the greatest British sci-fi comic ever, with interviews from the writers and artists that gave the world the likes of Judge Dredd, Strontium Dog and, of course, Tharg. It's a truly scrotnig film, and if you don't know what that means, you need to watch it immediately, along with over six hours of previously unseen extras.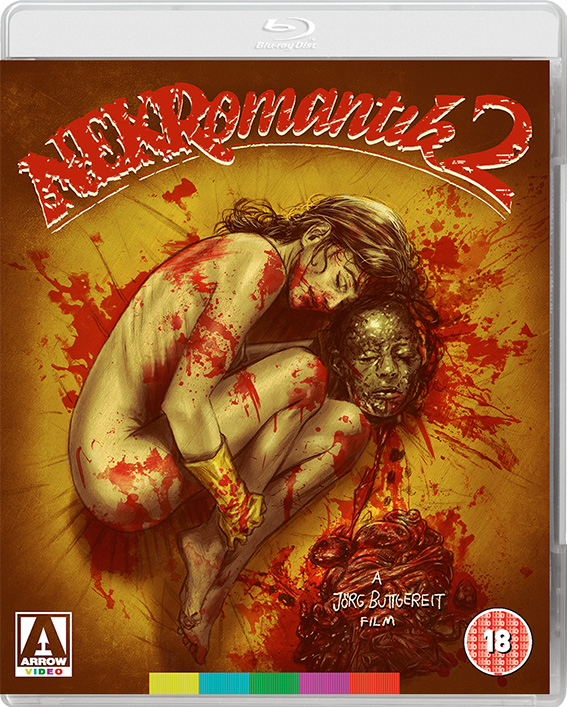 Nekromantik 2 | Dual Format (Blu-ray & DVD) | 3 July 2017 | £19.99
Monika isn't like other young women. She shares her small flat with Rob, a recently disinterred corpse which serves as the object of her affections. But then she meets good-natured Mark, and soon finds herself torn between the prospect of a 'normal' life with a living, breathing partner and her overwhelming desire for her rotting bed-fellow.
Once prosecuted in its native Germany for "glorifying violence", Jörg Buttgereit's follow-up to his ground-breaking Nekromantik is just as shocking as its reputation would suggest. But it's also a profoundly moving (if decidedly twisted) love story, and a thought provoking meditation on the nature of life and death.
Director-approved Special Edition contents:
High Definition transfer approved by director Jörg Buttgereit
High Definition Blu-ray (1080p) and Standard Definition DVD presentations
Original Stereo 2.0 audio (uncompressed PCM on the Blu-ray)
Optional English subtitles
Audio commentary with Buttgereit, co-writer Franz Rodenkirchen and actors Monika M. and Mark Reeder
Introduction to the film with Buttgereit, Reeder, Monika M. and producer Manfred Jelinski
Masters of Life and Death – a brand new documentary looking at the film's production and release history, featuring interviews with Buttgereit, Reeder, Monika M. and Jelinski

City of the Loving Dead – a walking tour of some of the original Berlin locations with Reeder and Jelinski

Necropolis: Jörg Buttgereit's Berlin – film scholar Dr. Marcus Stiglegger on the significance of the German capital as the backdrop for Nekromantik 2

The Making of Nekromantik 2 – vintage documentary viewable with two different audio tracks: an English track comprising audio interviews with Buttgereit, Rodenkirchen and Monika M., and a German track featuring radio interviews with Buttgereit and Rodenkirchen, with optional English subtitles
Nekro Waltz: The Music of Nekromantik 2 – Reeder discusses his work on the film's score

Outtakes reel
Nekromantik 2 Livekonzert – footage from the 20th anniversary Nekromantik 2 concert, with Monika M. and friends performing the live score

Nekromantik 2 Livekonzert – the complete 20-track audio recording of the concert [BD/DVD-ROM content]
Two Buttgereit short films: Bloody Excess in the Leader's Bunker (Blutige Exzesse im Führerbunker, 1982) and A Moment of Silence at the Grave of Ed Gein (2012)

Two Buttgereit-directed music videos: 'Rise Up' by Die Krupps (1997), starring Monika M., and 'Die Frau in der Musik' by Stereo Total (2007)
Complete collection of Buttgereit feature film trailers
Extensive image gallery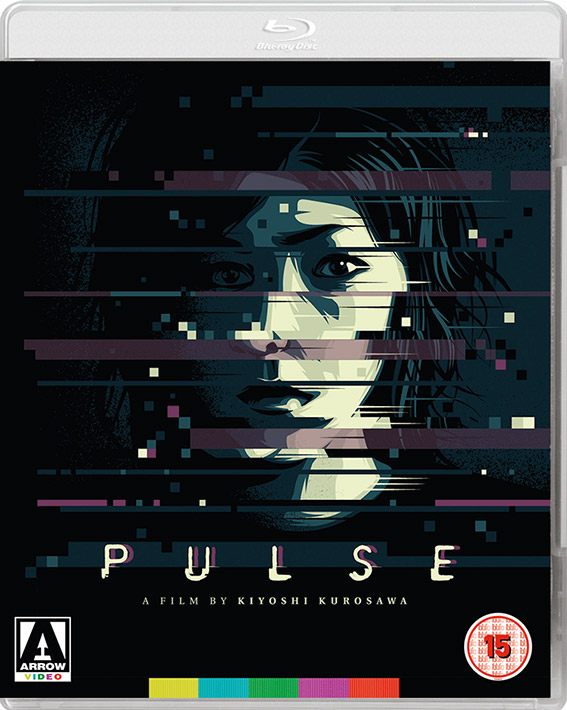 Pulse [Kairo] | Dual Format (Blu-ray & DVD) | 10 July 2017 | £19.99
Award-winning filmmaker Kiyoshi Kurosawa (Cure, Tokyo Sonata, Creepy) delivered one of the finest entries in the "J-Horror" cycle of films with this moody and spiritually terrifying film that delivers existential dread along with its frights. Setting his story in the burgeoning internet and social media scene in Japan, Kurosawa's dark and apocalyptic film foretells how technology will only serve to isolate us as it grows more important to our lives.
A group of young people in Tokyo begin to experience strange phenomena involving missing co-workers and friends, technological breakdown, and a mysterious website which asks the compelling question, "Do you want to meet a ghost?" After the unexpected suicides of several friends, three strangers set out to explore a city which is growing emptier by the day, and to solve the mystery of what lies within a forbidden room in an abandoned construction site, mysteriously sealed shut with red packing tape.
Featuring haunting cinematography by Junichiro Hayashi (Ring, Dark Water), a dark and unsettling tone which lingers long after the movie is over, and an ahead-of-its-time story which anticipates 21st century disconnection and social media malaise, Pulse is one of the greatest and most terrifying achievements in modern Japanese horror, and a dark mirror for our contemporary digital world.
Special Edition contents:
High Definition digital transfer
High Definition Blu-ray (1080p) and Standard Definition DVD presentations
Original 5.1 audio (DTS-HD on the Blu-ray)
New optional English subtitle translation
New interview with writer/director Kiyoshi Kurosawa
New interview with cinematographer Junichiro Hayashi
The Horror of Isolation – a new video appreciation featuring Adam Wingard & Simon Barrett (Blair Witch, You're Next)
Archive Making of documentary, plus four archive behind-the-scenes featurette Premiere footage from the Cannes Film Festival
Cast and crew introductions from opening day screenings in Tokyo
Trailers and TV Spots
Reversible sleeve featuring original and newly commissioned artwork by Tommy Pocket
First pressing only: Illustrated collector's booklet featuring new writing on the film by critic Chuck Stephens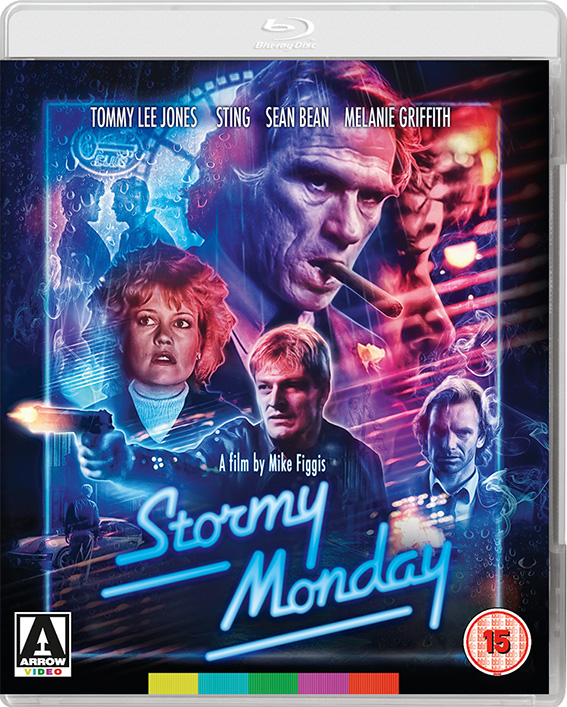 Stormy Monday | Dual Format (Blu-ray & DVD) | 10 July 2017 | £19.99
In 1988, Mike Figgis (Internal Affairs, Leaving Las Vegas) made his feature directorial debut with Stormy Monday, a taut, noir-influenced gangster movie that drew on his key formative influences, including his youth in the Newcastle of the late '50s and early '60s, and the city's vibrant jazz scene.
Sean Bean (Ronin) plays Brendan, a young loafer taken under the wing of jazz club owner Finney (Sting, Quadrophenia), who's under pressure from American mobster Cosmo (Tommy Lee Jones, The Fugitive) to sell up in exchange for a cut of a local land development deal. Brendan just wants to earn an honest crust, but his burgeoning relationship with Cosmo's ex-lover Kate (Melanie Griffith, Body Double) threatens to drag him into the middle of the impending showdown…
A romantic crime thriller with genuine heart, Stormy Monday features striking, rain-drenched cinematography by Roger Deakins (The Big Lebowski, No Country for Old Men) and a seductive jazz score provided by the director himself. Presented here for the first time in high definition in the UK, there has never been a better time to discover one of this iconic filmmaker's most assured and uniquely haunting efforts.
Special Edition contents:
High Definition Blu-ray (1080p) and Standard Definition DVD presentations
Original stereo audio (uncompressed on the Blu-ray disc)
Optional English subtitles for the deaf and hard of hearing
Audio commentary with Mike Figgis, moderated by critic Damon Wise
New video appreciation by critic Neil Young, and a "then and now" tour of the film's Newcastle locations
Theatrical trailer
Reversible sleeve featuring original and newly commissioned artwork by Jacey
First pressing only: Booklet featuring new writing by critic Mark Cunliffe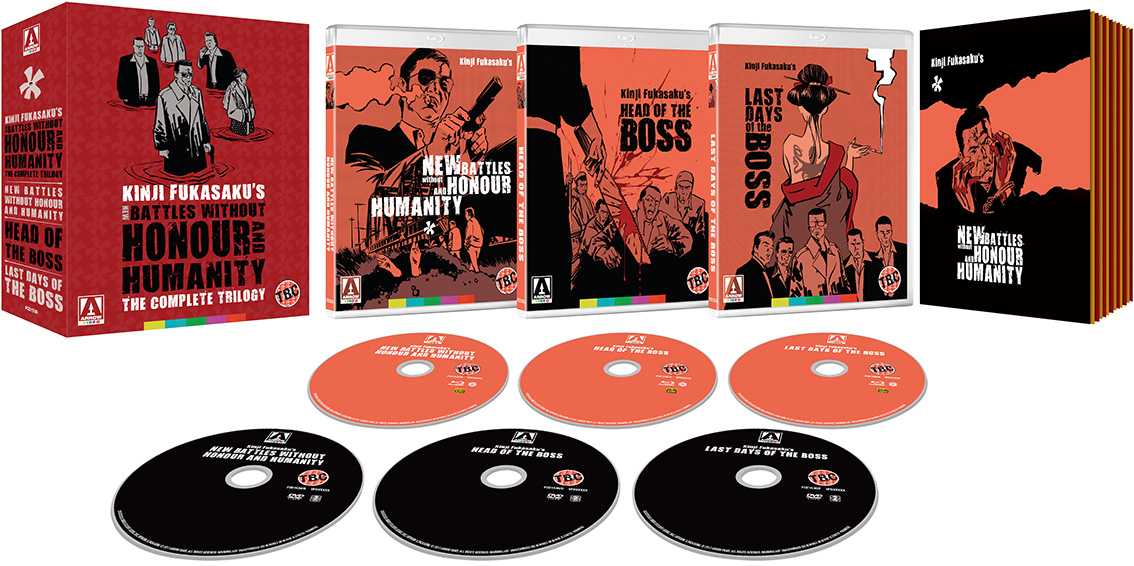 New Battles Without Honour And Humanity | Dual Format (Blu-ray & DVD) | 17 July 2017 | £59.99
In the early 1970s, Kinji Fukasaku's five-film Battles Without Honour And Humanity series was a massive hit in Japan, and kicked off a boom in realistic, modern yakuza films based on true stories. Although Fukasaku had intended to end the series, Toei Studio convinced him to return to the director's chair for this unconnected, follow-up trilogy of films, each starring Battles leading man Bunta Sugawara and telling separate, but fictional stories about the yakuza in different locations in Japan.
In the first film, Bunta Sugawara is Miyoshi, a low-level assassin of the Yamamori gang who is sent to jail after a bungled hit. While in stir, family member Aoki (Lone Wolf and Cub's Tomisaburo Wakayama) attempts to seize power from the boss, and Miyoshi finds himself stuck between the two factions with no honourable way out. In the second entry, The Boss's Head, Sugawara is Kuroda, an itinerant gambler who steps in when a hit by drug-addicted assassin Kusunoki (Tampopo's Tsutomu Yamazaki) goes wrong, and takes the fall on behalf of the Owada family, but when the gang fails to make good on financial promises to him, Kuroda targets the family bosses with a ruthless vengeance. And in Last Days of the Boss, Sugawara plays Nozaki, a labourer who swears allegiance to a sympathetic crime boss, only to find himself elected his successor after the boss is murdered. Restrained by a gang alliance that forbids retributions against high-level members, Nozaki forms a plot to exact revenge on his rivals, but a suspicious relationship with his own sister (Chieko Matsubara from Outlaw: Gangster VIP) taints his relationship with his fellow gang members.
Making their English-language home video debut in this limited edition set, the New Battles Without Honour And Humanity films are important links between the first half of Fukasaku's career and his later exploration of other genres. Each one is also a top-notch crime action thriller: hard-boiled, entertaining, and distinguished by Fukasaku's directorial genius, funky musical scores by composer Toshiaki Tsushima, and the onscreen power of Toei's greatest yakuza movie stars.
New Battles Without Honour and Humanity (1974)
1950. In Kure City in Hiroshima, ambitious yakuza soldier Makio Miyoshi (Bunta Sugawara) botches an attempt on the life of a rival boss, and is sent to prison for eight years. In the interim, his Yamamori gang benefits from the country's newfound prosperity and extends its underworld power. When he's released, Makio must mediate a split between the boss and his own bonded brother, Aoki (Tomisaburo Wakayama), which threatens to erupt into violence at any time, even though Makio is about to embark on a more stable life with a beautiful, half-Korean hostess (Reiko Ike) who's fallen for him. But when Boss Yamamori (Nobuo Kaneko) begs him to kill Aoki, Makio is faced with a crisis of honor which calls into question his loyalty to the gang. Kinji Fukasaku's immediate follow-up to his immensely popular five-film series is a darker, more violent re-telling of the original story, with a new cast of characters fighting to reach the top of the crime world of postwar Japan.
New Battles Without Honour and Humanity: The Boss's Head (1975)
1968. Gangland strife in Northern Kyushu reflects family troubles within the Owada gang when boss Owada (Ko Nishimura) takes in wanderer and assassin Shuji Kuroda (Bunta Sugawara) after he does time for the assassination of a rival boss. Rejecting his drug-addicted son-in-law Kusunoki (Tsutomu Yamazaki), much to the anguish of his conflicted daughter Misako (Meiko Kaji, Female Prisoner Scorpion), Owada sets up his own demise when rogue elements within his gang notice the unrest. Kuroda, promised a payback for his jail time, also targets the new Owada boss with a ruthless vengeance, and recklessly lays waste to the local crime elements in order to achieve his financial rewards. Director Kinji Fukasaku takes his popular series in a new, original direction with this standalone film, and introduces a new style and method of storytelling to the yakuza genre, including a pair of female characters who are just as calculating and ruthless as their male counterparts.
New Battles Without Honour and Humanity: Last Days of the Boss (1974)
1976. A personal dispute results in two dead bodies in Amagasaki, a minor incident which explodes into a full-blown war between the Kawahara gang and the Yonemoto of Osaka. Sensing discord, much larger rival gangs throw their weight into the conflict in an effort to coalesce their own underworld power. When a top boss is killed as an example, his adopted son Shuichi Nozaki (Bunta Sugawara), an ordinary laborer, reluctantly joins the criminal world in order to avenge his benefactor's death. Complicating matters are his younger sister Asami and her gangster husband (Chieko Matsubara and Koji Wada), who are affiliated with the gang responsible for the killing, as well as Nozaki and Asami's own suspicious relationship. Nozaki charges forward on his quest for vengeance, even though his own family may become a casualty to his violence. Fukasaku's final film in the series once again tells an independent tale of the way poisonous underworld elements can infect even the most ordinary lives.
Special Edition contents:
High Definition digital transfers of all three films
High Definition Blu-ray (1080p) and Standard Definition DVD presentations
Original uncompressed mono audio
New optional English subtitle translation for all three films
Beyond the Films: New Battles Without Honour And Humanity – a new video appreciation by Fukasaku biographer Sadao Yamane
New Stories, New Battles And Closing Stories – two new interviews with screenwriter Koji Takada, about his work on the second and third films in the trilogy
Original theatrical trailers for all three films
Reversible sleeve featuring original and newly commissioned artwork by Reinhard Kleist
Illustrated collector's book featuring new writing on the films, the yakuza genre and Fukasaku's career, by Stephen Sarrazin, Tom Mes, Hayley Scanlon, Chris D. and Marc Walkow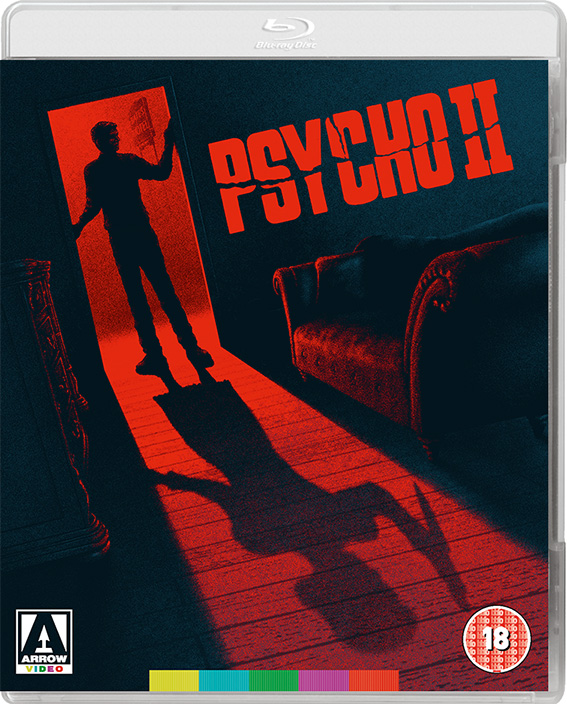 Psycho II | Blu-ray | 31 July 2017 | £19.99
Just when you thought it was safe to step back in the shower, Norman Bates returns in this expertly crafted sequel to Alfred Hitchcock's acclaimed horror classic.
Deemed fit to return to society more than two decades years after his original crimes, Norman Bates has returned to his family mansion and adjacent motel. Joined by an unlikely house guest in the form of young Mary (Meg Tilly), things seem to be looking up for Norman – until the grisly murders start up afresh. Has Norman really put his terrible past behind him, or is he losing his grip on sanity all over again?
Aided by a fiendishly clever script from Fright Night director Tom Holland, Psycho II is regarded by many as one of the most successful horror sequels of all time, with a plot that will keep you guessing until the very end…
Special Edition contents:
Digital Transfer from Original Film Elements
High Definition Blu-ray (1080p) presentation
Original stereo audio
Optional English subtitles for the deaf and hard of hearing
Audio commentary with writer Tom Holland
Never-before-heard audio interview with director Richard Franklin
Archive Interview with star Anthony Perkins
Vintage EPK material featuring interviews with cast and crew
Trailers & TV Spots
Stills gallery
Reversible sleeve featuring original and newly commissioned artwork by Adam Rabalais
More to be announced!
First pressing only: Collector's Booklet with new writing on the film alongside a reprint of the Psycho II chapter from Richard Franklin's unpublished autobiography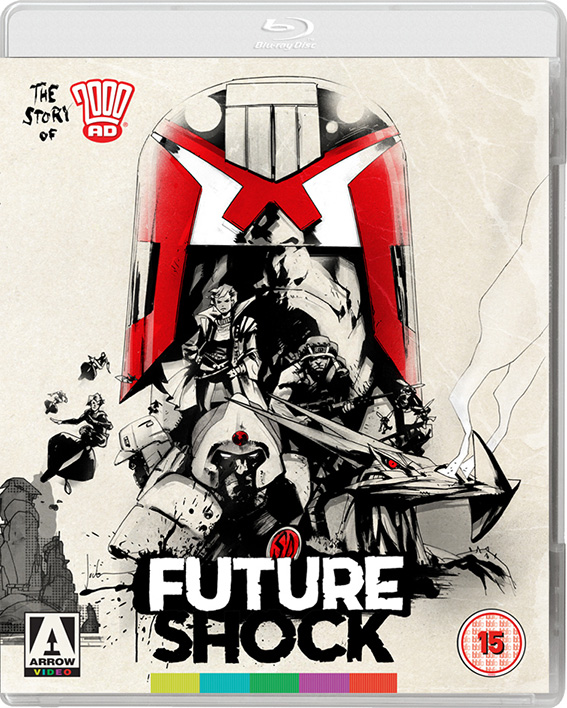 Future Shock: The Story Of 2000AD | Blu-ray and DVD | 31 July 2017 | £15.99 (DVD) / £19.99 (BD)
First published in 1977 at the height of the punk era, UK Sci-Fi comic 2000AD was violent, anti-authoritarian, darkly funny and distinctly British. With such iconic characters as Strontium Dog, Nemesis and Judge Dredd, it became the anarchic underdog that forever changed the face of the international comics industry.
Offering a comprehensive overview of the comic's history, Future Shock! takes a funny, moving and passionate look at the various highs and lows of how a band of talented eccentrics came together to create a visionary and extraordinary publication that still remains a game-changer more than 40 years later.
Featuring interviews with the likes of Pat Mills (ABC Warriors, Slaine), Dave Gibbons (Watchmen), Neil Gaiman (The Sandman), Karl Urban (Dredd) and Alex Garland (Ex Machina), Future Shock! is the definitive story of the most successful comic in the galaxy - now loaded with over six hours of previously unseen extras.
Special Edition contents:
Exclusive brand new interview with Steve MacManus (25 mins)
Extended chapter featurette: Cheap Entertainment – The Appeal of comics (9 mins)
Extended chapter featurette: Judge Dredd (13 mins)
Extended chapter featurette: Dredd 2012 – True in Spirit (13 mins)
Extended chapter featurette: 2000AD Vs the USA (15 mins)
2000AD Strip featurette: Bad Company/Peter Milligan (5 mins)
2000AD Strip featurette: Tharg's Future Shocks/Various (8 mins)
2000AD Strip featurette: Rogue Trooper/Dave Gibbons & Cam Kennedy (7 mins)
2000AD Strip featurette: Slaine/Pat Mills (11 mins)
2000AD Strip featurette: Strontium Dog/Carlos Ezquerra (5 mins)
Art Jam – How to draw Dredd & Nemesis by Jock & Henry Flint (4 mins)
Pat Mills visits Kings Reach Rower (6 mins)
In the Soundtrack Studio with Justin Greaves (4 mins)
Extended interview with Pat Mills (84 mins)
Extended interview with Grant Morrison (33 mins)
Extended interview with Neil Gaiman (17 mins)
Extended interview with Dave Gibbons (47 mins)
Extended interview with Karen Berger (33 mins)
Blooper Reel (2 mins)
Teaser Trailer
UK Launch Trailer
Reversible sleeve featuring original and newly commissioned artwork by Jock
First pressing only: Illustrated collector's booklet