Back in November of last year I had the chance to preview the latest film from Kurosawa Kiyoshi, a director whose work I had been following for some time and had first been introduced some years back by students of the Japan Academy for Film in Tokyo. On my last night in the city we all got seriously drunk in a Shinjuku basement bar that had built a reputation for its range of award-winning shōchu, every one of which we enthusiastically consumed during the course of the evening. As a parting gift they gave me a DVD of Cure [Kyua], a complex and deeply disturbing psychological drama that got seriously and uncomfortably under my skin. Not long after I caught up with Pulse [Kairo], a compelling study of loneliness and isolation dressed in creepily effective J-horror clothing. More recent Kurosawa films such as Doppleganger felt less focussed than these early works, but Tōkyō Sonata caught just about everyone by surprise, a family drama with no trace of fantasy horror, and a film that found an international and domestic audience beyond the cult following of his genre pieces.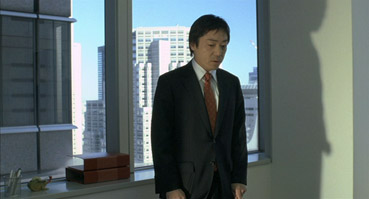 My first viewing of the film was a relatively isolated one, held in the company of a Japanese friend who was able to elaborate on cultural elements I might otherwise have missed. More recently I re-watched it as a member of a responsive cinema audience, an experience that highlighted both it's strengths and those elements that didn't work quite so well for me. For the most part, though, it played every bit as effectively as it had on previous screenings, and I've already covered the details of why in my earlier review here.
What the most recent viewing confirmed was the considerable strengths of the first two thirds, of it's compelling portrayal of a troubled family thrown into emotional self-destruction by the once unthinkable demon of unemployment. Everything clicks here, in the performances, in the social commentary, the specific details of business and family life, in the exploration of emasculated male and his standing in a traditionally patriarchal society, and in the restraint and precision of Kurosawa's filmmaking.
My uncertainty remains about the turn the film takes in the final third, where the family members individually flee the constriction and humiliation of their daily lives and become involved in events whose upscaled drama and simultaneous unfolding sit uncertainly with the realism of the preceding scenes.
But watching the film with an audience also highlighted scenes I'd perhaps not fully appreciated the first time around. One of my favourites has to be a single shot in which the whole family sit down for dinner but are unwilling to start eating until the father figure invites everyone to do so (the Japanese term 'itadakimasu' is one you hear a lot when eating in Japan and has no real English equivalent). Having been stripped of his breadwinner status in the world of work, father Ryūhei uses this moment to savour what remains of his patriarchal authority at home, artificially delaying the start of the meal to leisurely pour and savour a beer, while his family, unwilling at this stage to question his position, twitchily wait to tuck in. I was rather pleased to learn from the extras that this is also one of Kurosawa's own favourite sequences in the film.
Like Mad Detective, Eureka's first Blu-ray release under the Masters of Cinema banner, Tōkyō Sonata is recent film that should by rights be in tip-top condition and thus ripe for an HD transfer. That said, Kurosawa takes more visually low-key approach than his Hong Kong counterparts and the difference between the DVD and Blu-ray transfer is thus nowhere near as marked as it was on the Mad Detective release. Both discs have a well balanced picture with solid contrast and black levels, and both have the same toned-down colour palette (which appears to be as much down to production design and costuming as post-production grading). As you'd expect, the Blu-ray transfer is sharper, but not to the degree that your eyes widen when you put the two discs side-by-side. The improvements are largely in texture and detail – the leaves on trees, the clarity of signs and logos, the look of faces and clothing. The Blu-ray certainly feels crisper, but you won't feel short-changed by the DVD. The DVD picture is also slightly brighter than the Blu-ray, resulting in a stronger contrast on the Blu-ray but also a very slight loss of shadow detail.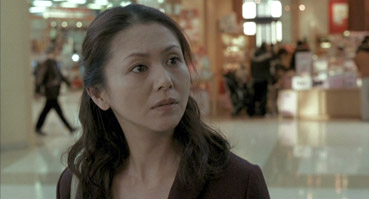 Soundtrack wise, the DVD offers only Dolby 2.0 stereo, while the Blu-ray has a choice between Dolby 2.0, Dolby TrueHD 2.0 and DTS-HD Master Audio 2.0. Given the film's subtlety and non-aggressive soundtrack, the Dolby 2.0 is fine, sporting the sort of clarity and range you'd expect from a modern film. On a regular amp there's no discernable difference between this and the HD tracks – those with a full HD sound setup will be better equipped to comment on this.
The screen grabs, by the way, are from the DVD. Still haven't cracked the Blu-ray grab problem yet.
Making-of Documentary (60:39)
A leisurely paced collection of interviews and behind-the-scenes footage that's not quite as revealing as you might expect, in part because everyone is so complimentary of everybody else's work, which sometimes gives it the feel of a promotional EPK. Kurosawa himself provides the most useful input, on why he chose to make this film (he was looking for something as far away from horror as he could get), his approach to the story and specific scenes, filming in Tokyo, and the social situation in which the film is set. The actors chip in with some stories of the specifics of his direction. A lot of the wobbly behind-the-scenes footage is decorative rather than illuminating, but the scene where Koyanagi Yū has to lose his long hair for the army haircut is rather fun, and the setting up of the special effect to fake Inowaki Kai's piano playing is a real eye-opener.
Q&A, Tōkyō, Sept 2008 (12:15)
The director and main cast react to their Un Certain Regard win at Cannes and recall a few of their stronger memories of the shoot. Kagawa Terayuki admits to being bowled over by the news of the win, while Kurosawa was completely caught out because he didn't realise the film had even been nominated.
Premiere, Tōkyō, Sept 2008 (15:11)
The director and main cast very politely address the audience before the film's Tokyo Premiere at the Ebisu Garden Cinema. Once again all are very complimentary of each other's work, with Kurosawa coming in for the most praise. Kagawa Terayuki even regards the film as the pinnacle of his career, providing a serious build-up for the waiting audience.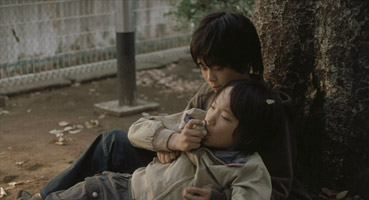 DVD Discussion (8:33)
Presumably shot for the Japanese DVD release (though this may well be a Eureka exclusive, I've not been able to check), this featurette has Kurosawa and actors Kagawa Terayuki and Koizumi Kyoko briefly talk about the advantages of watching films on DVD (you can pause them and nip to the loo, Koizumi informs us) and then selecting their favourite sequence from the film.
UK Trailer (2:12)
A not too seductive trailer for a difficult to promote film, sprinkled with a few super-positive press quotes. This is in HD on the Blu-ray disc.
Booklet
A lighter than usual MoC booklet featuring an interesting but far from exhaustive essay on Kurosawa and Tōkyō Sonata by regular MoC contributor B. Kite.
Although even less comfortable with that final third tonal shift than I was on the first viewing, there's still so much that is quietly terrific in Kurosawa Kiyoshi's compelling and perceptive family drama that it comes wholeheartedly recommended. Whether you go for the Blu-ray or the DVD will depend on your system and preferences – in terms of extras they're on an equal footing and the picture quality is solid on both, and while the Blu-ray sharpness is not as big a leap over the DVD as it is on some films, the difference is still clearly evident. Personally I'd go for the Blu-ray, not just for the superior picture, but also to support Eureka's continuing move into the HD format. After all, who knows what they may have waiting in the wings that's dependent on current sales?