Second Run have announced a follow-up release to their excellent Czechoslovak New Wave Collection, unsurprisingly titled The Czechoslovak New Wave Collection Volume II. This specialy priced, Limited Edition 3-disc set comprises three extraordinary features from a golden age of Eastern European cinema which came to be known as the 'Czechoslovak New Wave'. This brief period, from 1963 to 1969, produced an astonishing sequence of films that made a huge impact on world cinema. These three integral works of that most creative period were made in the most difficult of circumstances under the gaze of Government censors, yet achieved a miraculous and subversive marriage of content and form. Now, fifty years on, the films remain as remarkable as ever.
The films in this set are:
A Blonde in Love [Lásky jedné plavovlásky] (Miloš Forman, 1965)
Widely regarded as one of the great films of the 60s, this bittersweet romance from Milo Forman, the multiple Oscar-winning director of One Flew Over the Cuckoo's Nest and Amadeus, unfolds as a sweetly seductive film but also provides a wry critique of life under totalitarianism. A subtle and beautifully observed social satire which maintains a remarkable balance between despair and hope.
The Party and the Guests [O slavnosti a hostech] (Jan Nĕmec, 1966)
Considered the most politically dangerous film made during the short flowering of Czech cinema in the 1960's – and distinguished by being 'banned forever' – Nĕmec's film is a masterpiece of barbed, darkly sinister wit. As a biting satire of authoritarianism and conformity and with its astute observations of human nature, the film's universal relevance remains potent to this day.
Larks on a String [Skřivánci na niti] (Jiří Menzel, 1969)
Jiří Menzel's searing political comedy audaciously combines black humour with grim reality. Set in a scrap metal yard where political dissidents are interned for 're-education', the film is both a powerful critique of totalitarianism and a celebration of the resilience of the human spirit. The film was banned and remained unseen until 1990, when it was finally released to great acclaim winning the grand prize at the Berlin Film Festival that year.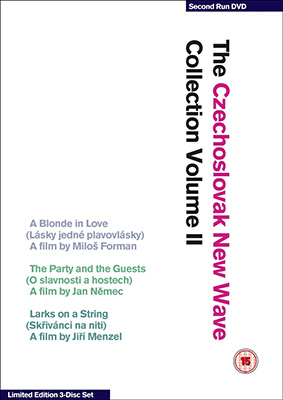 The Czechoslovak New Wave Collection Volume II will be released as a 3-disc DVD set on 7th December 2015 by Second Run DVD at the RRP of £24.99.
Special features:
Filmed appreciation of 'The Party and the Guests' by author and film programmer Peter Hames

Jiří Menzel: 7 Questions an idiosyncratic reflection on Larks on a String and its history, shot by the director

Booklets featuring essays by writer, editor and film historian Michael Brooke, author and film programmer Peter Hames and DoP Jaromír ofr