| | |
| --- | --- |
| | "The only way to deal with an unfree world is to become so absolutely free that your very existence is an act of rebellion." |
| | Albert Camus |
The opening of Miloš Forman's second feature and crossover breakthrough Lásky jedné plavovlásky/A Blonde in Love (also known in the America by the title The Loves of a Blonde) could appear in any mid-sixties teenpic – language barriers and other nods to its Czechoslovakian roots accepted, of course. Even so, there's something almost Beatleseque about the way an unnamed girl (Táña Zelinková) sings and plays her acoustic guitar. She's sweet, effervescent and practically bursting to the brim with promise as she regales us with a musical tale of how love turned her into a hooligan. It's a clever hook, and one that'll reel you into this story before you even realise. However, don't be fooled into thinking that the immense charm and wit showcased by these early moments automatically means all that follows it will be delivered in the same tone. This is not a frothy, throwaway film solely concerned with juvenile romance.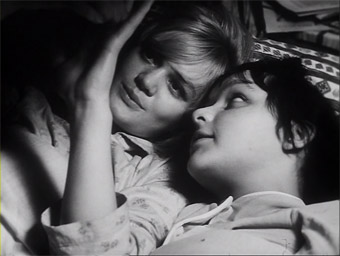 That said, I'd be remiss if I painted an entirely bleak picture as a description of the remainder of its eighty-one minute running time, because that's simply not true. The lighter moments, sprinkled throughout the film are a glimmer of hope; a break in the cloud. In essence, Blonde is a film about the consequences of the hand we're dealt; the fickle finger of fate, and its effect on one blonde in particular, pretty a factory girl, Andula (Hana Brejchová), living in the Czech town of Zruč. As is common territory with coming-of-age tales, Andula waits, stuck in the grind of daily life, waiting for something or someone to come her way.
You don't need to have any grasp of Czech or concentrate completely on the subtitles to know what kind of girl she is, you feel it; and feeling is what is what immediately makes this film stand out. It doesn't need vast monologues or lengthy, drawn-out scenes either. Like his fellow countrymen Jan Němec (his second cameraman on Diamonds of the Night, Miroslav Ondříček, makes his debut here as Forman's cinematographer after several projects together) and František Vláčil, Forman is a director who can express so much with relatively little. For a film which drifts and appears almost structure less, there's an enviable sense of economy here which counteracts that idea entirely. Far from being heavily plotted with equally dense imagery, it has a beautiful sort of streamlined appeal; which only serve to highlight the stark contrasts on screen: ranging from the snowy woodlands near Andula's home to the crowded spaces of the factory and the train station (some of Forman's earliest large-scale crowd scenes).
Luckily for the director, his cast are more than able to carry the burden of such a spare approach. Blonde is film which feels and sounds authentic, thanks to the keenly-observed dialogue and the mix of acting talent on display, which is comprised of both made up of both non-professional and professional actors. Brejchová (the director's former sister-in-law) launched her career from this performance and it's easy to see why. Like many a cinematic blonde before her – she's more Christie or Bardot than Monroe or Dors, perhaps with a hint of Fontaine – she's captivating to watch, and you wonder why she's one left pining away for her perfect fairytale romance.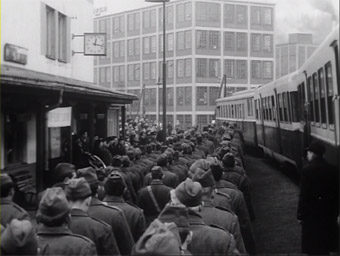 Life though, as young Andula finds out, doesn't run as smoothly as that and she has to wait a while before she finds herself a handsome young prince. Fittingly, the film's structure borrows that dream-like state. Rather than represent her life in linear fashion, detail and all, we get glimpses of it. Often, it almost feels like we happen upon her, as if we've perhaps just opened a door, pulled back a curtain or glanced, curious through a keyhole. As we watch snatches of her nights and days unfold before us, we become the admirer she never notices. The only ones privy to all her facets.
In one scene she's the quiet girl, working in the shoe factory. In another, she's dreamy and romantic talking to her friend about her sweetheart (and possible fiancé) Tonda (Antonín Blažejovsky). Later, she's sat bored with her friends waiting for a dance partner – looking the epitome of teenage ennui whilst doing it – disappointed that the newly-billeted soldiers aren't the handsome young men they envisaged, but middle-aged and married, old enough to be their father. Just when you wonder what else there is to this girl, her final and the most vulnerable side is revealed when she falls for young pianist Milda (an impressive Vladimír Pucholt, in a part specifically written for him) who's playing at the dance.
To reveal anymore about what happens to Andula and those around her, regardless of the film's reputation would be unfair, since one of the its many strengths is the air of mystery it creates through Andula, how she behaves and who she interacts with through the course of the film.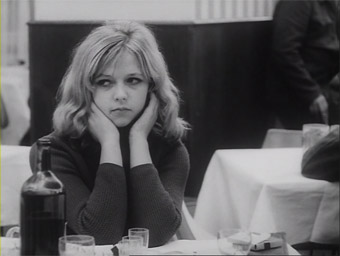 In many ways, the three-act structure could play perfectly well as three short films in their own right, with Andula as the common thread. It's only when you stand back and consider the film as a whole when you realise what a powerful film Blonde really is. The fact that Forman and his fellow screenwriters Jaroslav Papoušek and Ivan Passer achieve this with such subtlety and grace only goes to show how talented each man is. Working under the considerable constraints of the Czech authorities it would've been easier to create a film which flies in the face of the establishment much more openly, but in doing so they'd have also ensured that it would be banned (a fate which befell his next film Hoří má panenko!/The Fireman's Ball). Sure enough, if you watch Blonde with an informed eye, its Communist critique and darker tone will be more obvious, especially if you're well-versed in Czech history and/or Forman's biography, but it's also something that reveals itself over time through repeated viewing. The isolation and unhappiness Andula and those around her feel grows each time I watch, and each time, she slowly morphs from a pretty, rather giddy young girl into the older face of the woman leading the factory union meeting, who extols the virtues of honour – quite literally towing the party line – before leading the girls to vote to improve their behaviour. They're destined to become their mothers, and the 'nice boys' they marry will become their fathers if nothing changes.
The futures of the women are not only bleak, but they're also lonely. The film's final moments, the bookend to the opening about Tonda, show that in the face of such constraints, Andula does what she knows, and retreats into fantasy. This time, her other, better life is built around Milda. It's an incredibly bittersweet moment, and cuts surprisingly deep.
A clean 1.33:1 transfer of a film whose visual style is more that of a location documentary than what we tend to think of as a traditional feature. Thus there is a slight softness to some imagery and a contrast range whose punchy blacks and milky whites are sometimes achieved at the expense of shadow and highlight detail. But for the most part this really does work for the film's naturalistic style and when the mid-tones shine through they are very well balanced. This is certainly as good as I've ever seen the film look.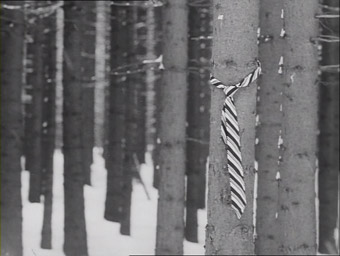 The Dolby 2.0 mono track tends to favour the trebles, but is clearer and richer than you might expect, something particularly evident in the music played the early station scene in which the returning soldiers are welcomed home.
Second Run's catalogue is of consistently high quality, and their first release of 2011 continues to reach that benchmark. Forman's film is digitally remastered with improvements made to both picture and sound. Also, as you'll have come to expect from this company, they've also taken care to improve the subtitle translation.
Beyond those improvements, the real treat comes in the form of the accompanying illustrated booklet, dedicated entirely (save for the usual production credits) to an essay on the film by Michael Brooke, writer and film historian, who previously contributed to the booklet for Jan Němec's Diamonds of the Night. This is a great read, and discusses all you'll need to truly appreciate Forman's film, whether a long-time admirer or not. Alongside some typically great analysis and insights for those less knowledgeable in regard to Forman's earlier work or indeed Czech cinema, which I won't spoil your enjoyment of here by referring to in great detail, what I really enjoyed was the section of the piece devoted to the reception of A Blonde in Love, which uses a selection of contemporaneous quotes from a diverse range of sources to illustrate just how highly regarded the film was at the time of release. For me, it contextualised the film in a way I sometimes find difficult to grasp when watching older and/or foreign-language cinema, because it can feel like your opinions are drifting in air without anchor, so while you can clearly enjoy a film that wasn't made in the last year or so, you're at a disadvantage as to what it really meant for people seeing at the time. In the case of Forman's film of course, the esteem it's held in has only been cemented over time, but for other films whose fortunes are favourable, it's always interesting to see how opinions change throughout the years.
A Blonde in Love is a deftly-executed piece of cinema. A delicate balance of social satire and bittersweet romance, the years have diminished none of its charm, beauty or emotional affect. If you've only ever seen the critically-lauded films Miloš Forman made once he left his native Czechoslovakia for Hollywood, then take the time to watch this. You'll see that he's just as adept at telling stories closer to home as well as exploring the lives of those on more distant shores. Highly recommended.