| | |
| --- | --- |
| | "How can the bird that is born for joy, / Sit in a cage and sing?" |
| | From, The Schoolboy by William Blake in Songs of Experience (1794) |
| | "The good old days are draining away. This era has crushed you. What do you intend to do?" |
| | The Professor |
Fate is a cruel mistress, and there's many a director who have seen their creations banned, shelved to a dusty oblivion or in some cases burned for daring to speak out against the tyrannies of an unjust political regime. All too rarely do their films see the light of day and reach the wider audience they so obviously deserve. However, there are twists of fate too. In the passing of years, ideologies can change; dictators can be overthrown and the kind of just governments thought to be a pipe dream in the 1960s are a reality in the 1990s.
For Jiří Menzel, perhaps one of the most famous directors of the Czechoslovak New Wave, it took over twenty years for his film Skřivánci na niti/Larks on a String to obtain theatrical release at the Berlin Film Festival in 1990, but, in addition to long overdue praise, the he was rewarded with The Golden Bear. Made during an all-too brief period of liberty in 1968, it was banned shortly after its completion when the Communist regime was restored in the aftermath of the Soviet invasion. Menzel's long-time collaborator, cinematographer Jaromír Ŝotr, fought to save the film they'd worked so on, cutting the sequences deemed most offensive, thereby allowing it to be seen by some audiences. As a result, it would not be shown as originally intended until those scenes were reincorporated from a work print before its Berlin premiere.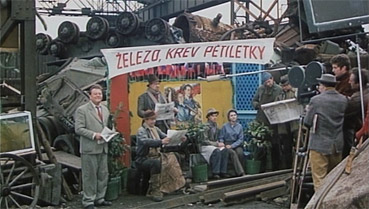 Larks is the third of Menzel's six films borne from his creative partnership with acclaimed writer Bohumil Hrabal (the most famous of which being the Oscar-winning Ostre sledované vlaky/Closely Observed Trains) and is based on his collection of short stories Inzerát na dům, ve kterém uz nechci bydlet/Advertisement on a House I Do Not Live in Anymore, published in 1965. The film's title comes from an earlier collection of stories that were abandoned before publication, and the image it conjures is particularly fitting for a country who continuously suppressed its people for so many years, but also for a film with such a turbulent history.
So often, art speaks for people when they cannot or dare not, for fear of reprisal. Larks does that, and more, by speaking loud and clear through its band of brave misfits, members of the bourgeoisie working in a scrap yard in the town of Kladno in Prague, after the working-class uprising of 1948. Thrown together by circumstance in the name of re-education, the group includes a philosophy professor and former librarian (a wonderful Vlastimil Brodský, who also starred in Closely Observed Trains), who refuses to burn books; a prosecution lawyer (Leos Sucharípa) who believes in everyone's right to a defence; a saxophonist (Eugen Jegorov) whose only crime was possession of an instrument deemed too bourgeois, and a young cook Pavel (Václav Neckár another Trains cast member) who is a Seventh-day Adventist and refuses to work on a Saturday. The only willing volunteer in the group is dairyman (Vladimír Ptácek), who closed his premises and came to 'work for Socialism.' Watched over a suited foreman (a great Rudolf Hrusínský, star of Juraj Herz's Spalovač mrtvol/The Cremator and Menzel's earlier comedy Rozmarné léto/Capricious Summer), who consistently extols the virtues of work, they try to carry on as best as they can, fighting against the consistent demands of their work, forming friendships with each other and the women on the other side of the yard. Over time, the group slowly diminishes in number as they're punished for dissent.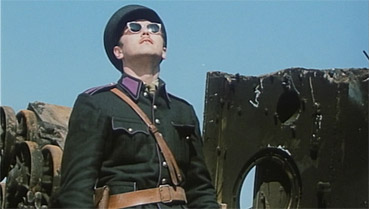 Though comedy is Larks' chief mode, there are times when it bites back; such as the constant mockery of authority figures and dignitaries and/or the absurdity of the group's situation, but it never veers too far, and retains a sense of balance between dark and light. On the occasions when it does visit the lighter end of the comedic spectrum, it's not remotely throwaway, nor does it make light of a politically and socially bleak period. Instead, it uses comedy as a form of social commentary – and as a way to bring emotional lightness; to round out these characters and make them human, itself a typical feature of Hrabal's writing. Some of the films lightest and sweetest moments come in the form of the romance between Pavel and Jikta (Jitka Zelenohorská), the youngest of the women on the yard. He's thoroughly clueless as to how to woo her, and often makes a fool of himself (with some lovely Chaplinesque slapstick), because of it, but that only seems to make him more endearing. A great compliment to this is marriage of the women's guard and his Gypsy wife. After a farcical wedding reception (the perfect marriage of the comic and the tragic) descends into chaos, he finds he's equally ill-equipped to understand his new bride. It all hangs together beautifully, thanks to the skill Menzel, Hrabal, Ŝotr and a charming score from Jirí Sust.
In fact, when the genuinely bleak and foreboding moments do rear their head, it makes the contrast been the different kinds of material all the more stark. Beyond the dark palette of the film itself and the rusty landscape – captured beautifully by Ŝotr – the constant references to man as machine are particularly frightening. You can't help but recall the opening moments of Fritz Lang's seminal Metropolis, with the worker and the clock as the group sort metal, passing it in a human chain, or Sergei Eisenstein's Stachka/Strike, as the men dangle from pipes and other bits and pieces. Shot from above, cast in the shadow of the giant machine's they feed, they look tiny and insignificant; strewn through the yard like the worthless discards their superiors deem them too be. Perhaps the most sobering image of all (barring the film's last scenes) is the proclamation of the foreman when he declares that everyone is there to be reformed, which involves them being 'melted down into a new kind of people.' It's a bold message, a terrifying message even, but it's also a warning to those watching to stay strong in the face of adversity, and not to lose the very things that make them human: to love, to laugh, to be free. Then, and only then, are you the man instead of the machine.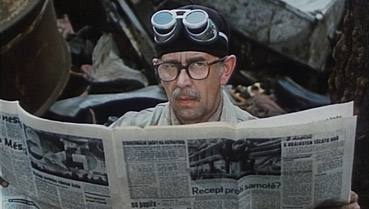 Fate saw to it that Larks on a String is yet to receive the attention it so richly deserves, and while it might not be as well known as Closely Observed Trains or Capricious Summer, it more than lives up to their high standard. The reputation it's already amassed only goes to show that this little bird could only be confined for so long. Now it has the freedom to spread its wings and fly.
Although not as pin-sharp in its picture detail as some other Second Run DVD releases of late (something more toceable in wide shots than close-ups), this is still a very pleasing restoration, particularly in its warm, pastel colour palette, the spot-on contrast balance and the clean, stable picture – some dust spots and the occasional blip of damage remain, but for the most part they are hardly noticeable. The framing is 1.78:1, suggesting a slight crop from the original, but it never feels uncomfortably tight in any direction. Blacks do grey out a little in the night scenes.
The Dolby 2.0 mono track has a slightly restricted range and dialogue leans towards the treble, occasionally a little harshly, but this is otherwise a clear track with no obvious damage. There is a detectable background hiss that varies in volume during quieter scenes, but in the daytime scenes is lost against the background of the junkyard machinery.
If the mastery of Jiří Menzel isn't enough for you or indeed that this DVD marks the long overdue debut of Larks on a String into the English-speaking world, then read on, because there's yet more to entice you into purchasing. In addition to the director-approved digital transfer and subtitle improvements that are now requisite for Second Run releases, Larks is supplemented by some great supplemental features made specifically for the disc.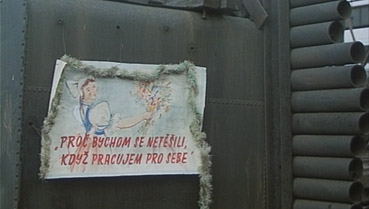 Booklet
Featuring an introduction by celebrated director of photography for Larks, Jaromír Ŝotr; a frequent collaborator of Menzel's (and many other filmmakers of the Czech New Wave including Jan Němec), alongside a brand new essay from Peter Hames, film historian, author of The Czechoslovak New Wave (amongst other titles) and regular Second Run contributor; this is, as ever, the icing on the cake. Ŝotr's words are warm and jovial, with more than a moment's pause for thought as he reflects upon his experiences of making Larks with Menzel, during a brief period of political liberation, and their subsequent struggle to restore the cut when under the shadow of the restored Communist regime. The Hames essay that follows is a wonderful compliment. As you'd expect if you're a regular reader of Hames' work, this is a meticulously written and referenced piece that concentrates chiefly upon the working partnership between Menzel and writer Bohumil Hrabal throughout the years, chronicling their many creative endeavours, including Closely Observed Trains and of course, Larks. A fascinating read.
Jiří Menzel: 7 Questions (9:33)
Filmed by the man himself, this brief Q and A (or rather A, because we never learn directly of the questions Menzel has been asked) session brilliantly showcases his humour and wit in high style, as he shares details of his background, the making of Larks and the changes he's seen within the film industry over the years. If you've always thought that directors are brooding serious types, then this will prove you wrong, and it shows were some of the humour in Larks may have originated. A great deal of fun and educational too!
Larks on a String is a beautifully crafted and sharply observed film that balances satiric, comedic, and romantic tones with enviable deftness. This celebration of nonconformity and triumph of the human spirit perfectly showcases the formidable talents of Jiří Menzel and the late Bohumil Hrabal both. It may have over four decades for this film to finally reach a wider audience, but some things are worth the wait. Highly recommended.