Arrow Video has announced its November release slate, which consists of 80s slasher Phantom of the Mall: Eric's Revenge, 1960 Italian shocker Mill of the Stone Women, and one-of-a-kind Japanese genre-bender Sailor Suit and Machine Gun on Blu-ray, plus Wes Craven's American outback horror masterpiece The Hills Have Eyes, and classic cult shocker Battle Royale on 4K UHD.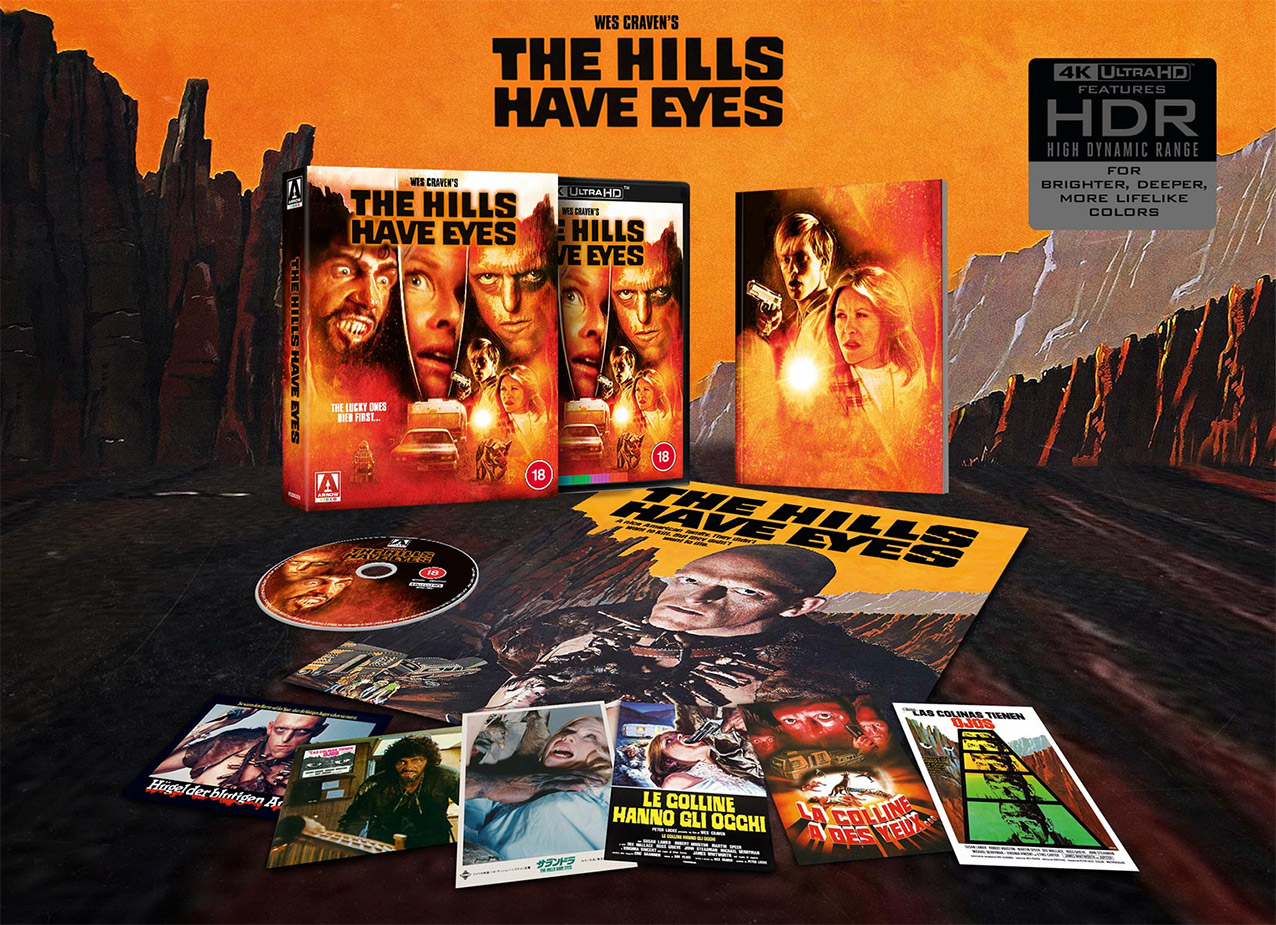 THE HILLS HAVE EYES (USA 1977)
Limited Edition 4K UHD | 8 November 2021 | £34.99
THE LUCKY ONES DIED FIRST…
Horror master Wes Craven achieved critical and commercial success with the likes of Scream and A Nightmare on Elm Street – but for many genre fans, the director's seminal 1977 effort The Hills Have Eyes remains his masterpiece.
Taking an ill-advised detour en route to California, the Carter family soon run into trouble when their campervan breaks down in the middle of the desert. Stranded, the family find themselves at the mercy of a group of monstrous cannibals lurking in the surrounding hills. With their lives under threat, the Carters have no choice but to fight back by any means necessary.
Following on from his notorious 1972 directorial debut The Last House on the Left, Craven's The Hills Have Eyes stands alongside the likes of The Texas Chain Saw Massacre and Night of the Living Dead as one of the defining classics of American horror.
4K ULTRA HD BLU-RAY LIMITED EDITION CONTENTS:
Brand new 4K restoration of the film, viewable with both original and alternate endings
4K (2160p) UHD Blu-ray presentation in High Dynamic Range
Original lossless mono audio
Optional lossless 2.0 stereo and 7.1 remixes (original ending only)
Optional English subtitles for the deaf and hard of hearing
6 postcards
Reversible fold-out poster
Limited edition 40-page booklet featuring writing on the film by critic Brad Stevens and a consideration of the Hills franchise by Arrow producer Ewan Cant, illustrated with original archive stills and posters
Audio commentary with actors Michael Berryman, Janus Blythe, Susan Lanier and Martin Speer
Audio commentary by academic Mikel J. Koven
Audio commentary with Wes Craven and Peter Locke
Looking Back on The Hills Have Eyes – making-of documentary featuring interviews with Craven, Locke, actors Michael Berryman, Janus Blythe, Robert Houston, Susan Lanier, Dee Wallace and director of photography Eric Saarinen
Family Business – an interview with actor Martin Speer
The Desert Sessions – an interview with composer Don Peake
Outtakes
Alternate ending
Trailers and TV Spots
Image gallery
Original screenplay
Reversible sleeve featuring original and newly commissioned artwork by Paul Shipper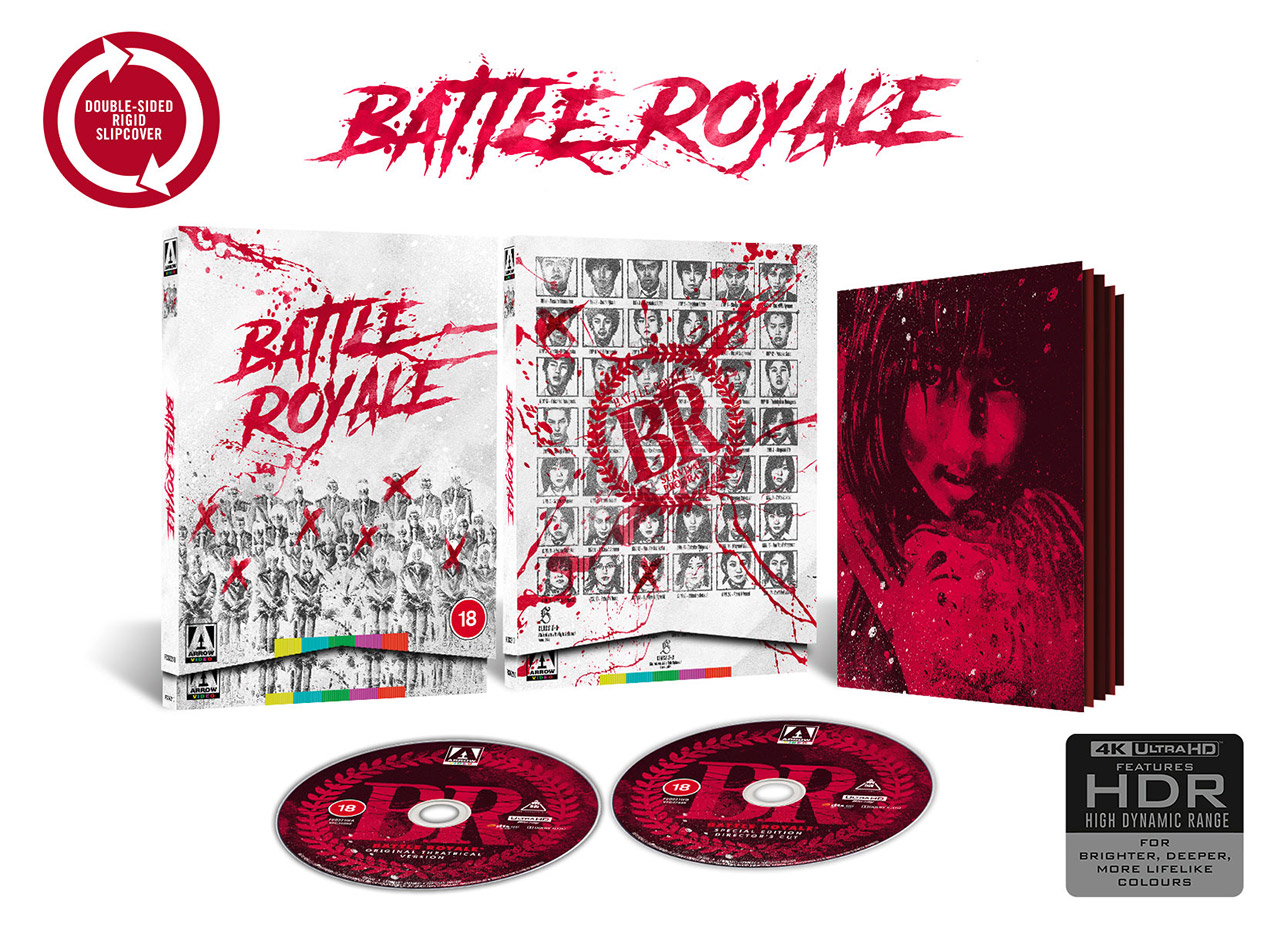 BATTLE ROYALE [BATORU ROWAIARU] (Japan 2000)
4K UHD | 8 November 2021 | £29.99
The kids of Third Year Class-B Shiroiwa Junior High School are back, in a 4K restoration of the classic cult shocker adapted from the controversial novel by Koushun Takami.
Presenting an alternate dystopian vision of turn-of-the-millennium Japan, Battle Royale follows the 42 junior high school students selected to take part in the government's annual Battle Royale programme, established as an extreme method of addressing concerns about juvenile delinquency. Dispatched to a remote island, they are each given individual weapons (ranging from Uzis and machetes to pan lids and binoculars), food and water, and the order to go out and kill each other. Every player is fitted with an explosive collar around their neck, imposing a strict three-day time limit on the deadly games in which there can only be one survivor. Overseeing the carnage is 'Beat' Takeshi Kitano (Sonatine, Hana-bi, Zatoichi) as the teacher pushed to the edge by his unruly charges.
Playing like a turbo-charged hybrid of Lord of the Flies and The Most Dangerous Game, the final completed work by veteran yakuza-film director Kinji Fukasaku (Battles without Honor and Humanity, Graveyard of Honor) helped launch a new wave of appreciation for Asian cinema in the 21st century.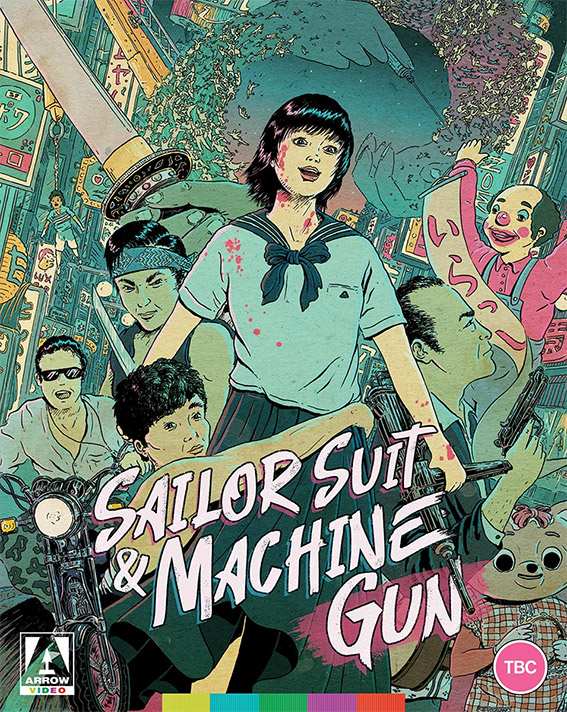 SAILOR SUIT AND MACHINE GUN [SÊRÂ-FUKU TO KIKANJÛ] (Japan 1981)
Blu-ray | 15 November 2021 | £24.99
A perky high-schooler takes on the mob in Sailor Suit and Machine Gun, a one-of-a-kind genre-bender that riffs on the yakuza film, coming-of-age drama and 'idol movie', inventively adapted from Jiro Akagawa's popular novel by director Shinji Somai (Typhoon Club, Wait and See), a massively influential figure in Japanese cinema whose work has been little seen outside his homeland.
Hoshi Izumi is a young innocent forced to grow up quickly when her father dies and she finds herself next in line as the boss of a moribund yakuza clan. Wrenched from the security of her classroom and thrust into the heart of the criminal underworld, she must come to terms with the fact that her actions hold the key to the life or death of the men under her command as they come under fire from rival gangs.
Presented in both its Original Theatrical and longer Complete versions, and the first time one of Somai's films has been released on home video in the West, this landmark work from his early career was responsible for launching teen talent Hiroko Yakushimaru (Legend of the Eight Samurai; Detective Story) as the iconic face of a generation, with the catchy theme song she performs indelibly etched into the zeitgeist of early-1980s Japan.
SPECIAL EDITION CONTENTS:
High Definition Blu-rayTM (1080p) presentations of the Original Theatrical Version and the 1982 Complete Version (kanpeki-ban) re-issue of the film, restored by Kadokawa Pictures from a 4K scan of the original negative
Original uncompressed Japanese mono and 5.1 audio
Optional English subtitles
Girls, Guns and Gangsters: Shinji Somai & Sailor Suit & Machine Gun, an exclusive new 50-minute documentary featuring actor Akira Emoto, film scholar Chika Kinoshita, Somai biographer Tatsuya Kimura and Sailor Suit assistant director Koji Enomoto discussing the making of the film, its director and its legacy
Original Trailers and TV spots for both versions
Image Gallery
Reversible sleeve featuring original and newly commissioned artwork by Michael Lomon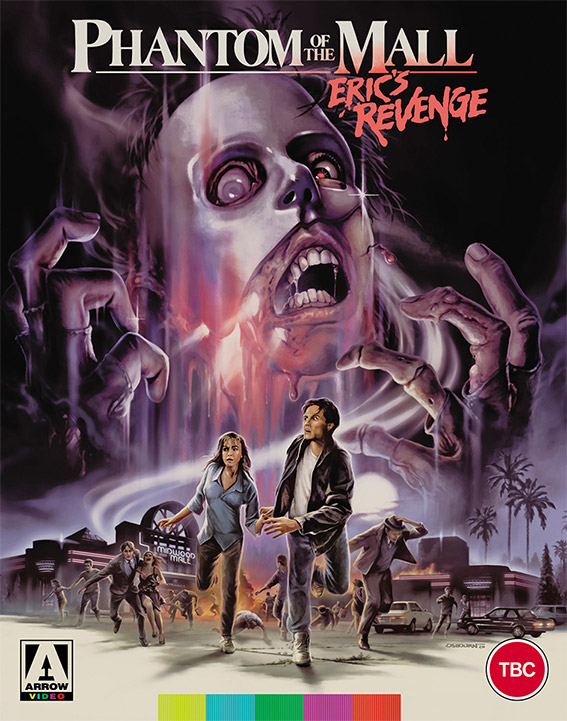 PHANTOM OF THE MALL: ERIC'S REVENGE (USA 1989)
2-disc Limited Edition Blu-ray | 22 November 2021 | £29.99
With numerous interpretations of Gaston Leroux's classic novel The Phantom of the Opera having been turned out over the years, it was only a matter of time before the slasher genre decided to take a stab at the tale – step forward 1989's Phantom of the Mall: Eric's Revenge!
High school sweethearts Eric Matthews and Melody Austin are so in love, but their youthful romance is cut tragically short when Eric apparently dies in a fire that engulfs his family home. One year later and Melody is trying to move on with her life, taking up a job at the newly built Midwood Mall along with her friends. But the mall, which stands on the very site of Eric's former home, has an uninvited guest – a shadowy, scarred figure which haunts its airducts and subterranean passageways, hellbent on exacting vengeance on the mall's crooked developers.
Directed by Richard Friedman (Scared Stiff, Doom Asylum), and featuring star turns from Pauly Shore and Morgan Fairchild, Phantom of the Mall: Eric's Revenge swoops onto Blu-ray in an extras-packed edition which proves that Arrow Video's love for '80s slasher fare never dies!
LIMITED EDITION 2-DISC BLU-RAY CONTENTS:
Three versions of the feature: Original Theatrical Cut, TV Cut and bonus Integral Fan Cut!
High Definition Blu-ray (1080p) presentation
Original uncompressed mono audio on all cuts
Optional English subtitles for the deaf and hard of hearing on all cuts
60-page fully-illustrated perfect-bound book featuring new writing by Daniel Budnik and Amanda Reyes
Large fold-out double-sided poster featuring original and newly commissioned artwork by Justin Osbourn
Six postcard-sized lobby card reproductions
Limited edition packaging with reversible sleeve featuring original and newly commissioned artwork by Justin Osbourn
DISC ONE – THE THEATRICAL CUT (BLU-RAY)
Brand new 2K restoration of the Original Theatrical Cut from original film elements (90 mins)
Brand new audio commentary with director Richard Friedman, moderated by filmmaker Michael Felsher
Brand new audio commentary with disc producer Ewan Cant and film historian/author Amanda Reyes
Shop Til' You Drop!: The Making of Phantom of the Mall – brand new making-of documentary featuring interviews with director Richard Friedman, screenwriters Scott Schneid and Tony Michelman, actors Derek Rydall and Gregory Scott Cummins, filmmaker Tony Kayden and special make-up effects creator Matthew Mungle
The Vandals Go to the Mall - an interview with Joe Escalante of The Vandals on the creation of the Phantom of the Mall theme song
Alternate and Deleted Scenes from the TV Cut
Domestic and International Trailers
Image Gallery
Scott J. Schneid and Tony Michelman's original script and associated special effects storyboards by Alec Gillis and Tom Woodruff, Jr. [BD-ROM Content]
DISC TWO – THE TV & INTEGRAL FAN CUTS (BLU-RAY)
Brand new 2K restoration of the TV Cut with Standard Definition inserts for the footage unique to this version (89 mins)
Integral Fan Cut combining footage from both the Original Theatrical and TV Cuts for the ultimate Phantom of the Mall experience! (96 mins)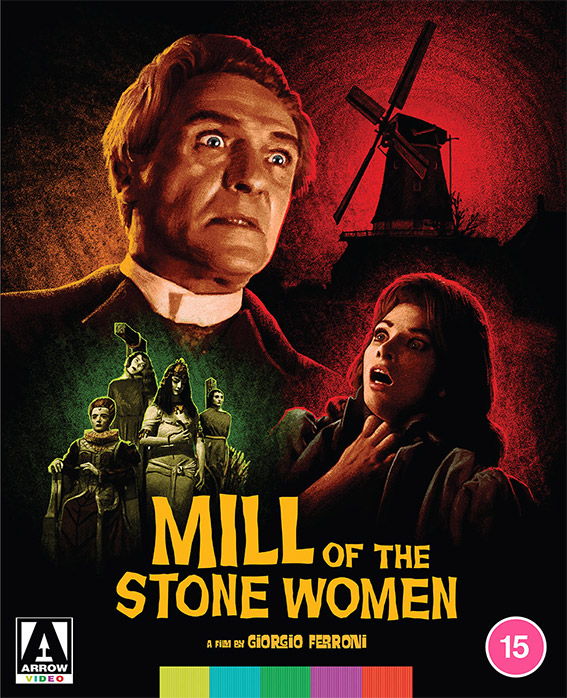 MILL OF THE STONE WOMEN [IL MULINO DELLE DONNE DI PIETRA] (Italy/France 1960)
2-disc Limited Edition Blu-ray | 22 November 2021 | £29.99
Before Black Sabbath, before I Vampiri, director Giorgio Ferroni (The Lion of Thebes, Blood for a Silver Dollar) introduced audiences to period horror Italian-style with his chilling 1960 shocker Mill of the Stone Women – a classic tale of terror redolent with the atmosphere of vintage Hammer Horror.
Young art student Hans von Arnam (Pierre Brice, Night of the Damned) arrives by barge at an old mill to write a monograph about its celebrated sculptures of women in the throes of death and torture, maintained and curated by the mill's owner, the hermetic Professor Wahl (Herbert Böhme, Secret of the Red Orchid). But when Hans encounters the professor's beautiful and mysterious daughter Elfi (Scilla Gabel, Modesty Blaise), his own fate becomes inexorably bound up with hers, and with the shocking secret that lies at the heart of the so-called Mill of the Stone Women.
The first Italian horror film to be shot in color, Mill of the Stone Women prefigured a raft of other spaghetti nightmares, including the work of maestros Mario Bava and Dario Argento. Arrow Video presents this brand-new restoration of one of the foundational titles of Italian horror.
2-DISC LIMITED EDITION CONTENTS:
New 2K restoration from the original negative by Arrow Films
1080p Blu-ray presentations of four different versions of the film: the original 96-minute Italian and English export versions, the 90-minute French version, containing exclusive footage, and the 95-minute US version, containing alternate dubbing, re-ordered scenes and added visual effects
Limited edition packaging with reversible sleeve featuring original and newly commissioned artwork by Adam Rabalais
Illustrated collector's booklet featuring new writing on the film by Roberto Curti, an in-depth comparison of the different versions by Brad Stevens, and a selection of contemporary reviews
Fold-out double-sided poster featuring original and newly commissioned artwork by Adam Rabalais - Six double-sided, postcard-sized lobby card reproduction artcards
DISC 1 – THE ITALIAN AND ENGLISH EXPORT VERSIONS:
Restored original lossless mono Italian and English soundtracks
Newly translated English subtitles for the Italian soundtrack
Optional English subtitles for the deaf and hard of hearing for the English soundtrack
New audio commentary by Tim Lucas, author of Mario Bava: All the Colors of the Dark
Mill of the Stone Women & The Gothic Body, a new visual essay on the trope of the wax/statue woman in Gothic horror by author and critic Kat Ellinger
Turned to Stone, a newly edited featurette containing archival interviews with actress Liana Orfei and film historian Fabio Melelli
A Little Chat with Dr. Mabuse, an archival interview with actor Wolfgang Preiss
Rare opening titles from the UK release, re-titled "Drops of Blood"
German opening titles
US and German theatrical trailers
Image galleries
DISC 2 – THE FRENCH AND US VERSIONS (LIMITED EDITION EXCLUSIVE):
Restored original lossless mono French soundtrack for the French version
Restored original lossless mono English soundtrack for the US version
Newly translated English subtitles for the French soundtrack
Optional English subtitles for the deaf and hard of hearing for the English soundtrack