Third Window Films has announced the March release of the third in their collection of newly restored examples of Japanese Pink Cinema, a subgenre of the softcore sex film unique to Japan and whose writers and directors often used as vehicles to explore social issues. Pink Films Vol. 5 & 6 consists of Imaoka Shinji's Underwater Love and Watanabe Mamoru's Women Hell Song, but also includes a third film in the shape of the 1966 Forbidden Techniques.

UNDERWATER LOVE [ONNA NO KAPPA] (2011, 83 mins)
Directed by pink-film veteran Imaoka Shinji (Lunch Box, Frog Song), shot by Christopher Doyle – the famed cinematographer behind Hero and countless films by Wong Kar Wai, and with music by Germany's Stereo Total, Underwater Love is a Pink Musical promises to be unlike anything you've ever seen.
Asuka works in a lakeside fish factory. She is just about to be married to her boss. One day, she encounters a Kappa, a water creature living in the lake and learns that it is the reincarnation of Aoki, her first love. What ensues is a zany spectacle of love, music & sex.

WOMEN HELL SONG [ONNA JIGOTU UTA: SHAKUHACHI BENTEN] (1970, 75 mins)
Tamaki Katori, the star of the first ever pink film, Flesh Market (1962), stars as the roaming outlaw Okayo, also known as Benten due to the prominent tattoo of the Buddhist Goddess of Love emblazoned across her back. On the run from her persecutors, who seek to claim the tattoo and its skin canvas as a bounty, Okayo finds a safe haven in the arms of the mysterious shakuhachi (bamboo flute) playing Seigaku, himself tattooed with the image of Kisshôten, the Goddess of Prosperity.
Directed by the prolific genre veteran Watanabe Mamoru, who has an insane 209 directing credits to his name and made nine films in 1970 alone.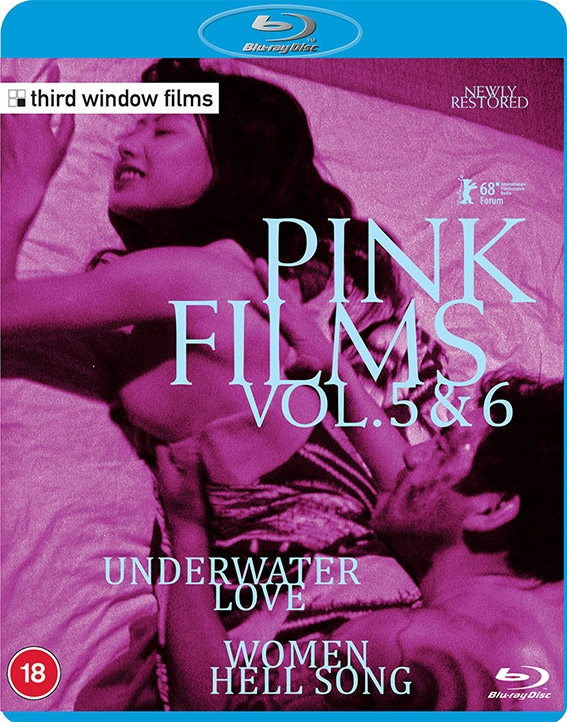 PINK FILMS VOL. 5 & 6 will be released on UK Blu-ray by Third Window Films on 29 March 2021 at the RRP of £19.99.
BLU-RAY CONTENTS:
New HD restorations of both films
Special bonus film: FORBIDDEN TECHNIQUES [KINJIRARETA TEKUNIKKU] (1966, 71 minutes) – directed by Mukai Kan, another hugely prolific genre veteran. After meeting a prostitute, a former boxing champion recalls his past life. The print of this film has been dubbed in German and has English subtitles.
Pink Films Vol. 1-5 trailer: