Arrow Academy's May releases are a classic Hollywood film noir hit and a frighteningly prescient thriller, both of which are ripe for rediscovery. As ever, the Blu-ray releases feature pristine prints, revealing documentaries and brand new commentaries.
First out of the gate in May is The Big Clock, a superior suspense film featuring The Lost Weekend's Ray Milland, in one of his best roles, as a magazine editor who finds himself in the frame for a murder committed by his boss (played by the magnificent Charles Laughton). Scripted by pulp legend Jonathan Latimer, based on Kenneth Fearing's classic nailbiter novel, The Big Clock is a classy combination of screwball comedy and heady thrills, directed with panache by John Farrow (Around the World in 80 Days).
Also in May is Demonlover, Olivier Assayas' extraordinary French techno-thriller, presented here in a brand new 2K restoration of the 121-minute director's cut. Echoing David Cronenberg's Videodrome, this is the story of a ruthless executive (Connie Nielsen) who will stop at nothing to get hold of a ground-breaking American Internet porn company called Demonlover; but as she delves deeper into its twisted world, reality slips away and the stakes of the game are raised to the point of no return.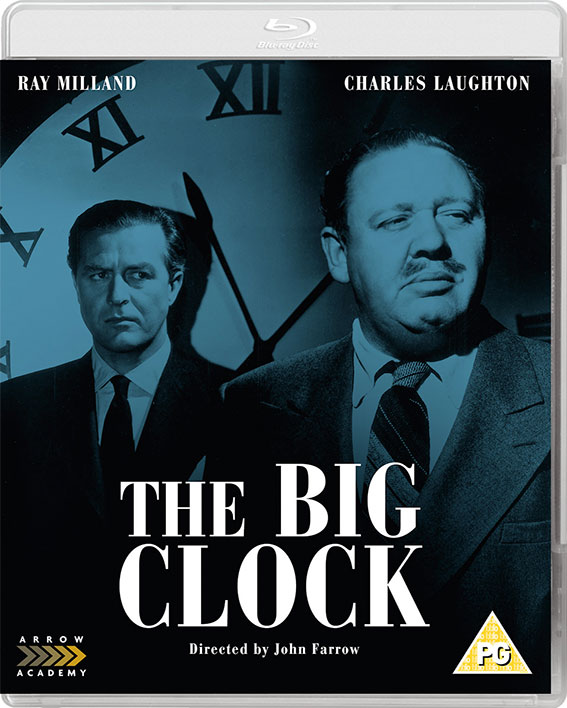 The Big Clock | Blu-ray | 13 May 2019 | £24.99
Adapted by acclaimed screenwriter Jonathan Latimer from a novel by the equally renowned crime author Kenneth Fearing, The Big Clock is a superior suspense film which classily combines screwball comedy with heady thrills.
Overworked true crime magazine editor George Stroud (Ray Milland) has been planning a vacation for months. However, when his boss, the tyrannical media tycoon Earl Janoth (Charles Laughton – Witness for the Prosecution, Island of Lost Souls), insists he skips his hols, Stroud resigns in disgust before embarking on an impromptu drunken night out with his boss's mistress, Pauline York (Rita Johnson – The Major and the Minor). When Janoth kills Pauline in a fit of rage, Stroud finds himself to have been the wrong man, in the wrong place, at the wrong time: his staff have been tasked with finding a suspect with an all too familiar description... Stroud's very own!

Directed with panache by John Farrow, who stylishly renders the film's towering central set, the Janoth Building, The Big Clock benefits from exuberant performances by Ray Milland and Charles Laughton, who make hay with the script's snappy dialogue. A huge success on its release, it is no wonder this fast-moving noir was remade years later as the Kevin Costner vehicle No Way Out. 
Blu-ray Special Edition contents:
High Definition Blu-ray (1080p) presentation transferred from original film elements
Uncompressed Mono 1.0 PCM audio soundtrack
Optional English subtitles for the deaf and hard of hearing
New audio commentary by film scholar Adrian Martin
Turning Back the Clock, a newly filmed analysis of the film by the critic and chief executive of Film London, Adrian Wootton
A Difficult Actor, a newly filmed appreciation of Charles Laughton and his performance in The Big Clock by the actor, writer, and theatre director Simon Callow
Rare hour-long 1948 radio dramatization of The Big Clock by the Lux Radio Theatre, starring Ray Milland
Original theatrical trailer
Gallery of original stills and promotional materials
Reversible sleeve featuring two original artwork options
FIRST PRESSING ONLY: Illustrated collector's booklet featuring new writing on the film by Christina Newland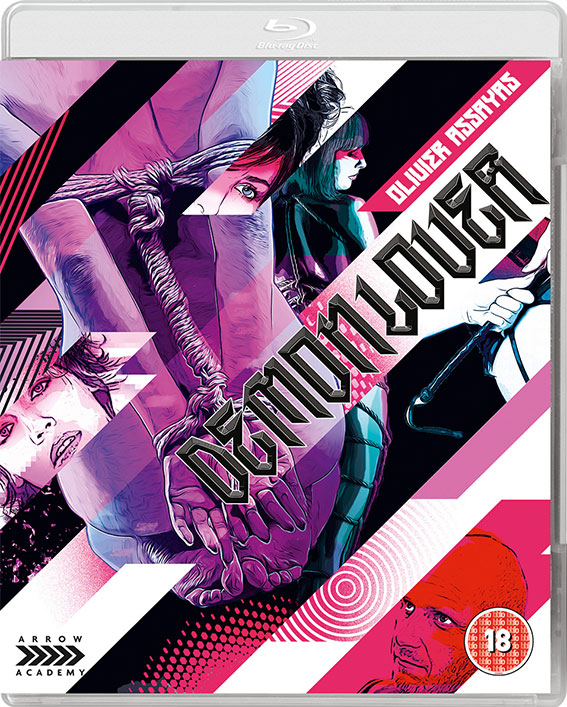 Demonlover | Blu-ray | 27 May 2019 | £24.99

Twenty years after David Cronenberg prophesied the dark side of the Internet age in Videodrome, acclaimed French filmmaker Olivier Assayas (Irma Vep, Carlos the Jackal) updated it for the New Millennium in his startlingly prescient Demonlover, a chilling exploration of the nexus between sex and violence available at the click of a button.

Up-and-coming executive Diane (Connie Nielsen – One Hour Photo) lets nothing stand in her way when it comes to landing the lucrative Tokyo Anime contract for the Volf Corporation, guaranteeing worldwide exclusive rights to the latest in cutting-edge hentai. Despised by her assistant (Chloe Sevigny – American Psycho) and engaged in a risky game of corporate espionage, her ruthless ambition meets its match in Elaine (Gina Gershon – Bound), the charismatic representative of an American Internet porn company called Demonlover. However, the company is only the front for an online portal to the Hellfire Club, which gives its users control over the next big thing in interactive extreme pornography: real women, tortured according to subscribers' whims, in real time. Diane wants a piece of the action, and will stop at nothing to get it; but as she delves deeper into the twisted world of the Hellfire Club, reality slips away and the stakes of the game are raised to the point of no return.


Armed with an iconic score by art-rock pioneers Sonic Youth, Assayas' neo-noir/cyber horror masterpiece is finally unleashed for the first time on Blu-Ray, with revealing extras and a new director-approved restoration.


Blu-ray Special Edition contents:

Brand new 2K restoration of the 121-minute director's cut, approved by Olivier Assayas
High Definition Blu-Ray (1080p) presentation
Original 5.1 DTS-HD master audio
Optional English subtitles for the deaf and hard-of-hearing
Audio commentary by writer/director Olivier Assayas
New visual essay written and narrated by critic Jonathan Romney
Peripherie de Demonlover, an hour-long behind-the-scenes documentary directed by Yorick Le Saux
Archive interviews with Olivier Assayas, Connie Nielsen, Chloe Sevigny and Charles Berling
SY NYC 12/12/01: The Demonlover Sessions, a fly-on-the-wall documentary about the recording of the music score by Sonic Youth
Q&A with Olivier Assayas filmed at the Wexner Center for the Arts in 2003
Extended version of the Hellfire Club sequence
Original theatrical trailers
Reversible sleeve featuring original and newly commissioned artwork by Chris Malbon
FIRST PRESSING ONLY: Illustrated collector's booklet featuring new writing on the film by Anne Billson