As the headline suggests, the BFI have announced its Blu-ray and disc releases for January to March 2019. At the moment we have only the basic details of any of the discs themselves, which will be posted closer to the individual release dates, but and there are some exciting looking titles here.

12 JANUARY 2019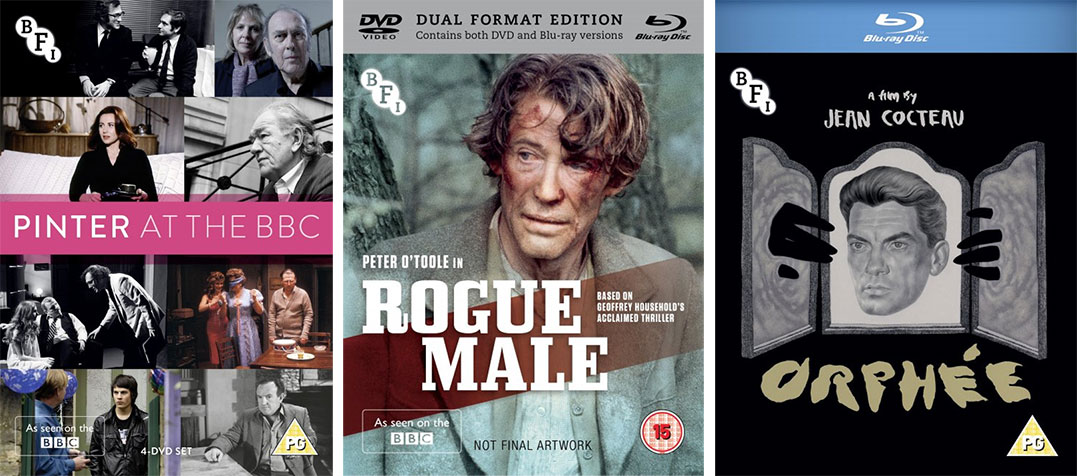 Pinter at the BBC is a new 4-DVD set featuring 10 BBC adaptations of the great British playwright's work, spanning the period 1965-1988. Many of these have not previously been available in any home entertainment format. Highlights include 1987's The Birthday Party starring Julie Walters and Joan Plowright.
Rogue Male is the 1976 BBC adaptation of Geoffrey Household's much-loved novel. A thrilling tale of a man on the run, set on the brink of the outbreak of World War II, it stars the legendary Peter O'Toole and is directed by Clive Donner (Here We Go Round the Mulberry Bush). Coincidentally it also features Harold Pinter in a small role. Rogue Male will be released in a Dual Format Edition. 
Orphée, Jean Cocteau's 1950 masterpiece, comes to Blu-ray for the first time in the UK in a 2K restoration from the original camera negatives, following its current theatrical release.

25 FEBRUARY 2019

Jarman Volume Two 1986-1994. While the extensive content of this Blu-ray-only box set is not quite finalised yet, it will feature UK High Definition premiers of The Last of England, War Requiem, Wittgenstein, The Garden and Blue. As with Volume One, it will be packed with rare archive materials.
Maurice (1988): This superb new restoration of the landmark Merchant Ivory adaptation of E.M. Forster's novel was re-released in cinemas this summer, introducing a new generation of filmgoers to a powerful romance starring James Wilby, Hugh Grant and Rupert Graves. It will available as a separate Blu-ray or DVD set.
Mifune: The Last Samurai (2016): Toshiro Mifune, one of the acting legends of Japanese cinema (and star of Seven Samurai, the BFI's best-selling DVD of all-time) is celebrated in this feature-length documentary directed by Steven Okazaki and narrated by Keanu Reeves.
BFI Flipside – Stranger in the House (aka Cop-Out), a 1967 crime film about the generation gap, starring James Mason, Geraldine Chaplin and US rock'n'roller Bobby Darin, is the next addition to the strand that rescues weird and wonderful British films from obscurity and presents them in new high quality editions on DVD and Blu-ray.

18 MARCH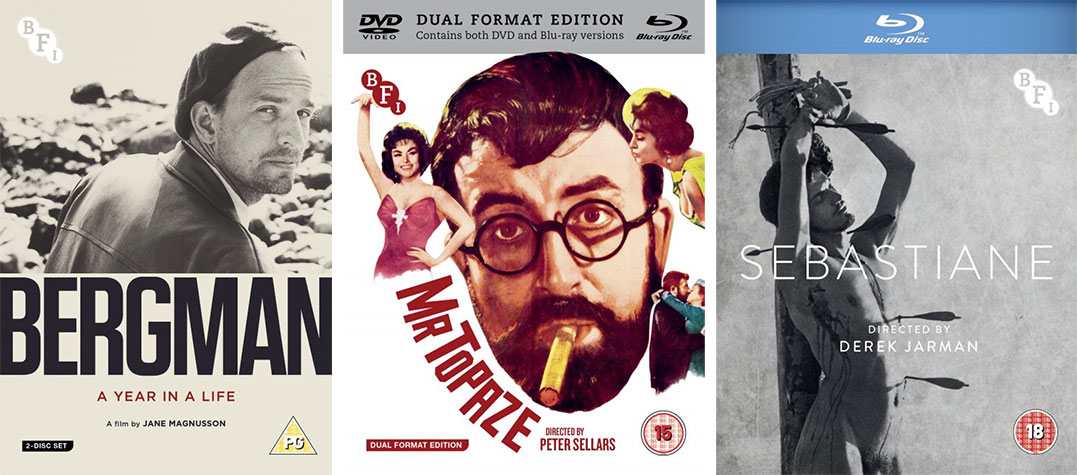 Bergman A Year in a Life: After a theatrical run in January 2019, Jane Magnusson's revealing new documentary that shows the darker, less well-known side of the great director will be released on DVD. In addition, there will be a limited edition Blu-ray box set featuring both the theatrical cut and the 4-part TV mini-series, which will be a must-buy for all serious fans of Ingmar Bergman.
Mr Topaze: After being unavailable for many years, Peter Sellers' directorial debut from 1961 will receive a Dual Format Edition release.
Sebastiane: Derek Jarman's debut feature film from 1976, will be released as a stand-alone Blu-ray.