From executive producer Angelina Jolie and twice Academy Award and BAFTA-nominated Kilkenny-based animation studio Cartoon Saloon – the creators of the Academy Award nominated The Secret of Kells and Song of the Sea, comes the highly-anticipated, award-winning feature The Breadwinner, releasing on Digital Download and on Blu-ray and DVD this month.
The Breadwinner tells the story of Parvana, an 11-year-old girl growing up under the Taliban in Afghanistan in 2001. When her father is wrongfully arrested, Parvana disguises herself as a boy in order to support her family. With dauntless perseverance, Parvana draws strength from the stories her father told her, and ultimately risks her life to discover if he is still alive. Equal parts thrilling and enchanting, The Breadwinner is a timely and inspiring tale about the transcendent power of stories, and their potential to unite and heal us all.
Based on Deborah Ellis' bestselling novel, director Nora Twomey was instantly drawn to the story. After the script was solidified and production began, one of the biggest challenges for the creative team was identifying a clear visual style for the film. Cartoon Saloon founder and CEO Paul Young, who is also a producer on the film, commented: "In this film, we've gone even more realistic with the look; we're introducing a perspective that we've never had in our films before." Combining various styles of animation (such as cut-out animation) provides the film with a strong visual cue when venturing from the real world, Parvana's experience in Kabul, to the story world, her imagination.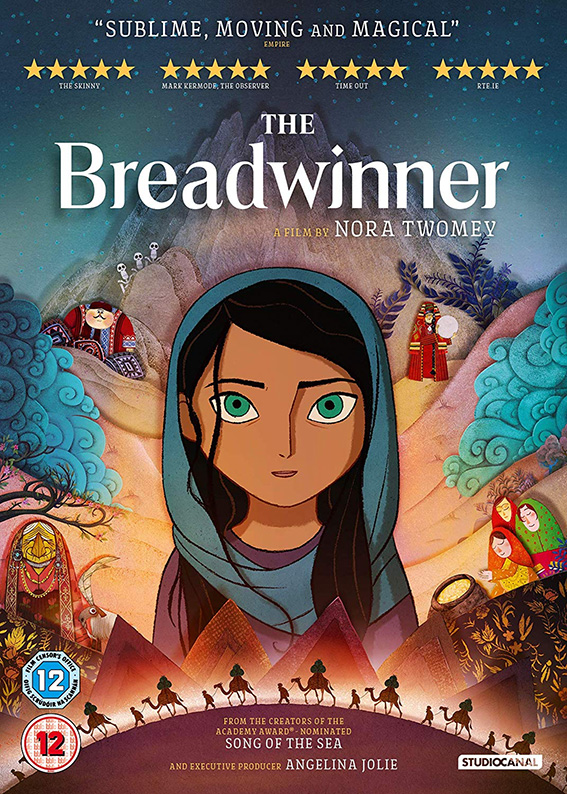 The Breadwinner is available now on Digital Download and will be released on UK Blu-ray and DVD on 24 September by Studiocanal.
Special features:
The Breadwinner

: Behind the Scenes Featurette – Includes: Telling the Story, Animating the Film, Cast & Crew Interviews and Creating the Music & Sound

Film Introduction with Director Nora Twomey & Executive Producer Angelina Jolie

Film Commentary with Nora Twomey, Storyworld Director Jeremy Purcell, Animation Director Fabian Erlinghäuser & Art Director Ciaran Duffy

Theatrical Trailer