To mark its 30th anniversary, the charmingly eccentric Indie comedy Bagdad Café arrives on DVD, Blu-ray & Digital Download in August. Boasting stunning 4K restoration quality, complete with brand new extras, this delightful German classic is available to pre-order now.
Under the supervision of cult director Percy Adlon (Rosalee Goes Shopping, Salmonberries), the award-winning, international Box Office success Bagdad Café celebrates the possibilities of a uniquely harmonious sense of community.
Driving through the Mojave Desert somewhere between Las Vegas and Disneyland, Jasmin (Marianne Sägebrecht) strikes out on her own following a row with her husband. Trudging down the highway, she catches the attention of Brenda (CCH Pounder), the irascible proprietor of the Bagdad Café. So begins a hilarious and touching account of these two women of different cultures, joined together in the middle of desolation in an oasis of friendship.  
Also featuring Academy Award winner Jack Palance (City Slickers, Shane) Bagdad Café is a timely reminder that cultures can clash and combine in a positive and playful way. A must-ow' for fans of indie cinema, the Oscar-nominated film inspired a hit TV series starring Whoopi Goldberg and is now firmly considered a cult favourite.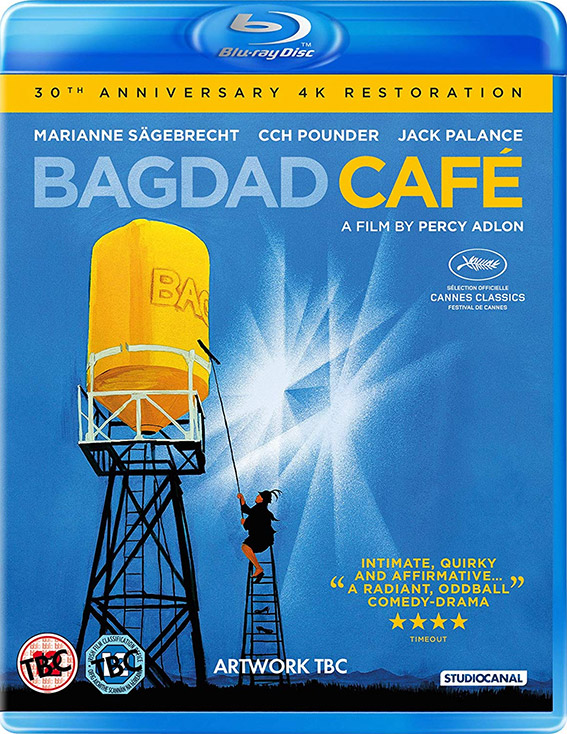 Bagdad Café will be released on UK Blu-ray, DVD and Digit al Download by Studiocanal on 13 August 2018
Special features:
NEW – The Trip to Bagdad (24 mins) Journey deeper into Bagdad with this brand-new featurette, featuring interviews with writer and director Percy Adlon, his wife Eleonore who co-wrote the screenplay, and their granddaughters as they go back to the set of Bagdad Café.
NEW – Bagdad Café: The Story (22 mins) In an audiobook style, experience the visuals of Bagdad Café narrated by Percy Adlon.
NEW – Restored Trailer
Audio commentary with Percy Adlon and Marianne Sägebrecht