Eureka Entertainment has confirmed the release of Breakheart Pass, an exhilarating murder-mystery western starring Charles Bronson, for the first time on Blu-ray in the UK, in a Dual Format (Blu-ray & DVD) edition on 14 May.
An action-packed mystery western based on the best-selling novel by Alistair MacLean (The Guns of Navarone, Ice Station Zebra, Where Eagles Dare), Breakheart Pass throws open the throttle for runaway excitement!
At the height of the frontier era, a locomotive races through the Rocky Mountains on a classified mission to a remote Army post. But one by one, the passengers are being murdered. Their only hope is John Deakin (Charles Bronson – Hard Times, The Magnificent Seven), a mysterious prisoner-in-transit who must fight for his life – and the lives of everyone on the train – as he uncovers a deadly secret that explodes in a torrent of shocking revelations, explosive brawls and blazing gun battles.
The film also features a rousing score by Jerry Goldsmith, brisk direction from Tom Gries (Will Penny, Helter Skelter) and a powerful supporting cast that includes Ben Johnson (The Last Picture Show), Richard Crenna (First Blood), Jill Ireland (Hard Times), Charles Durning (Sisters), Ed Lauter (The Longest Yard) and Bill McKinney (Deliverance).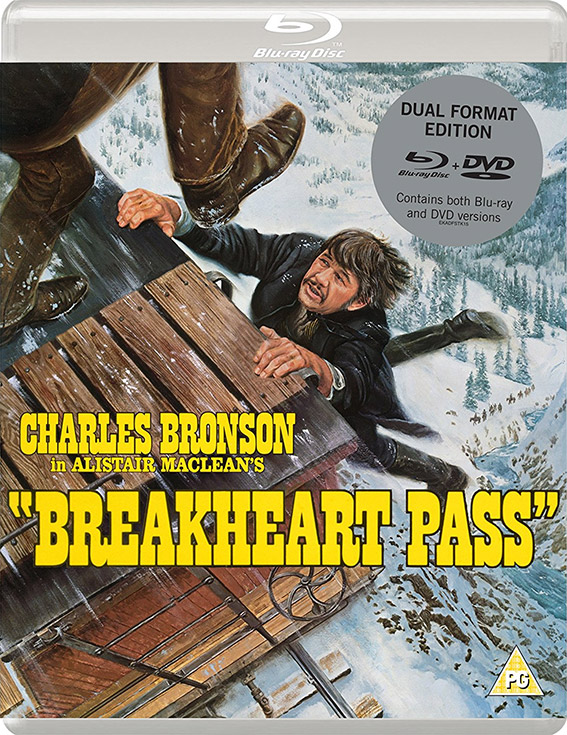 Breakheart Pass will be released in the UK as a dual format edition (Blu-ray & DVD) by Eureka Entertainment as part of the Eureka Classics range on 14 May 2018 at the RRP of £17.99.
Special features:
A new video interview with critic and author Kim Newman
Original theatrical trailer