Lionsgate UK and Picturehouse Entertainment are delighted to announce the UK Home Entertainment release of Sally Potter's acclaimed comedy, The Party, on 19th February 2018.
Janet (Kristin Scott Thomas) has just been appointed to a key ministerial position in the shadow cabinet – the crowning achievement of her political career. She and her husband Bill (Timothy Spall) plan to celebrate this with a few close friends. As the guests arrive at their home in London, the party takes an unexpected turn when Bill suddenly makes some explosive revelations that take everyone present by surprise. Love, friendships and political convictions are soon called into question in this hilarious comedy of tragic proportions.
Written and directed by Academy Award-nominated filmmaker Sally Potter (Orlando, Rage, The Tango Lesson, Ginger & Rosa) the film is brought to life by an outstanding cast that includes Academy Award-nominee Patricia Clarkson (The Green Mile, Shutter Island) who was awarded Best Supporting Actress at the 2017 British Independent Film Awards, Bruno Ganz (Downfall, The Reader), Primetime Emmy Winner Cherry Jones (24, Ocean's Twelve), Emily Mortimer (Hugo, The Sense of an Ending), Cillian Murphy (Dunkirk, Free Fire), Kristin Scott Thomas (Darkest Hour, The English Patient), and BAFTA Winner Timothy Spall (The King's Speech, Mr Turner).
Since the its UK premiere at the 2017 London Film Festival, the film has gone on to box office success and critical acclaim.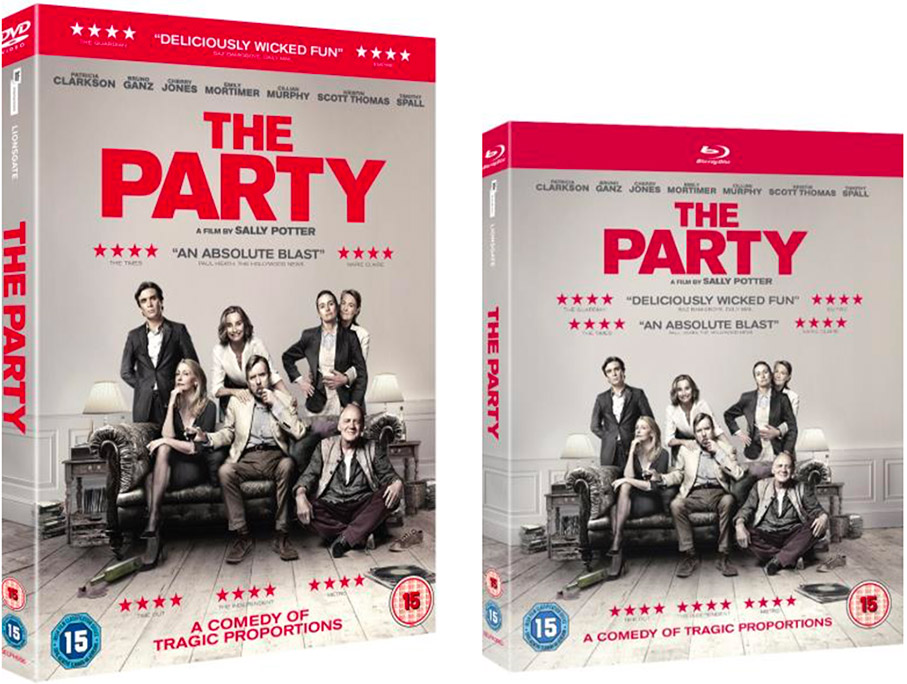 Witty, sharp and very funny, The Party will be released on UK Blu-ray, DVD and Digital on 19 February 2018 by Lionsgate UK and Picturehouse Entertainment, and exclusive Digital EST from 12 February.
Special features:
Making-of featurette (18mins approx.)
Interviews with cast & filmmakers (40mins approx.)