Note: this is a reprint of the review from Tim's 2012 end-of-year round-up.
Rich in symbolism and subtext, it's not at all by accident that the August 6th 1945 same-day-birth of Ginger and Rosa in London is match cut to the mushroom cloud of Hiroshima. Exploding girls shaped by nuclear nightmares, years later as teens, the girls find themselves growing up in the shadow of the Cuban Missile Crisis, a manifest sexual metaphor for the volatility of adolescence.
In Ginger & Rosa, destructive force intended for entire populations is metered out on a lifelong friendship which internalises the bomb before being destroyed by it. While many critics might have scoffed at such on-the-nose warnings, you can't expect subtly from an atom bomb.
A pair of luminous performances set the high stakes of this relationship not long before it gives way to atomic growing pains. Despite being only fourteen years old, Elle Fanning is already the "actress of her generation", a heavy plaudit she wears well, in a role that cements her transition from child actress to adult thesp. The star of Somewhere, Twixt and Super 8 is already something of a screen veteran at this point, yet her experience does nothing to show up Alice Englert (daughter of director Jane Campion) in her debut role. Englert is so scarily self-assured and sexually liberated, she was seemingly born to burn up the lens. Credit to both performers, so free and easy with one another that you have no trouble believing Ginger and Rosa have been best friends all their lives.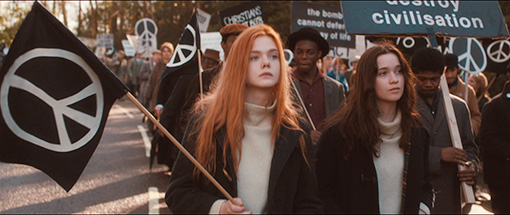 Blowing free and doing everything together (even their first sexual encounters are shared), the girls live for today, knowing tomorrow they may die. Music, fashion, sex and under age drinking distract from thoughts of mutually assured destruction, and as they hitch rides fuelled by positive pop music, there's a rhythm of always-on-the-run youthful exuberance, often found wanting in Walter Salles' recent adaptation of On the Road.
They keep on growing as they keep on moving, and growing apart as they grow older. Representing opposing ends of the era's radicalism, Ginger is a Simone de Beauvoir–reading existentialist led to activism and protesting the bomb, while Rosa thinks of nobody but herself, her sexual self-destruction a bi-product of the age. If Rosa's empty fixation on her crucifix gives her divine right to go after everything she wants but never had, then hopping into bed with strangers is something of a religious quest to find a father figure before it's too late.
Watching her disturbed bestie stroke her crucifix like rosary beads, Ginger takes an identical cross (given to her by Rosa) and mimics the action, trying and failing to understand the friend she's steadily losing. Their separation is accelerated by the growing attraction between Ginger's charismatic horndog father Roland (a superb Alessandro Nivola) and Rosa, now quickly blossoming into womanhood. Mentally mature beyond her years, but still with the unmistakable girlish squeal of early adolescence, Ginger not only feels betrayed but left behind. Turning her back to the camera as Little Richard's 'Tutti Fruitti' plays on the Wurlitzer, is one particularly poignant moment in which Ginger says goodbye to the childhood she's yet to outgrow.
Adulthood hardly seems much to aspire to, many of the authority figures here squabbling like children. Sally Potter's script has been heavily criticised for giving outspoken academic Roland some terrible pseudo-philosophical-political claptrap to spout, but surely that's the point? Such pompous, flowery rhetoric could only be taken seriously by the kind of young, impressionable girls Roland's trying to bed. And so it is with Rosa.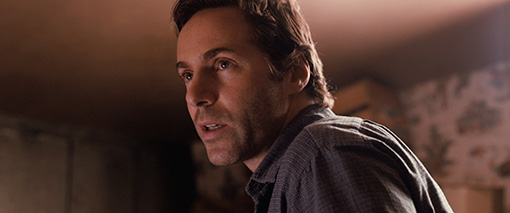 A freethinking word twister who can't abide bourgeoisie death-traps like monogamy and the word 'dad', Roland's phoney modernity is nothing more than a licence to be randy. Similarly, his self-righteous disgust with the "shoulds and the oughts of so-called family life" is a jail card dodge of his parental responsibilities, making the the understatement of the year when he admits he's not father material. Yet, Roland's way with words is such that it's easy to see why women are drawn to him. Formally imprisoned as a contentious objector, the way in which he speaks of the experience gives us a glimpse of the humanity beneath the horniness. "Confinement can be utterly beautiful if it's only a choice. A prison cell is the ugliest expression of minimalism."
All this sordid family dysfunction eventually builds to a confrontation that would make Jerry Springer quake in his boots. As Ginger's increasingly frenzied fears of the world's end start to dominate her conversation, it becomes clear that it's nuclear family not annihilation, which is the cause of her distress.
The synchronicity between the nuanced script, the transparent performances and the visual context in which we find them, draws out many telling emotional details (less successful at period perhaps) and Potter streamlines these complexities to make her most distinguished yet commercial film to date. It may have gotten buried at the arthouse, opening against Beasts of the Southern Wild the same week in October, but this is one film that really deserved consideration as the token British hopeful for this year's academy awards. Like the similarly fated Hyde Park on Hudson, Potter and Fanning's award chances blew over as early festival buzz quickly dissipated. Still yet to be released in the States until mid-March, it simply didn't have a big enough international profile at the time for a successful Oscar campaign.
Ginger & Rosa was shot 2.40:1 on the Arri Alexa, a camera that is proving popular with digital cinematographers and that Potter herself praises on the commentary track for its image quality and accurate reproduction of skin tones. This has given rise to a strong transfer whose sharpness and picture detail are matched by the spot-on contrast range and a subtle and attractive richness of colour; the sometimes narrow depth of field occasionally suggests a slight softness, but this is always intentional and the detail on textures areas – clothing, hair, faces, brickwork, et – is exceptional.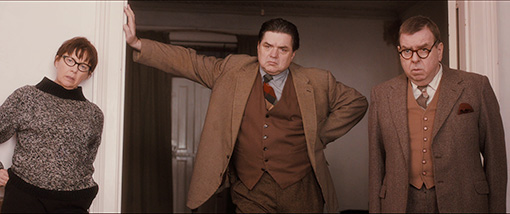 Whether you chose the DTS-HD Master Audio 5.1 surround track or the Linear PCM 2.0 stereo, this is an excellent quality mix, boasting clear frontal separation and a seriously impressive clarity and range for a film with so little in the way of explosive bass and whose use of music is entirely diegetic. Perhaps inevitably, the DTS track (which is listed simply as 5.1 surround on the setup menu) is the richer of the two.
Commentary
A soft-spoken, level-headed and hugely informative commentary by Potter that delivers a wealth of background detail on the shooting of the film, particularly the locations, the work of the actors and the historical detail. There's some intriguing detail on the shooting of individual scenes – having to swap wasteland garbage for more period-specific trash, throwing bread just out of frame to pepper a seaside shot with hovering seagulls – and it's worth staying with the end credits for Potter's simple but touching dedication to her late mother.
Cast interviews (37:37)
A solid collection of interviews with key cast members. 13-year-old Elle Fanning talks about the story, working with director Potter ("I love her so much"), her fellow cast members and filming in London. Christina Henricks discusses auditioning for and playing the role of Natalie, working with Elle Fanning (she gets discussed a lot and clearly impressed everyone), the script, the climactic scene, and DoP Robbie Ryan (also popular fellow). Alessandro Nivola covers working with Sally Potter, Robbie Ryan and Elle Fanning, and tells an engaging story about his long eyelashes. Alice Englert talks about playing Rosa, working with Elle, Potter's directing style and the appeal of the early 60s. Annette Benning chips in on playing militant poet Bella and working with Potter. Oliver Platt and Timothy Spall enthuse about the script and (yes) Elle Fanning, and what makes the film special.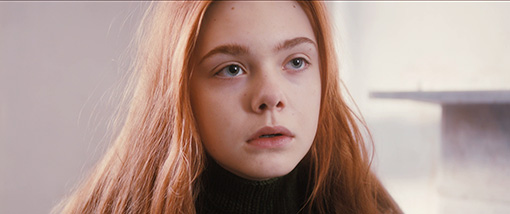 Crew Interviews (55:03)
Officially titled 'Anatomy of a Film', visually this plays like a promo for the multimedia presentation skills of its creators, the interviews with eighteen of the cast members about the film and their role in its production sharing screen space with biographical details, documents (scripts, camera reports, call sheets, reports – all legible in HD on a decent sized screen), stills, and footage of them at work. It actually works very well, and is interesting and busy enough in places to prompt the odd rewind to watch things that were happening in one window while you were watching another. Those interviewed include writer-director Sally Potter, producer Christopher Sheppard, production designer Carlos Ponti, casting director Irene Lamb (whose sound level is way to high and distorts a little), location manager Jane Soans, editor Anders Refen, stunt co-ordinator James O'Dee, and special effects supervisor Graham Povey.
Sally Potter interview (35:20)
A substantial interview with writer-director Potter that covers a lot of interesting ground, including the appeal of the early 60s, Potter's own childhood memories of the period, the casting process (Facebook was used as an audition tool), the rehearsals, her relationship with her key collaborators, selecting locations, creating a productive atmosphere on set, selecting the music, the joy of working with Elle Fanning, and a lot more.
Making Of (30:30)
A well constructed behind-the-scenes documentary that observes the shooting of scenes and grabs the odd off-the-cuff interview. Shot by Joseph Matthews, who also narrates from the viewpoint of a curious and interested outsider, it proves frequently fascinating stuff, particularly if you've never spent any time on a film location. Elle Fanning once again emerges as a serious trooper, and any footage of Potter at work is always welcome.
Deleted Scenes (5:09)
Sally Potter introduces two deleted scenes – the second and longer of which involving a discussion on faith is great – explaining why the sequences in question were dropped.
Trailer (1:50)
A seductively assembled trailer with no major spoilers.
A fine film on a terrific Blu-ray, one whose picture and sound quality are almost outstripped by what may be the best collection of extra features we've yet seen on an Artificial Eye disc. Highly recommended.
---
Writer-director Sally Potter and lead players Elle Fanning and Alice Englert talk to Timothy E. RAW at the 2012 London Film Festival. The video has been optimised to be viewed full screen at 720p, or better still 1080p, which can be selected in the settings pop-up in the control bar.