Arrow today announced its Arrow Academy Blu-ray titles for April.
The first release of the month – Sleeping Dogs – features Sam Neill in his first major and leading role. Adapted from C.K. Stead's novel, Smith's Dream, Sleeping Dogs is a political thriller with added action that makes for riveting viewing. The Arrow Academy edition of this groundbreaking film from New Zealand comes with a fascinating making-of documentary. 
It's difficult to apply the word 'masterpiece' to just one of Jean-Luc Godard's films, but Arrow Academy's second April release, La Chinoise, certainly comes close. An absolute tour-de-force of the imagery of Godard's early career, La Chinoise gives a hint of what was to come further into his oeuvre. 
Last but not least comes G.W. Pabst's L'Atlantide, an adaptation of Pierre Benoît's fantasy-adventure novel - and by far cinema's best interpretation of the text. Shot on location in the Sahara, and at Berlin's Efa Studios, it presents a wonderful fantasy world where Atlantis had not sunk, but had instead been buried underneath the desert. The Arrow Academy edition includes a brand new appreciation of the film by Kim Newman.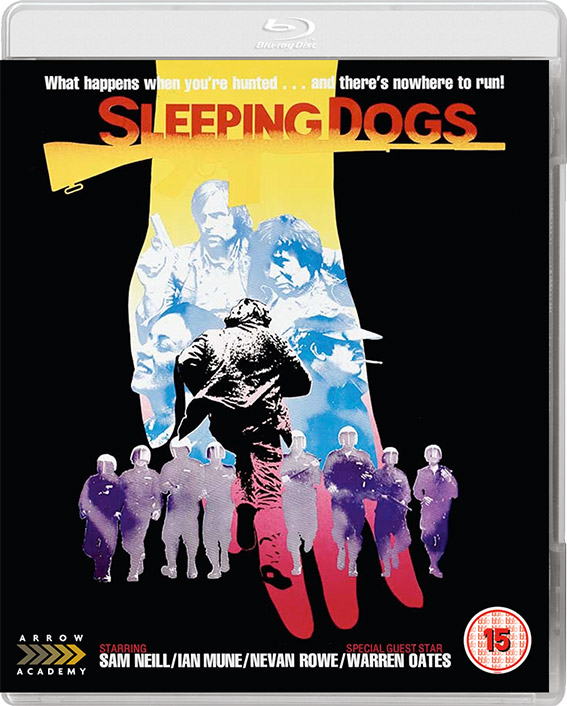 Sleeping Dogs | Blu-ray | 16 April 2018 | £24.99
Adapted from C.K. Stead's novel Smith's Dream, Sleeping Dogs almost single-handedly kickstarted the New Zealand New Wave, demonstrating that homegrown feature films could resonate with both local and international audiences, and launching the big-screen careers of director Roger Donaldson (No Way Out, Species) and Sam Neill (Jurassic Park, Possession).
Neill – in his first lead role in a feature – plays Smith, a man escaping the break-up of his marriage by finding isolation on an island off the Coromandel Peninsula. As he settles into his new life, the country is experiencing its own turmoil: an oil embargo has led to martial law and civil war, into which Smith reluctantly finds himself increasingly involved.

Co-starring Warren Oates (Bring Me the Head of Alfredo Garcia) as the commander of a US army unit drawn into the conflict, Sleeping Dogs is simultaneously a political thriller, a personal drama and a true landmark in New Zealand cinema.
Special Edition contents:
High Definition (Blu-ray) presentation
Original mono audio (uncompressed LPCM)
Optional English subtitles for the deaf and hard-of-hearing
Commentary by writer-director Roger Donaldson, actor Sam Neill and actor-writer Ian Mune
The Making of Sleeping Dogs, a 65-minute documentary on the film's production featuring interviews with Donaldson, Neill, Mune, Geoff Murphy and others

Theatrical trailer

Reversible sleeve featuring original and newly commissioned artwork by Sean Phillips
First pressing only: Illustrated collector's booklet featuring new writing on the film by Neil Mitchell, a contemporary review by Pauline Kael and the original press book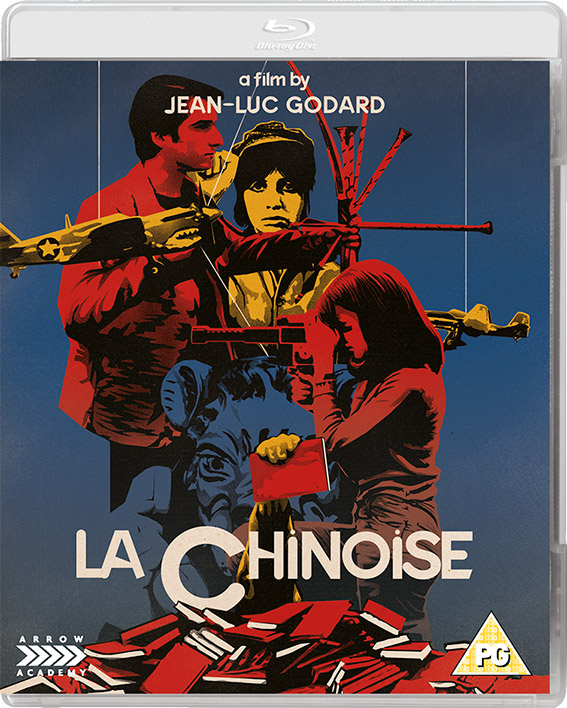 La Chinoise | Blu-ray | 23 April 2018 | £24.99
Jean-Luc Godard's ferocious run of ground breaking 1960s commercial features neared a terminus point as the filmmaker turned his gaze onto the nascent left-wing student organisations coalescing on university campuses across France and environs. The resulting film was his searing masterpiece La Chinoise – a mordant satire, pedagogical treatise, political tract, and pop-artwork "plus blood" rolled into one.
It's early '67 and Radio Peking's in the air for the Aden Arabie Cell, a Maoist collective holed up in a sprawling flat on Paris's rue de Miromesnil — the newly purchased actual residence of Godard and then-wife and star Anne Wiazemsky. Véronique (Wiazemsky) and her comrades, including Jean-Pierre Léaud (The 400 Blows, Out 1) and Juliet Berto (Out 1, Céline and Julie Go Boating) lead a series of discussions and performative skits addressing matters of French colonialism, American imperialism, and the broader conflict raging in Vietnam. A meditation on the efficacy of violent protest and militant counteraction played out between Wiazemsky (conducted by Godard via radio-earpiece), and her then-tutor philosopher Francis Jeanson gives way to a plot to assassinate the Soviet minister of culture — a red-handed point of no going-back on the path to complete radicalisation.
A tour-de-force of the primary-palette images – the 'household images,' perhaps – of Godard's early career, La Chinoise serves as both cautionary tale and early sign of fascination with the political currents that would soon lead to the next period of JLG's life and work. – "The revolution is not a dinner-party."

Special Edition contents:
High Definition (1080p) Blu-ray presentation
Original mono DTS-HD Master Audio 2.0
Optional English subtitles 
Audio commentary by film historian James Quandt
Interviews with actor Michel Semeniako, assistant director Charles L. Bitsch and second assistant director Jean-Claude Sussfeld
Denitza Bantcheva on La Chinoise, the author discusses the film and its politics
Behind-the-Scenes TV Report featuring footage with Godard and the cast
Venice Film Festival press conference featuring Godard and scenes from the production
Theatrical trailer
Reversible sleeve featuring original and newly commissioned artwork by Matthew Griffin
First pressing only: Illustrated collector's booklet containing vintage writing by and discussions with Jean-Luc Godard and beyond: passing through the landmark "Struggling on Two Fronts" interview; the "Two Hours with Jean-Luc Godard" journal; notes on Anne Wiazemsky's 2012 memoir-novel Une année studieuse [A Studious Year]; a tribute to Wiazemsky, Léaud, and Berto; vintage archival imagery; newly translated material; and more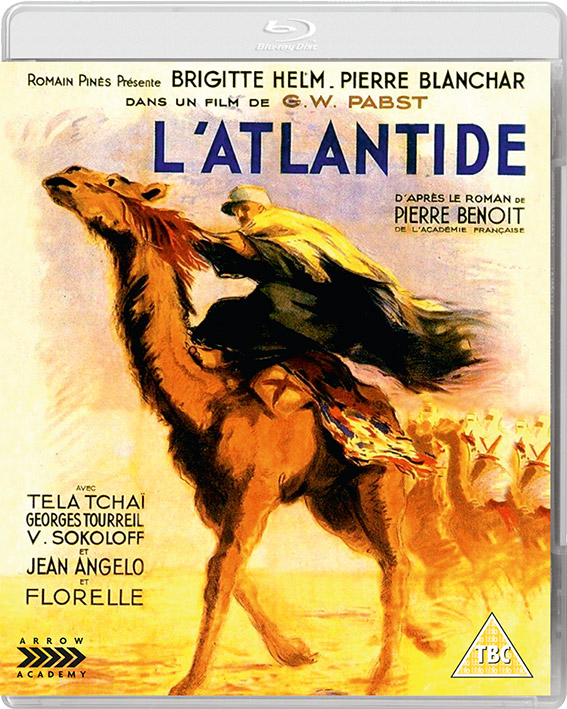 L'Atlantide | Blu-ray | 23 April 2018 | £24.99
L'Atlantide marked a change of direction for German filmmaker G.W. Pabst. Following a string of features on which he'd made his reputation – the masterpiece Pandora's Box, the classic World War I picture Westfront 1918, the Brecht adaptation The Threepenny Opera and the mining disaster movie Kameradschaft – Pabst ventured into fresh territory with an adaptation of Pierre Benoît's fantasy-adventure novel.

Set in 1896, L'Atlantide concerns the exploits of two French officers searching for missing comrades in the desert. During their rescue mission, the pair are kidnapped and taken to the subterranean lair of the goddess Antinéa (played by Metropolis's Brigitte Helm) in the ruins of the city of Atlantis – the infamous realm had not sunk beneath the sea but instead been buried under the sands of the Sahara.
Shot on location in the Sahara and at Berlin's Efa Studios, L'Atlantide presents a wonderful fantasy world. Originally filmed by Jacques Feyder in 1920, and later the inspiration for a camp Maria Montez classic, an Italian Hercules picture and a Totò parody among many others, Pabst's vision of Benoît's novel remains one of cinema's best.

Special Edition contents:
High Definition (1080p) Blu-ray presentation
Original French mono audio (uncompressed LPCM)
Optional English subtitles
Newly filmed appreciation by Kim Newman on the work of novelist Pierre Benoît and the numerous big-screen adaptations of his novel
Reversible sleeve featuring original and newly commissioned artwork by Timothy Pattides
First pressing only: Illustrated collector's booklet featuring new writing on the film by Pamela Hutchinson, author of the BFI Film Classic on G.W. Pabst's Pandora's Box and an article by art director Ernö Metzner