Cult Finnish filmmaker Aki Kaurismäki's deadpan, ironic and idiosyncratic films have established him as one of contemporary European cinema's most accomplished filmmakers, renowned for his distinctively spare yet heartfelt character studies of society's underdogs. Here, together for the first time, a comprehensive selection of his features and shorts spanning over three decades presented along with a specially commissioned 100 page booklet.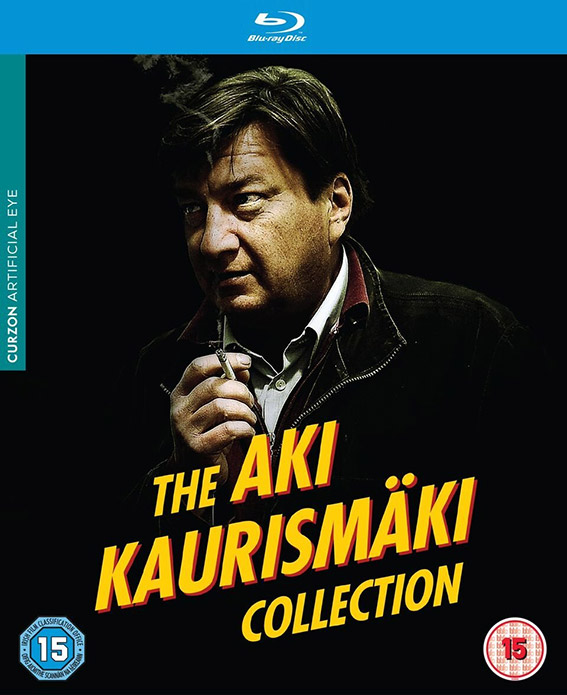 The Aki Kaurismäki Collection will be released as both a 10-disc Blu-ray and 10-disc DVD box set on 20 November 2017 by Curzon Artificial Eye at the RRP of £59.99 for the DVD set and £69.99 for the Blu-ray set.
Disc 1
Crime and Punishment (1983)
Kaurismäki's first feature follows the descent into crime of Rahikainen, a slaughterhouse worker and former law student, who murders a businessman and then begins a tense game of cat and mouse with the police. Effectively updating Dostoevsky's great novel to 1980s Helsinki, this remarkably assured debut offers a sharp critique of Finnish society.
Calamari Union (1985)
The voice of the Finnish auteur begins to shine through in this absurdist satirical comedy that sees seventeen young men on a quest to find a coastal town.
Disc 2
Shadows in Paradise (1986)
An introverted rubbish collector lives an almost solitary life. Especially once his only friend dies of a heart attack. But one day he meets the clerk at his local supermarket and a relationship may be about to blossom.
Drifting Clouds (1996)
A young couple live a modest life in Helsinki when both of them are made redundant simultaneously. This charming film takes a look at the challenges that sudden unemployment thrusts on relationships in typical Kaurismäki fashion. The first instalment of the Finland trilogy.
Also includes short film Oo Aine Ihminen (1996)
Disc 3
Hamlet Goes Business (1987)
An irresponsible playboy finds himself involved in a vicious boardroom power struggle with his uncle who plans to sell off his company's assets in order to corner the market on Swedish rubber ducks. In this wicked and hilarious satire of the corporate world, Kaurismäki liberally updates Shakespeare's tragedy as a hard-boiled noir B-movie.
La Vie de Bohème (1992)
A painter, a playwright and a composer become friends in Paris as they constantly fight to survive and get enough money to make it through the week.
Disc 4
Ariel (1988)
Taisto, a newly-unemployed miner from Lapland, sets off in a Cadillac convertible for a fresh start in Helsinki. Joined in his odyssey by meter maid Irmeli and her young son, Taitso's plans take a series of unexpected turns in this dryly comic and satirical melange of road movie and film noir.
The Match Factory Girl (1990)
Iiris hates her job working on the assembly line in a match factory to simply her ungrateful mother and stepfather. However, when she one day has a romantic encounter with a wealthy businessman she thinks her life might be about to change. But he thought it was no more than a one-night stand and this is not the news Iiris wanted to hear.
Also includes short film Valimo (2007)
Disc 5
Leningrad Cowboys Go America (1989)
The Siberian rock back head to the United States of America to seek fame, fortune and everything else that comes with it.
Leningrad Cowboys Meet Moses (1994)
The band's former manager gets back in contact with them saying he is the reincarnation of the Biblical prophet and needs to take them to the promised land... back to Siberia.
Disc 6
Total Balalaika Show (1994)
A documentary covering the Leningrad Cowboy's Helsinki concert to 70,000 people with the Alexandrov Red Army Chorus and Dance ensemble.
Also includes short films These Boots (1994), Those Were the Days (1992), Thru the Wire (1987), Rocky VI (1986), Rich Little Bitch (1987), Dogs Have No Hell (2002).
Disc 7
Take Care of Your Scarf, Tatjana (1994)
Valto discovers the coffee runs out. His mother refuses to make him more right away. So he locks her in the cupboard, takes her money and sets off for nowhere in particular.
Juha (1999)
Marja and Juha are a happily married couple living a country life when a man asks for help fixing his car. As Juha works away at the broken convertible the man tries to persuade Marja to run away with him to the city.
Disc 8
The Man Without a Past (2002)
Following Drifting Clouds, this is the second part of Kaurismäki's Finland trilogy. A man arrives in Helsinki only to be severely beaten and mugged. He sustains some head injuries which mean he's lost his memory and so has no choice but to start a completely new life, almost literally.
Lights in the Dusk (2006)
A naive security guard becomes involved with a beautiful and mysterious woman who may have motives that are not so wholesome. The final part of the Finland trilogy.
Disc 9
Le Havre (2011)
Marcel and Arletty's quiet, economically impoverished but emotionally rich life is disrupted when she is diagnosed with a serious disease. At the same time, Marcel takes a young illegal immigrant under his wing. A glorious, colourful and deeply humane work.
Disc 10
The Other Side of Hope (2017)
Khaled is a young man who has travelled to Helsinki from his home in Syria to seek asylum. For first-time visitors, Finland's capital city can be a strange and confusing place. But help is out there for those who know where to find it.