Later this month already beloved Blu-ray (formerly dual format) label Indicator celebrates its first anniversary. Slarek actually received the press release informing us of this yesterday, but in a nice touch of irony, he couldn't make time to post it because he was putting the finishing touches to his detailed review of the Indicator's The Wonderful Worlds of Ray Harryhausen, Volume One: 1955-1960. The press release is written in the first person, and rather than re-write the whole thing we've chosen to simply reproduce what we were sent:
These first 12 months have been a whirlwind, and we've barely had time to pause and reflect on all that we've achieved in our first year. But, as we come to the end of the year and prepare for the next, we wanted to take a breath and thank everybody who has enthusiastically embraced what we have done so far. We take a great deal of pride in our work, and it's been incredibly rewarding to see our editions generate the positive feedback which they have on forums, in reviews, and via emails and social media messages. Your continued support is very much appreciated.

We had hoped to be able to bring you our second volume of Hammer films in December, but our production ambitions have escalated, with work on presenting original UK versions of some of the titles (amongst other things) consuming a great deal of our time. We'd like to do justice to all of the titles we release, so we hope you'll bear with us a little while longer while we perfect a few things on this one. In the meantime, we'd like to draw your attention to the fact that our website now has final specifications for Hammer Volume 1: Fear Warning. We hope you'll agree that there's much to get your teeth into there...
Indicator has also announced the December Blu-ray release of Jack Clayton's powerful, groundbreaking The Pumpkin Eater, starring Anne Bancroft, Peter Finch and James Mason.
Anne Bancroft delivers a towering performance as a deeply troubled and tormented wife in this sharply observed portrait of a woman – and a marriage – in crisis. Directed by Jack Clayton (Room at the Top,The Innocents), with a screenplay by Harold Pinter (The Birthday Party) based on the acclaimed novel by Penelope Mortimer, this spellbinding film boasts sublime cinematography by the great Oswald Morris (Look Back in Anger, Fragment of Fear), a wonderful score by Georges Delerue (Le Mépris) and outstanding supporting performances from James Mason (The Deadly Affair), Maggie Smith (California Suite) and Yootha Joyce (Fanatic, Fragment of Fear).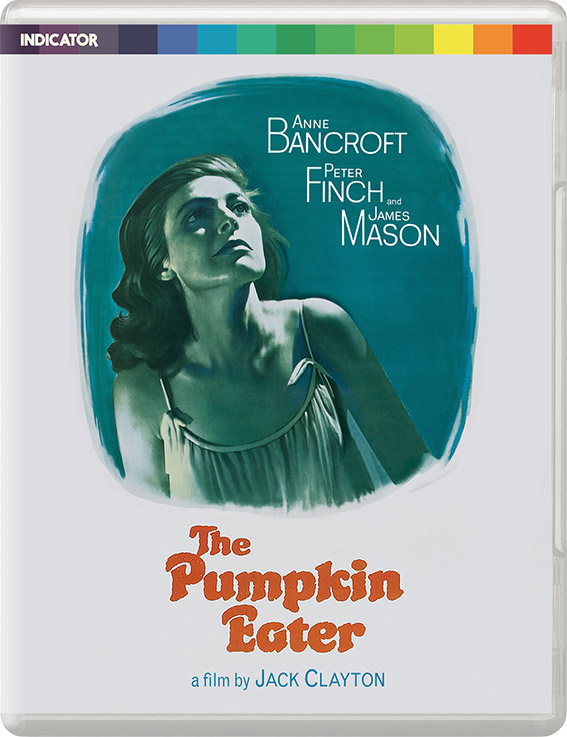 The Pumkin Eater (1964) will make its world Blu-ray premiere on 4 December, courtesy of Indicator at the RRP of £15.99.
Indicator Limited Edition features:
High Definition remaster 
Original mono audio
Audio commentary with author and film historian Neil Sinyard (2017)
Jeremy Mortimer on Penelope Mortimer (2017): a personal remembrance by the author's son
Original theatrical trailer 
Image gallery: on-set and promotional photography 
New and improved English subtitles for the deaf and hard-of-hearing
Limited edition exclusive booklet with a new essay by British-film expert Melanie Williams, an overview of contemporary critical responses, and historic articles 
World premiere on Blu-ray 
Limited Edition of 3,000 copies 
More TBC