Network Distributing has announced that it will be releasing the critically acclaimed feature debut film Chicken from writer/director Joe Stephenson later this month on DVD and Blu-ray in the UK and Ireland.
Written by Freddie Machin and Chris New and featuring powerful performances from Scott Chambers (Brothers, Blood Money, Ticking), Morgan Watkins (Kingsman: The Secret Service, Wild Bill, Suffragette) and Yasmin Paige (Submarine, The Double, Ballet Shoes), the DVD and Blu-ray will feature special extras including special Ian McKellen interviews with Scott Chambers, additional auditions and performances from the lead actors, phone videos, full score and a behind the scenes gallery.
With stellar reviews from the UK film industry including "Engaging and empathetic" ★★★★ Mark Kermode, The Observer and "An enjoyable, involving British drama" ★★★★ Empire, Chicken also won the Grand Jury Award at the New Hampshire International Film Festival, Best Film at Cine A La Vista International Film Festival, 2nd Prize at Giffoni International Film Festival and a Special Critics Circle mention for Scott Chambers at the Dublin International Film Festival.
Chambers plays Richard, a fifteen-year-old boy with learning difficulties who lives in a shabby caravan with his older brother, Polly (Watkins). Life for Richard is harsh, with the engaging, nature-loving teenager yearning for stability while frequently finding himself on the wrong side of his brother's destructive, often violent moods.
Finding it easier to communicate with animals – none more so than his beloved hen, Fiona – Richard nevertheless forms a friendship with rebellious seventeen-year-old Annabel (Paige), whose family have recently acquired the farmland on which the brothers live. But growing conflict with the new landowners will lead to a situation that severely tests Richard's natural optimism, as a world of privilege collides with the brothers' precarious, marginalised existence.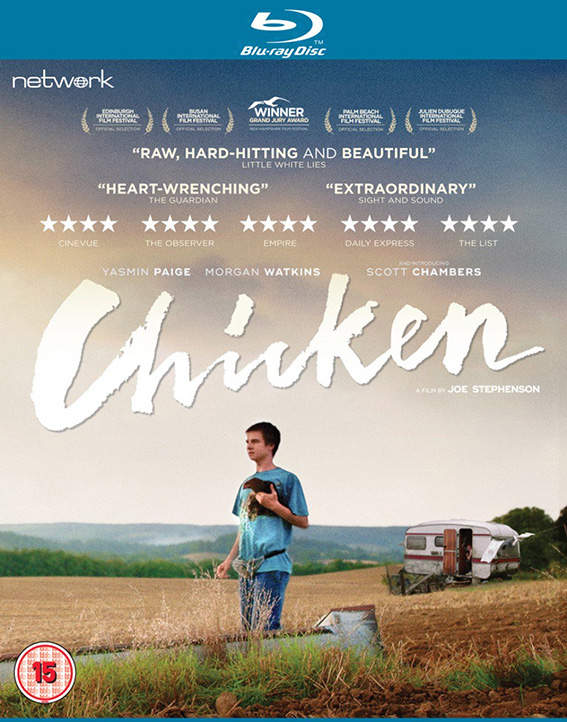 Chicken will be released on Blu-ray and DVD in the UK and Ireland on 18 September 2017 by Network Distributing at the RRP of £12.99 for the DVD and £14.99 for the Blu-ray.
Special features:
Ian McKellen interviews Scott Chambers 
Hatching Chicken
Morgan Watkins audition
Trailer and TV spot 
Phone videos 
Scott Chambers monologue
Full score 
Extensive image galleries