Eureka Entertainment have announced the release of The Vikings, Richard Fleischer's rip-roaring action adventure packed with stunning visuals, brutal action and a star-studded cast, as part of the Eureka Classics range on Blu-ray for the first time in the UK in October.
One of the most spectacular and action packed epics of the fifties, The Vikings wowed audiences worldwide with its stunning visuals, brutal action and star studded cast.
Prince Einar (Kirk Douglas – Paths of Glory, Ace in the Hole) is the son and heir of a savage Viking chieftain (Ernest Borgnine – Violent Saturday, The Wild Bunch). Prince Eric (Tony Curtis – Some Like it Hot) is his unknowing half-brother, the bastard offspring of Einar's father and an English queen. When the Vikings kidnap the princess Morgana (Janet Leigh – Psycho), her beauty inflames the desires of both men, forcing a bloody duel that decides their fate… and the future of the English throne.
Filmed in vivid Technicolor by the legendary Jack Cardiff (The Red Shoes, Black Narcissus) and narrated by Orson Welles, The Vikings spawned a whole sub-genre of imitators, (Mario Bava alone helmed Erik The Conqueror, The Last of the Vikings and Knives of the Avenger in the years following the film's release) but none quite topped the glorious spectacle from one of America's greatest directors of genre cinema, Richard Fleischer.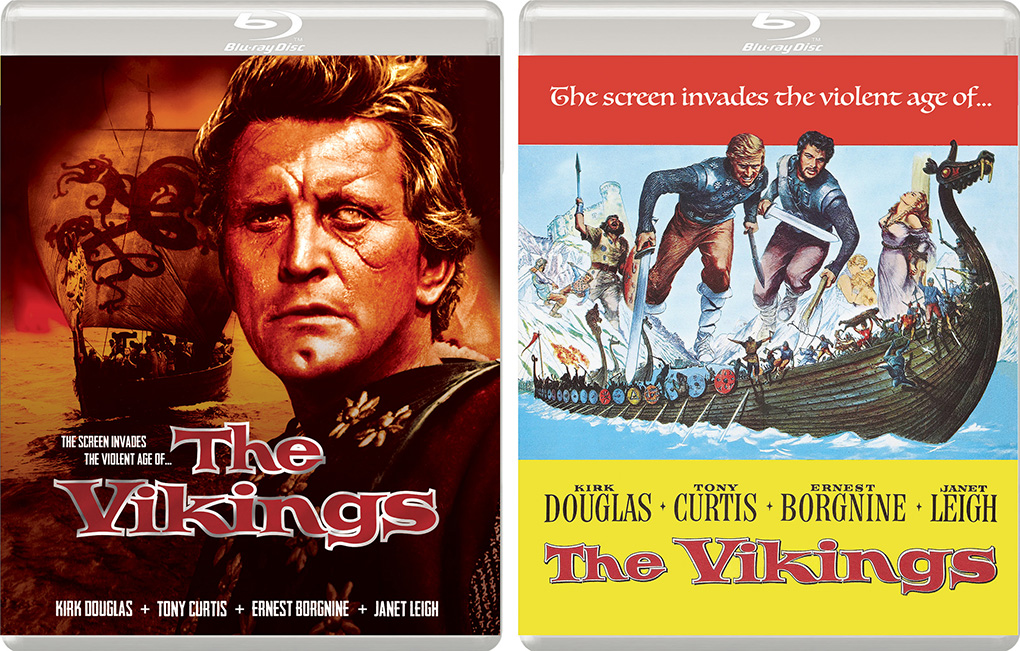 The Vikings will be released on UK Blu-ray on 16 October 2017 by Eureka Entertainment as part of the Eureka Classics range.
Blu-ray features:
Reversible sleeve
Gorgeous 1080p presentation
Original stereo PCM soundtrack
Optional English subtitles for the deaf and hard of hearing
Exclusive new video interview with film historian Sheldon Hall
A Tale of Norway (28 mins) – a featurette about the making of the film, presented by director Richard Fleischer
Original theatrical trailer
A booklet featuring the words of Richard Fleischer; a poster gallery and rare archival imagery