Curzon Artificial Eye has announced its biggest release of the year to date, The Handmaiden, which is making its way to DVD & Blu-ray in August. Still playing in cinemas across the country, The Handmaiden is on track to exceed the box office total of Julieta to become the highest grossing foreign language release of the last five years.
From visionary director Park Chan-wook (Oldboy, Stoker) comes The Handmaiden, a sumptuous and exhilarating period thriller inspired by Sarah Waters' best-selling novel Fingersmith.
Set during the Japanese occupation of Korea in the 1930s, a young handmaiden named Sookee (newcomer Kim Tae-ri) is hired by Hideko (Kim Min-hee, No Tears for the Dead), a reclusive heiress who lives in a sprawling mansion under the watchful eye of her domineering Uncle Kouzuki (Cho Jin-woong, Assassination). But Sookee harbours a secret: she has been recruited by Fujiwara (Ha Jung-woo, The Chaser, The Yellow Sea), a scheming con artist posing as a Japanese Count, to trick Hideko into entrusting him with her fortune. However, when Sookee and Hideko begin to develop unexpected emotions for each other, they start putting together a plan of their own.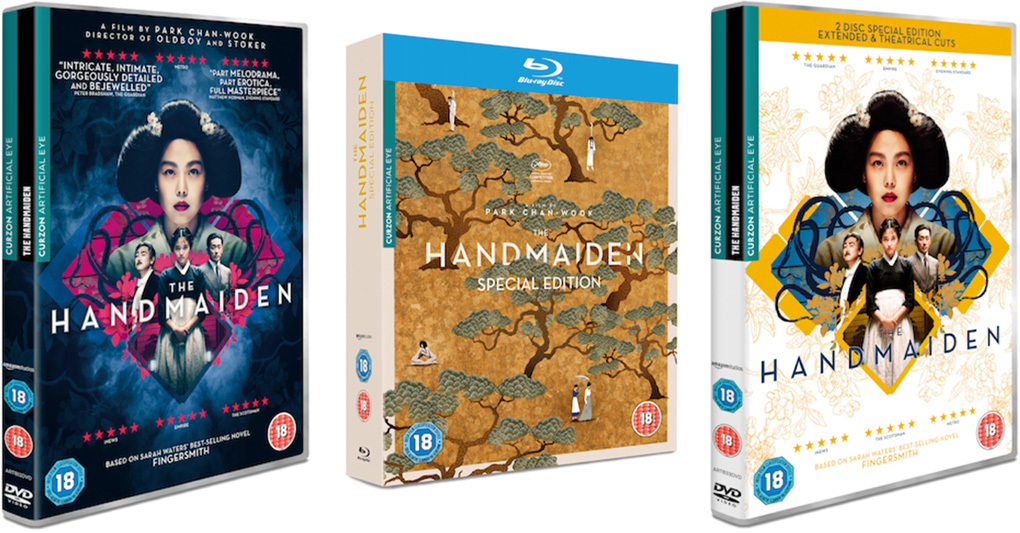 The Handmaiden will be released on UK Blu-ray and DVD by Curzon Artificial Eye on 7 August 2017 in three separate editions:
Standard dual format (Blu-ray & DVD) Theatrical Cut edition at the RRP of £15.99 for the DVD and £19.99 for the Blu-ray

Sainsbury's exclusive 2-disc DVD DVD edition featuring the Theatrical Cut and the Extended Cut at the RRP of £19.99

A Special Edition 2-disc Blu-ray featuring the Theatrical Cut and the Extended Cut at the RRP of £24.99 and with the following extra features:

Interview with Park Chan-wook (60mins)
Making of The Handmaiden
Cannes premiere
Cast interviews