Out of his depth, local police officer Jong-goo investigates a spate of killings, as well as an outbreak of madness seemingly connected to the recent arrival of a mysterious Japanese man who resides in the outskirts of the village. What's more, he is horrified to discover his young daughter may have fallen under the stranger's curse.
Jong-goo calls on a charismatic shaman to free his daughter from the stranger's dangerous influence, but the shaman's intense exorcism ritual threatens to worsen the situation... and Jong-goo, with his world collapsing around him, realises he must confront the ultimate evil.
With the likes of The Host, I Saw The Devil, and Train To Busan, South Korea is developing a reputation for producing top quality, world class horror films. The Wailing [Goksung] cements that reputation and was a box office smash, having taken over $50 million dollars in South Korea alone. Na Hong-jin (who directed the acclaimed thriller The Chaser and the ultraviolent The Yellow Sea) effortlessly combines bone-chilling frights and heart-wrenching drama with moments of comedy to relieve the nerve-shattering subject matter.
Carrying real emotional weight and a devilish final act twist, this is an assured, impressive and original piece of filmmaking featuring inept cops, red-eyed flesh chewing ghouls, a mysterious shaman and a sinister stranger, as well as the most foul-mouthed possessed youngster since The Exorcist.
The film stars Kwak Do-wan (The Man From Nowhere), Hwang Jung-min (A Bittersweet Life), Kunimura Jun (Kill Bill, Godzilla Resurgence), and Chun Woo-hee (Mother).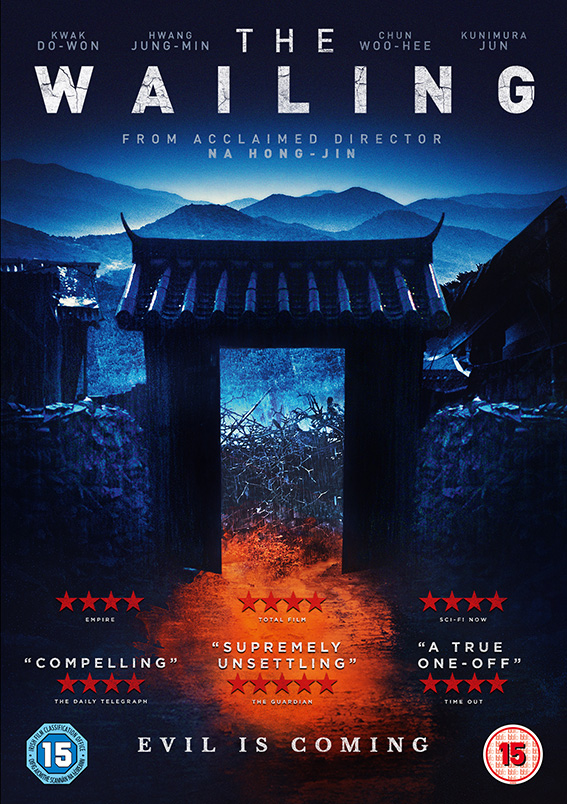 The Wailing comes to UK DVD (no Blu-ray?) on 30 January 2017 from Kaleidoscope Home Entertainment at a yet-to-be confirmed RRP.
No extra features have been listed.