Eureka Entertainment have announced the release of Creepy [Kurîpî: Itsuwari no rinjin], Kiyoshi Kurosawa's breathtaking psychological thriller, as part of the Masters of Cinema Series in a Dual Format (Blu-ray & DVD) edition on 23 January 2017 at the RRP of £19.99.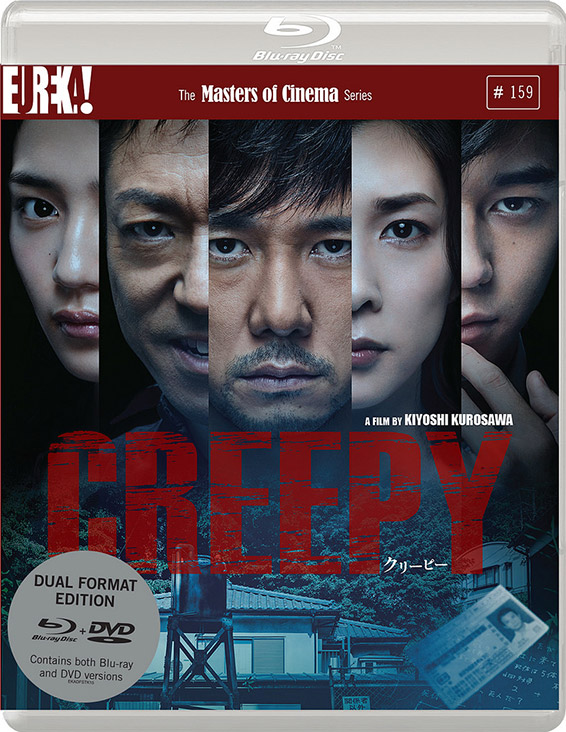 Director Kiyoshi Kurosawa first came to prominence in the West with his J-Horror masterpieces Cure and Pulse [Kairo]. Now he makes a triumphant return to the horror genre with Creepy, a macabre and deeply unsettling thriller that has left audiences around the world shivering in fear.
Based on a novel by Yutaka Maekawa, Creepy follows ex-police detective and criminal psychologist Takakura (Hidetoshi Nishijima – Dolls), who moves to a quiet suburban town seeking peace and quiet. When a former colleague asks for his assistance on a case involving a disappearing family his investigation leads him to suspect that his neighbour is a psychopath who comes into people's households and takes over their lives.
With a stunning cast made up of many of Japan's leading actors including Hidetoshi Nishijima, Yuko Takeuchi (Ringu) and Teruyuki Kagawa (Tokyo Sonata, Rurouni Kenshin), Creepy expertly mixes the genre conventions of the American thriller and Japanese horror to create this breath taking thriller. The Masters of Cinema series is proud to present the film's home video debut in a dual-format edition.
Ahead of the home video release, Creepy will be released in cinemas nationwide (UK & Ireland) on 25 November 2016: http://po.st/8KlCPW
You can read our London Film Festival review of the film here.