Terence Davies' new film A Quiet Passion will open across the UK and Ireland on 18th November 2016, courtesy of Metrodome. The film was warmly received at its Premiere at this year's Berlin Film Festival.
A Quiet Passion is the dramatic and moving life story of the iconic American poet Emily Dickinson, from her youth as a headstrong schoolgirl to her reclusive adulthood where poetry was her solace. Born in Amherst Massachusetts in 1830, Emily Dickinson's magnificent poetry captured all the terror and beauty of the world, distilled down to the quintessence of meaning and expression.
A remarkable cast is led by Cynthia Nixon as Emily Dickinson, with Jennifer Ehle as her sister Vinnie, and Keith Carradine as her father.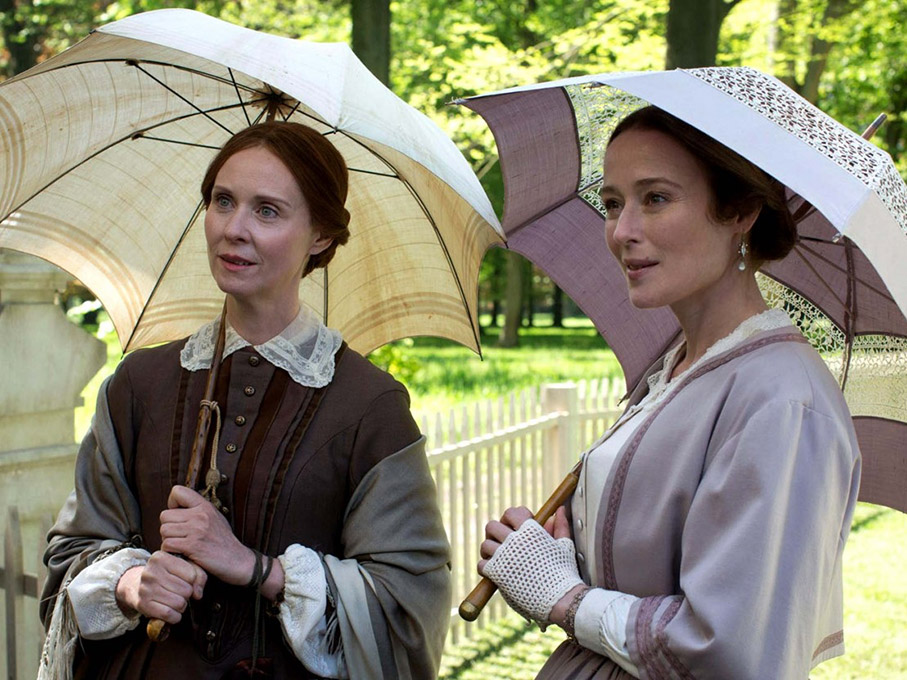 Cynthia Nixon is best known for her portrayal of Miranda Hobbes in the widely successful HBO series, and subsequent films, Sex in the City, winning her an Emmy Award for Best Supporting Actress. Recently Nixon has been receiving rave reviews for her portrayal of Gail White, a former schoolteacher grappling with Stage 4 cancer, in the film James White. In addition to her Emmy Award, Nixon has been nominated for five Golden Globes, and won a Grammy and Tony Award.
Jennifer Ehle is a BAFTA and multi-Tony winning actress best known for her portrayal of Elizabeth Bennet in the widely successful BBC series Pride and Prejudice. Recently Ehle is co-starring in Ira Sachs' Little Men, which premiered in competition at Sundance. Previously Ehle starred alongside Dakota Johnson in the adaptation of E.L. James' Fifty Shades of Grey. Other recent fiulms include Zero Dark Thirty (2012) and The King's Speech (2010).
Keith Carradine is a Golden Globe and Academy winning actor best known for his role as Tom Frank in Robert Altman's Nashville, though he also shined in Walter Hill's The Long Riders and Southern Comfort. Other recent films include Ain't Them Bodies Saints (2013) and Cowboys & Aliens (2011) as well as the current CBS TV series Madam Secretary.
Terence Davies' career as a filmmaker and screenwriter spans four decades, with many of his feature films winning critical appraise and awards. His credits include Distant Voices, Still Lives; The Long Day Closes; The Neon Bible and The House of Mirth, both adaptations of novels by John Kennedy Toole and Edith Wharton respectively. His most recent works include last year's Sunset Song, adapted from the classic novel by Scottish writer Lewis Grassic Gibbon, his first documentary Of Time and the City which received rave reviews when it premiered out of Competition at the 2008 Cannes Film Festival, and The Deep Blue Sea, an adaptation of the 1952 play by Terrence Rattigan.