Anticipating a weekend of leisure and pleasure, a group of Foreign Office acquaintances arrive at the palatial Hampshire estate of the Marquis of Caterham. The mood suddenly darkens when a notoriously hard-to-rouse guest fails to wake at all; and when another sinister death comes to light, the surviving guests are plunged into nervous speculation. Enter Lady Eileen Brent, the Marquis' enchanting and high-spirited daughter, affectionately known as 'Bundle'. She teams up with elegant idler Jimmy Thesiger to seek out the truth amid rumours of missing confidential papers and a cabal centred around a seedy nightclub called The Seven Dials.
Cheryl Campbell (Pennies From Heaven, Chariots of Fire) stars alongside John Gielgud (Gandhi, The Elephant Man) and Harry Andrews (The Hill, The Charge of the Light Brigade) as Lady "Bundle" Brent – Agatha Christie's most glamorous amateur sleuth – in a stylish, feature-length television adaptation of the famous whodunit: a deadly game of Cluedo combining international treachery, romance and murder! The film, made for TV in 1981, also features Joyce Redman (Victoria & Albert), Terence Alexander (The Day of the Jackal), Rula Lenska (Rock Follies) and Brian Wilde (Porridge).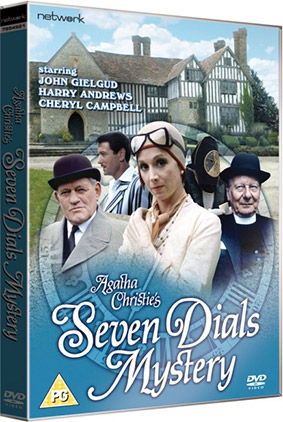 Agatha Christie's Seven Dials Mystery will be released on UK DVD on 18th July 2016 by Network at the RRP of £12.99.
No special features have been listed.