Doomwatch is one of the great, lost TV programmes, a classic slice of science fiction (with the emphasis as much on science as the fiction), a stunningly prescient homegrown programme that followed hot on the heels of Doctor Who. Famed for its look at issues facing us long before anyone else, not least technological developments, the threats they pose and fears over what was happening to the environment, it also set the template for science fiction TV programmes for years to come – with the series spinning off into the feature film world. And now, for the first time on Blu-ray and in a newly restored DVD version, the feature length outing for sci-fi thriller Doomwatch will have a UK release in June.
Following an oil tanker spill near the island of Balfe, Doctor Del Shaw (Ian Bannen – The Offence, Waking Ned) of Doomwatch, the British government's environmental monitoring organisation, is sent to investigate its effects on the remote fishing village. But he soon discovers strange happenings abound in the community. The islands men folk are displaying signs of aggression, insolence and unusual facial deformities that appear to be transforming them into near Neanderthals. The villagers are suspicious of the stranger in their midst, but with the help of a local teacher (Judy Geeson – To Sir With Love, The Eagle Has Landed), the doctor soon discovers the cause, but can he find a cure?
The film was directed by Peter Sasdy (Taste the Blood of Dracula) and co-stars Percy Herbert (The Bridge on the River Kwai, The Guns of Navarone), George Sanders (All About Eve, Rebecca) and Jean Trend (Z Cars, Dixon of Dock Green).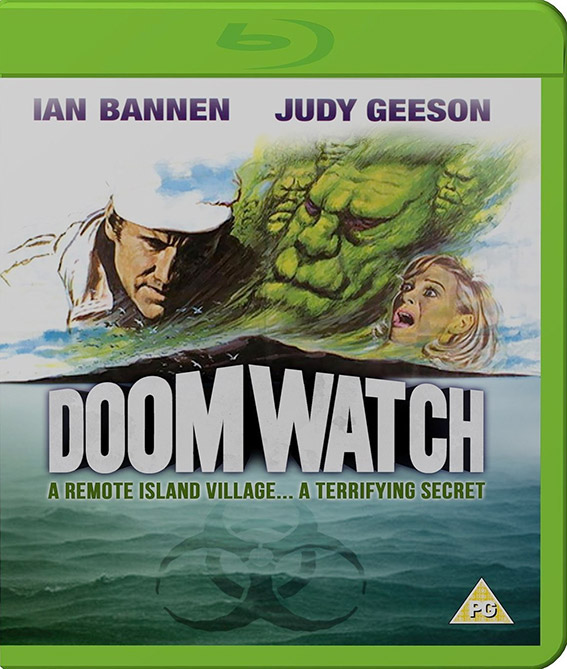 Doonwatch will be release on UK Blu-ray and DVD on 20th June 2016 by Screenbound at the RRP of £17.99 for the Blu-ray and £12.99 for the DVD).
No special features have been listed.