From William Peter Blatty, renowned author of The Exorcist, comes one the most unique and extraordinary films of its day, The Ninth Configuration, a taut theological thriller from 1980, which makes its UK Blu-ray debut courtesy of Second Sight.
Deep in a forest of pine trees near the coast of Washington State stands a secluded gothic castle, commandeered by the Pentagon for use as a military asylum. Determined to establish the true nature and origin of the men's mental illness, the Pentagon enlists the services of Colonel Kane (Stacy Keach – Road Games, Fat City, The Long Riders), a brilliant, yet strangely unorthodox psychiatrist.
With a reserved calm he indulges the inmates' delusions, allowing them free rein to express their fantasies. But some are wary of the newcomer and his methods. There may be more to Kane than meets the eye and the insanity escalates towards an explosive revelation. Who is Kane? And what has is he hiding?
Written, directed and produced by William Peter Blatty, this tense and gripping tale mixes theology and psychology and hosts a stellar cast including Scott Wilson (The Last Samurai), Jason Miller (The Exorcist), Ed Flanders (The Exorcist III), Tom Atkins (Lethal Weapon), Neville Brand (Eaten Alive), Moses Gunn (Shaft) and Robert Loggia (Lost Highway).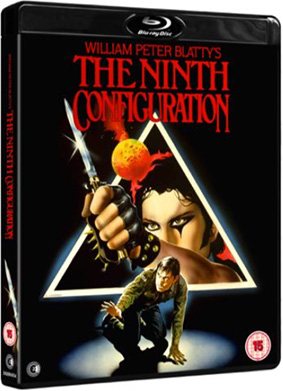 The Ninth Configuration will be released on UK Blu-ray and DVD on 25 April 2016 by Second Sight at the RRP of £19.99 for the Blu-ray and £15.99 for the DVD.
Special Features:
Audio commentary by writer/director William Peter Blatty

The writer/producer/director – interview with William Peter Blatty

Confessions of Kane – Interview with actor Stacy Keach

The Debrief Of Sgt. Christian – Interview with actor Stephen Powers

Designing The Configuration – interviews with production designer William Malley and art director J. Dennis Washington

Killer On My Mind – interview sith soundtrack composer Barry De Vorzon

The Party Behind The Curtain – interviews with actors Tom Atkins, Jason Miller, Richard Lynch and William Peter Blatty

Mark Kermode introduction

Deleted scenes and outtakes