Following its D W Griffith: Cinema's Great Pioneer season, the BFI presents The Birth of a Nation, one of the most acclaimed yet controversial films in cinema history. This comprehensive 2-disc Collector's Edition is released on Blu-ray next week and features a stunning new restoration. The extensive selection of extra features includes original camera tests, out-takes and a number of short films from the era, as well as panel discussions and scholarly interviews which consider the film's cultural legacy, impact and importance.
This cinematic milestone tells the epic story of two families during and after the American Civil War, recalling an era of divided loyalties, friendship and struggle for control of the Southern states. Condemned for its stereotyping of African Americans and its portrayal of the Ku Klux Klan as heroes, Griffith's film is also revered for its grand scale and its revolutionary use of film technique. The original 1915 score was adapted and conducted by John Lanchbery.
As the 'Father of Film' D W Griffith pioneered many aspects of film language which audiences now take for granted, from the use of close-ups for dramatic effect to parallel cutting (alternating between two or more scenes that often happen simultaneously, but in different locations).
The centenary of The Birth of a Nation was marked by a major international conference at University College London (UCL), and the BFI Southbank's The Birth of a Nation at 100 event gathered together a number of highly-regarded keynote speakers from the UCL conference to present a contemporary assessment of this highly controversial film, a hundred years on.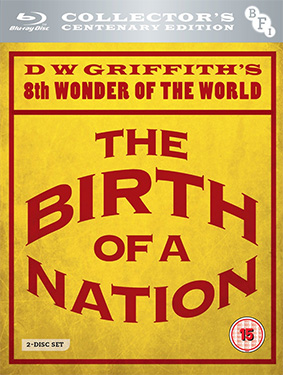 The Birth of a Nation will be released on UK Blu-ray as a 2-disc Collector's Centenary Edition on 23rd November 2015 by the BFI at the RRP of £29.99.
Special features:
1930 sound reissue prologue (1930, 6 mins), 1930 sound reissue intermission and introduction to Act 2 (1930, 2 mins): D W Griffith in conversation with Walter Huston

Outtakes and original camera tests

Melvyn Stokes on The Clansman, D W Griffith and Birth of a Nation (2015, 20 mins): newly filmed interview with the film scholar and Birth of a Nation authority

The Greatest Mother of Them All: Kate Bruce (1920, 1 min): short newsreel on the Griffith actress

The Coward (Reginald Barker, Thomas H Ince, 1911, 69 mins): a faint-hearted soldier in the American Civil War regains his courage

The Rose of Kentucky (D W Griffith, 1911, 17 mins): rural romance set in Griffith's home state

Stolen Glory (Mack Sennett, 1912, 14 mins): comedy set during a parade of Union Civil War veterans

The Drummer of the 8th (Thomas H Ince, 1913, 29 mins): poignant Civil War drama presented in two cuts

The Rebel Yell (1932, 9 mins) archival film in which reunited Confederate veterans recite the famous battle cry of the South

Stills and Collections Gallery (2015, 13 mins)

The Birth of a Nation at 100 (2015, 32 mins): roundtable discussion filmed at the BFI Southbank

The Birth of a Nation score recording sessions

D W Griffith on Lux Radio Theatre with Cecil B DeMille (1936, 6 mins): the two legends reminisce

Illustrated booklet with essays by Ashley Clark, Kevin Brownlow and Patrick Stanbury, and full credits