After its cinema release last Friday, Make More Noise! Suffragettes in Silent Film, a compilation of documentary, newsreel and comedy films, will be released on DVD by the BFI in November. Perfectly complementing the feature film Suffragette, these films show the real suffragettes battling for the vote and also how women were portrayed on screen at the time. The films are accompanied by a newly commissioned score, composed and performed by Lillian Henley.
Bad behaviour, noise, clamour and violence are not usually traits associated with British women – but for the first 15 years of the twentieth century, fearless females fought with the authorities, and society at large, to make themselves heard. This fascinating selection of over 20 films from the BFI National Archive combines documentary, newsreel and comedy to show how suffragettes were portrayed on the screen during the period when their battles were being waged on the streets.
With cinema becoming established as a dominant art form, the suffragettes made it their business to get in front of the cameras. Highlights include the wild antics of Tilly's Party (1911), the harsh lessons of Wife the Weaker Vessel (1915) and the poignancy of Miss Davison's Funeral (1913). In addition it contains another 12 rarely seen films and clips from the period, and an illustrated booklet.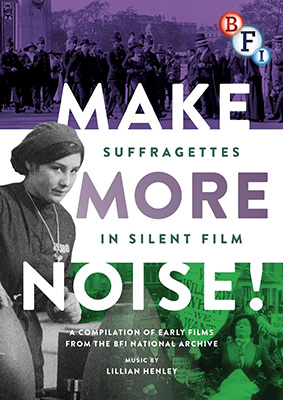 Make More Noise! Suffragettes in Silent Film will be released on UK DVD on 23rd November 2015 by the BFI at the RRP of £19.99.
Special features:
Suffragette Demonstration in London (1910, 3 mins): newsreel of an early suffragette mass march

Tilly the Tomboy Visits the Poor (1910, 6 mins): the Tilly girls star in this mischievous comedy

London Factory Girls on Strike in Camden Town (1911, 27 secs): newsreel footage of the strikers

Suffragette Pageant in London (1911, 1 min): footage of the Women's Coronation Procession

London Church Completely Destroyed by Fire (1913, 1 min): newsreel of an arson attack

St Leonards Outrage (1913, 1 min): footage of an arson attack on an MP's home

Suffragette Derby of 1913 (1913, 5 mins): Gaumont's footage of the 1913 Derby

'Law Abiding' Suffragists in Hyde Park (1913, 1 min): a mass NUWSS meeting

Suffragettes Again (1913, 1 min): newsreel of an arson attack in Plymouth

Trafalgar Square Meeting (1916, 1 min): Mrs Pankhurst and Mrs Dacre Fox address the crowd

Labour's First Woman MP (1922, 14 secs): short clip of Susan Lawrence

Lady Astor (Conservative) in Again for Plymouth (1923, 13 secs): the first female MP celebrates another win

Illustrated booklet with essays by Yasmin Alibhai-Brown, Bryony Dixon and Lillian Henley, film notes and credits
Below is a clip from Trafalgar Square Riot (1913):
And here's a clip from Tilly and the Fire Engines (1911):
Also, actress Romola Garai (Suffragette) was recently filmed watching footage from Make More Noise! and talking about the importance of the preservation of film for future generations, in support of the BFI's new FILM IS FRAGILE fund-raising campaign. This campaign aims to raise over £1 million to help protect the UK's national film collection of priceless and irreplaceable films in the BFI National Archive. The 83 second clip is below: