Arrow Films has announced the latest Jules Dassin addition to the Arrow Academy label following Rififi, Brute Force and The Naked City. His hard-hitting 1949 film noir, Thieves' Highway, will be released on dual-format Blu-ray and DVD this month with a wealth of extras and a brand-new 4K restoration.
Genre authority Frank Krutnik (author of In a Lonely Street) provides commentaries and an exhaustive look into the genesis, production, reception and politics of Thieves' Highway, while the documentary portrait The Long Haul of A.I. Bezzerides offers up rare interview material with the late author and screenwriter as well as insights from Dassin and crime writers Barry Gifford, George P. Pelecanos and Mickey Spillane. The package will also feature a collector's booklet with writing by Alastair Phillips (the co-author of 100 Film Noirs) and a reversible sleeve featuring original and newly commissioned artwork by the much-loved Graham Humphreys.
Thieves' Highway was made during a remarkable run of noir pictures that confirmed its director, Jules Dassin, as one of the genre's major forces. Following on from Brute Force and The Naked City, with Night and the City and Rififi soon to follow, it more than deserves its place in such hallowed company.
Returning from the war to discover his father has been crippled in an altercation with a brutish mob-connected kingpin, Nick Garcos puts aside thoughts of settling down and instead focuses them on revenge. He buys an old army surplus truck and hits the road – a 36-hour non-stop to San Francisco and, he hopes, a little justice…
Starring Richard Conte as Garcos and Lee J. Cobb as the object of his hate-filled intentions, Thieves' Highway is as tough as film noir gets. Adapting his own novel, A.I. Bezzerides (who would later bring Kiss Me Deadly to the big screen) created a slice of pure pulp poetry.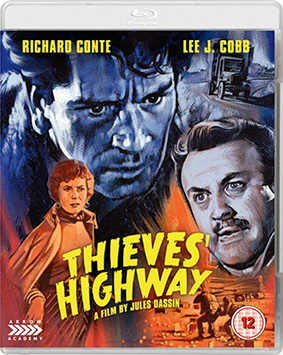 Thieves' Highway will be released on UK dual format (Blu-ray and DVD) on 19th October 2015 by Arrow Films as part of the Arrow Academy label at the RRP of £15.99.
Boasting a new 4K digital restoration by Twentieth Century Fox, uncompressed Mono 1.0 PCM Audio and optional English subtitles for the deaf and hard of hearing, the disc will have these special features:
The Long Haul of A.I. Bezzerides – a 55-minute documentary portrait of Thieves' Highway author and screenwriter, featuring contributions from Bezzerides, director Jules Dassin and writers George P. Pelecanos (The Wire), Mickey Spillane (Kiss Me Deadly) and Barry Gifford (Lost Highway)

The Fruits of Labour – a new video essay about the genesis, production, reception and politics of Thieves' Highway by Frank Krutnik, author of In a Lonely Street: Film Noir, Genre, Masculinity

Selected scene and character commentaries by Frank Krutnik

Theatrical trailer

Reversible sleeve featuring original and newly commissioned artwork by Graham Humphreys

Collector's booklet featuring new writing on the film by Alastair Phillips (co-author of 100 Film Noirs), illustrated with original production stills