"Most people seem to think I'm the kind of guy who shaves
with a blowtorch. Actually I'm bookish and worrisome."
But Burt, that's what happens when you play hard men convincingly. Burt Lancaster was a true Hollywood legend, an actor and producer whose strong and athletic physicality defined his image and to a lesser extent his entire career. He took chances in a series of roles in order to broaden his range. Once he was 'discovered' with his body and movement doing all the work (he was a former acrobat in a circus), he took it upon himself to learn screen craft and turned in some truly unnerving and memorable performances over many decades. After the second world war, Lancaster got his start in a block of movies, all 'noir', at that time a cinematic metaphor for the darker feelings driven deep into the American psyche in the post-war period. Lancaster is not famous for these specific films but his presence lent each one nascent star-wattage and credibility. Yes, the body was sculpted and honed but the performance was also there. Lancaster was always convincing as a tough guy and no more so than in Jules Dassin's Brute Force.
Firstly a small confession... I adore prison movies and I don't know why. Perhaps the emotions found in stir are universal and primal. As correctional establishments go, prisons are not high on anyone's list of places successful at any kind of rehabilitation. Prisons tend to make prisoners hardened, more cynical and significantly less 'corrected'. Inside, a sub-strata of society is usually forged, a bizarre but parallel mimicry of the world outside. A subtle power play exists in all prisons and because of the lack of sexual outlets, the phrase "picking up the soap" has taken on a unique terror all of its own. There will always be a kingpin inside, as well as an evil warden, a fixer and a stoolpigeon. These are almost mandatory. But some prison movies suffer from what I call the 'Alcatraz Syndrome'. In Escape From Alcatraz (the clue's in the title), we are treated to a battle of wits and wills between the most iconic actor of his generation (Clint Eastwood) and one of the most iconic of a previous one (Patrick McGoohan). Now throughout the film we are obviously invited to root for Eastwood – he beats up the leering, obese would-be rapist; he makes friends with the prisoner kingpin (by telling him he hates people of his ethnicity). The warden is the bad guy. It's obvious. In terms of writing, direction and performance, the stark division of stock personalities is crystal clear despite the story having the luxury of being true. The cool, laconic guy will win and the nasty, sadistic bastard will lose.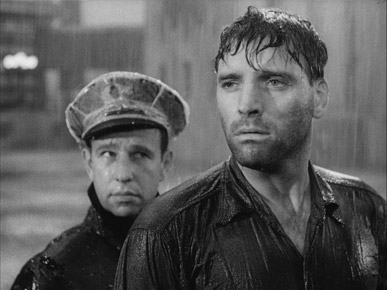 Now, try this on for size. Let's say that Eastwood was in prison in the first place for kidnapping and raping four-year-old children. How comfortably do the stock clichés sit now? You see, we never really find out just exactly what Eastwood did to land himself in Alcatraz (aside from escape from every other prison in which he'd been incarcerated) just as we are never told what Burt Lancaster's character did to end up at Westgate Penitentiary. For the record, Eastwood's Frank Morris (a real Alcatraz prison escapee) was indicted for the following: Two counts of Juvenile Delinquency; Two Runaways; Breaking & Entering; Burglary; Narcotics & Armed Robbery; Unlawful Flight, Mann Act (this could be moving an underage girl to another state to have sex or it may involve child pornography) & Bank Robbery. Not so bloody heroic now, is he? I've just replayed the scene with Eastwood and McGoohan at the start of his term and although the warden lists crimes, it's not explicit that they are Eastwood's ("You escaped from quite a few prisons, haven't you? It's why you're here." says McGoohan who finally gets to play a No. 2).
We have to assume Lancaster's crime was violent, brute force in and out of prison you have to imagine. What enables us to root for the prisoners in the normal way is because their treatment inside is suitably barbaric, and Lancaster is desperate to join his wife who will not undergo a life-saving operation without her man at her side. How's that for sympathies on 9.9? The captain of the prison guards (superbly played by Hume Cronyn) is the small, oily, Nazi sadist, Captain Munsey – though I'm sure he loves his kids. Cronyn seems to be channeling Rick Moranis on downers, revelling in his small man with power over those he could never physically intimidate. He cajoles the prisoners into becoming informers, forcing their hands. In one instance he beats up a shackled prisoner with an iron bar while listening to Wagner. It doesn't get any nastier than that. We all know who Wagner's most famous fan was (and no, Stephen Fry doesn't count). Think pathetic moustache and a girlfriend named after a shaver.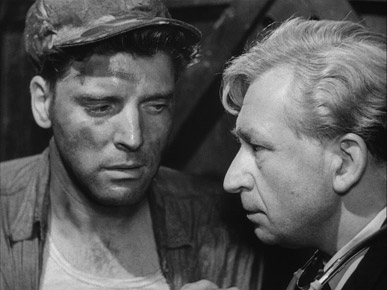 In Joe Collins (Lancaster), Munsey has encountered a worthy opponent, a man with a will of steel and an uncompromising attitude. We join the action as Lancaster is being led out of solitary where he has been for two weeks. A fellow inmate planted a knife on him and just from the first look on Lancaster's face, we are pleading not to be the man who did that deed. Comeuppance doesn't come up any higher than justice, prison-style. We learn that one of Lancaster's cellmates has died through enforced labour in the drains, something Captain Munsey obviously orchestrated. We establish the kindly, prisoner-friendly doctor (Art Smith), an irrepressible alcoholic who is the only beating heart inside the jail's monolithic coldness. A West Indian prisoner, Calypso (and I kid you not, he's credited as 'Sir Lancelot') has a schtick that gets old really fast (as has that worn out cliché). He sings through his incarceration, making up lyrics to suit whatever situation he's in. Both guards and inmates all seem to think this so-assumed charming whimsy is hugely entertaining. In reality, he'd probably be singing through shattered teeth. Apologies, but every time he started to sing, I wanted to punch him.
Once the stoolpigeon is eliminated by a creative execution, Lancaster and his cell mates share their stories of how they came to be banged up and each quite subtle flashback takes us to what's credited as 'The women on the "Outside"', a quartet of reasons for the men being on the wrong side of the law and by implication, the reason for their incarceration (which is a bit of a simplistic idea embedded inside a much more interesting and complex film). Apart from Lancaster, there are two familiar faces in the overcrowded cell numbered R17. There's John Hoyt as Spencer looking in his prime. In my world he holds the honour of being the first doctor of the starship U.S.S. Enterprise before DeForest Kelly became immortalised in the role. There's also the tragic Tom Lister played by Whit Bissell. Bissell has a CV too long to celebrate here but scrolling down his prodigious list of credits, he appears to have been in almost every U.S. TV series aired during his active years. Here the young man is instantly recognisable but it's always interesting to see an actor in his youth after being so familiar with him as a middle aged and older performer. He's probably best remembered from my point of view as the psychiatrist whose volte face at the eleventh hour may have saved the Earth from the original 1956 Invasion of the Body Snatchers.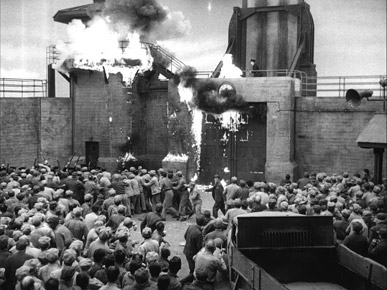 The breakout is planned, more secrets are revealed, crosses doubled and in the climactic scene, director Dassin pulls out the stops with urgent camera movement and a demented score pulsing an ever-increasing heartbeat driving the action forward. Having seen the marvellous Rififi courtesy of the site's esteemed editor, I was aware that director Dassin was a major talent. I also made the lazy assumption that a superb French movie directed by a man called Jules Dassin meant that he was French. I'm happy to be kicked out of my complacency. Dassin was American through and through. Born in Connecticut and from Russian Jewish stock, he made his name with hard-boiled noir and was regarded as one of America's finest directors until H.U.A.C. came knocking. The House of Un-American Activities Committee was created in 1938 to uncover Nazi sympathisers in the US and this led to routing Communists from the left leaning Hollywood film industry. The Committee is often but mistakenly linked with Senator Joseph McCarthy, whose agenda was the same if not his specific targets. Because of Dassin's communist sympathies, H.U.A.C. saw to it that Dassin didn't work in the US again until the late 60s but he managed to revitalise his career in France. His direction of Brute Force is bold and weighty. He knows the power of the shadow, the unyielding confinement of the walls and his angles are often (as they should be) imposing and heavy on the inmates' shoulders.
Also imposing is Miklos Rosza's excellent score that underlines the savagery of the authorities whilst simultaneously undermining it. His main theme is of the penitentiary itself and its inflexible brickwork. You just know you're not getting any romantic comedy once his horns start blaring. The work of cinematographer William Daniels (back in the game after illness) is sometimes astounding. There is something indefinably wonderful about superbly shot monochrome and it suits this movie like sprocket holes. The special effects are all too convincing as I'm going to have to assume some shots were faked, backgrounds added using miniatures and forced perspectives. Perhaps they were real buildings or real sets. I'm happy to be disabused. But it all looks incredibly realistic. Brute Force is a belter of a prison drama and this is a fine transfer of this emotionally charged and violently explosive movie.
Although the booklet states the aspect ratio is 1.37:1, I'm fairly sure my frame grabs work out nearer to, and exactly if I'm honest (right down to the recurring post decimal point '3's) 1.33:1. I know we're talking about 3% of picture information here so no one should care (but I do, just a little bit). I'm sure I've misunderstood something technical here. But the overall quality is superb; deep, satisfying blacks, a great tonal range and the transfer is relatively damage free. The grain is noticeable but unobtrusive.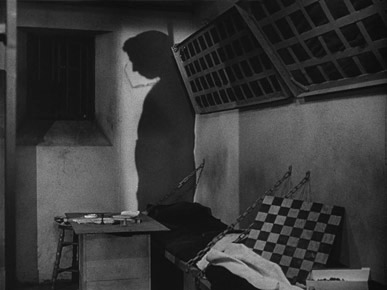 The Mono PCM soundtrack is clear and allows Miklos Rozsa's strident brass to punch through, an audio synonym of the movie's title. There are English subtitles for the deaf and hard of hearing.
Trailer (2' 14")
"It's one big human bomb ready to explode!" "It roars with unforgettable fury!" Of course it does! The HD presented trailer has been sourced from a print many times removed from any original negative. It's dirty, very soft and the contrast is shot but hey, as long as the feature looks good, anything else is a bonus. I wasn't around in 1947 myself but I would imagine it was a typical trailer of its time, all sound and fury signifying Burt Lancaster in jail and a rabbit of negative euphoria (thank you John Finnemore); not a happy bunny.
Burt Lancaster: The Film Noir Years (38' 46")
This is a single talking head, sparsely punctuated by relevant stills, of author Kate Buford delivering a superb informal lecture on this specific period of Lancaster's career. Presumably paraphrasing directly from her book Burt Lancaster: An American Life, Buford's presentation is fascinating not least because of the revelations of so many surprising nuggets. I consider myself to be a fan of Lancaster but I knew nothing about his career as a producer. This piece is edited into sections whose titles are fairly self-explanatory;
The Early Years
World War II
Discovery
Post-War Hollywood
Screen Test
Mark Hellinger
The Killers
Walk Alone
Contract Wrangles
Brute Force
A Streetcar Named Desire
The H.U.A.C. and All My Sons
Sorry, Wrong Number
Kiss The Blood Off My Hands
Criss Cross
A Decade Later: Sweet Smell of Success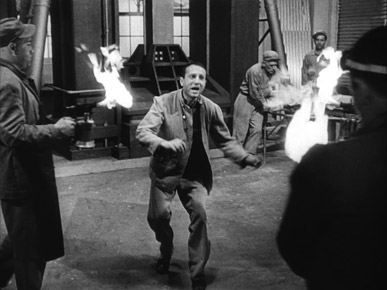 Gallery
This consists of 54 high quality stills of the production and behind the scenes shots, each activated by the 'play' button and not the usual forward arrow on the remote. Yes, I did stand there like an idiot pressing all manner of buttons until I hit upon the right one. They are all black and white, while some have a green tinge, most of them look like they were shot yesterday. There's an angle on the climactic scene that we don't see in the movie itself and there are several 'staged for the stills cameras', scenes in the movie that in themselves are not in the movie exactly as photographed if you see what I mean.
Collector's Booklet – 31 Pages
According to the press release, this contains new writing on the film by Frank Krutnik, author of In a Lonely Street: Film Noir, Genre, Masculinity, and Swell Guy, an obituary of Brute Force's producer, Mark Hellinger, by its screenwriter, Richard Brooks, illustrated with original stills.
The former is a terrific essay on the movie itself with specific reference to the context in which it was made and reactions to what was then a startling level of brutality and implied raciness. Krutnik knows his noir onions and I was very impressed with his phrase about 'film noir' being... "that most tantalising yet incoherent of 'genres'". Nail well and truly craniumed. I can get my head around science-fiction, comedy and thriller but 'noir' is more of a smoky ambiance of a genre and Krutnik's 'incoherent' comment nicely encapsulates this ambiguity of specificity. Try saying that after a few ales.
The latter article, Swell Guy, is a letter of admiration to the movie's singular producer, Mark Hellinger, on the day of his funeral. 44; not an age to check out. Written by the producer's friend Richard Brooks, the screenwriter of Brute Force, it comes across as heartfelt and deeply sad. He tells of incidents in Hellinger's life that seem so contradictory in a Hollywood producer's repertoire of behaviour. Hellinger once funded a hard up writer for a year to write whatever he wanted. When he saw the manuscript, Hellinger (a Jew) realised that the writer's great idea was a diatribe against Jews. I'll quote from the piece; Mark sent the manuscript to the author with a last final check. A note was attached: "Not because of what you wrote but because even a no-talent bastard has to eat." Classic. I adore contradictions in people. It somehow adds to their humanity. This is a loving obituary and the sense of the 'swell guy' really comes through.
Brute Force is a solid member of the film noir club and an archetypal prison drama. At the time, it was a huge hit and featured violence and sexual content that were both regarded as rather shocking. Seen sixty-seven years on, the brutality still smarts (at one point Lancaster is repeatedly struck with a large scale machine gun bullet belt, ouch) but the sexual content now? Lamer than a Chihuahua with a limp. But that said, it's a terrific example of its kind and comes well recommended from this prison movie fan.