One of our favourite distributors Second Run celebrated their 10th Anniversary in September, and are now embarking on their first ever theatrical release with Pedro Costa's extraordinary new film, Horse Money [Cavalo Dinheiro].
Portuguese auteur Pedro Costa returns with the eagerly awaited follow-up to his landmark Fontainhas trilogy which poetically captured the lives of those residing in the eponymous Lisbon slum. In Horse Money, Ventura – the sad-eyed Cape Verdean lead of Colossal Youth – is lost in startlingly abstracted and stunningly rendered indeterminacy as revolution takes place in the streets. A product of the failed promises of Portugal's Carnation Revolution in the 1970s, Ventura is increasingly held captive by his madness and the "nervous disease", the results of a lifetime's worth of back-breaking manual labour and extreme poverty. Invoking the photography of Jacob Riis (1849 – 1914), the famous American photographer, journalist, and advocate for poverty reform, Costa's new film is a powerful indictment of social and racial injustice.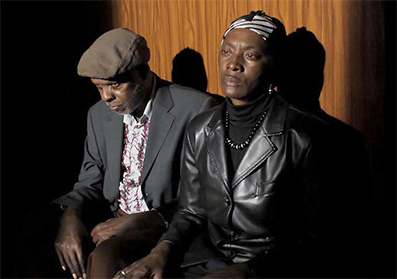 Winner of the Best Director prize at the 2014 Locarno Film Festival, and already featured in many worldwide critics' 'Top 10 Films of the Year' lists, Horse Money is a hauntingly beautiful contemplation of Portugal's tumultuous past and uncertain future from one of the true poets of contemporary European cinema.
The film has been screening at the ICA in London and selected cinemas across the UK, and next Tuesday 13th October at 6pm it will be screened by Picturehouse Cinemas in the majority of their venues in the UK as part of their 'Discover Tuesdays' strand.
House Money will be screening at the following Picturehouse Cinemas: Bath Little Cinema / Bradford Media Musem / Brighton Komedia / Brixton Ritzy Cameo Edinburgh / Clapham / East Dulwich / Exeter / Greenwich / Hackney Henley / Liverpool FACT / London Picturehouse Central / Norwich Cinema City Oxford Phoenix / Southampton / Stratford East / Stratford on Avon / York City Screen.
The film was described by RogerEbert.com as "Somewhere between Rembrandt and Eraserhead" and Danny Leigh in the Financial Times as "a film of rough and rigorous poetry."