Today Network Releasing has announced that it will release Pablo Larraín's Berlin award-winning film The Club [El Club] on Easter Friday, 25th March 2016 in UK and Irish cinemas. The Club won the 2015 Silver Bear Grand Jury Prize at the Berlin International Film Festival this year and will soon have its UK Film Premiere at the BFI London Film Festival on the 8th and 9th October 2015.
Critically acclaimed Director Pablo Larraín is best known for Tony Manero (2008), Post-mortem (2010), and Oscar-nominated No (2012) starring Gael García Bernal which was released to great critical acclaim, and all previously released in the UK through Network Releasing.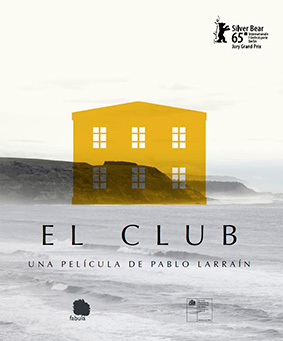 Written by Guillermo Calderón, Pablo Larraín, Daniel Villalobos and starring Roberto Farías, Antonia Zegers and Alfredo Castro, The Club is centred on four men who live together in a secluded house in a small, seaside town. Each of them has been sent to this place to purge sins from the past. They live according to a strict regime under the watchful eye of a female caretaker when the fragile stability of their routine is disrupted by the arrival of a fifth man, a newly-disgraced companion bringing with him the past they thought they had left behind.
Tim Beddows, Network Releasing's managing director, said:
"Congratulations to Pablo Larraín on taking Berlin by storm with The Club. Network is thrilled to announce the official UK release date for the film and have its UK premiere at this year's London Film Festival."
The Club (El Club) will screen at the BFI London Film Festival:

Thursday 8 October 18.15 – Cineworld Haymarket, Screen 1

Friday 9 October 14.45 – Vue West End Cinema, Screen 7
The Club [El Club] will be released in UK and Irish cinemas on 25 March 2016.