Described as one of the hardest-hitting prison dramas in British screen history A Sense Of Freedom, the striking true story about notorious reformed Glasgow gangster Jimmy Boyle.
Charged with murder twice and cleared when barely into his twenties, Jimmy Boyle was Scotland's most feared gangster – a Gorbals 'hard man' notorious for his extreme violence. Then he got a taste of his own medicine when he was sentenced to life in a Scottish prison where the regime, with its punishment beatings and solitary confinement, was every bit as brutal as that on the street. Yet out of this bleak and seemingly dead-end system of crime and punishment came an extraordinary chance of redemption, which drove Boyle to make something positive of his life in ways that neither he nor anyone else could ever have imagined.
Made shortly after the equally intense prison drama Scum, A Sense of Freedom is based on Boyle's autobiography of the same name and also stars leading Scottish acting talent including Fulton Mackay (Porridge), Jake D'Arcy (Tutti Frutti), Alex Norton (Taggart), Sean Scanlan (Rab C. Nesbitt), Jimmy Yuill (Wycliffe), John Stahl (Game of Thrones) and outrageous Scottish comedian Hector Nicol (Just A Boys' Game).
Directed by John Mackenzie (The Long Good Friday) and featuring a sensational lead performance from Trial & Retribution star David Hayman, the BAFTA-nominated A Sense of Freedom remains one of the most searing, shocking and thought-provoking prison dramas ever made.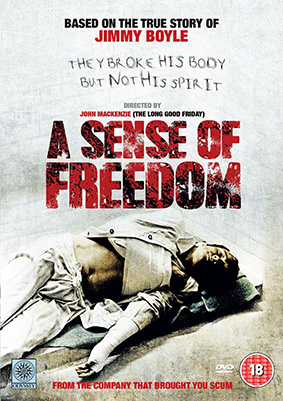 A Sense of Freedom will be released on UK DVD on 12th October 2015 by Odyssey at the RRP of £12.99, in both its blistering original version and a controversial later dubbed and edited version.
No special features have been listed.