The ethics of an honest man collide with the brutal violence of 1980s New York as A Most Violent Year, JC Chandor's critically acclaimed but curiously overlooked 2014 crime drama, comes to Blu-ray, DVD and digital platforms in May, courtesy of Icon Film Distribution.
At a time when New York City is experiencing a spike in criminal activity, small businessman Abel Morales (Oscar Isaac – Inside Llewyn Davis, soon to be seen in the Star Wars and X-Men franchises) fights to make himself a living, support his wife Anna (Jessica Chastain – Interstellar, Zero Dark Thirty) and protect his interests. Always looking for a way to expand his business, Abel nevertheless strives to keep things honest and to do things by the book. However, when he becomes the target of opportunistic thieves, he takes matters into his own hands to track down those responsible. But, in doing so, he also attracts the attention of the Assistant District Attorney (David Oyelowo – Selma, Interstellar) who takes an unwelcome interest in Abel's business practices...
Directed by JC Chandor (All Is Lost, Margin Call), A Most Violent Year echoes classic American crime thrillers like The Godfather and the best of Sidney Serpico Lumet's output, at the same time fostering respect as an independent drama of its own significant merit.
With support from Alessandro Nivola (American Hustle) and Albert Brooks (Drive), A Most Violent Year is the Great American Crime Drama reimagined – presenting a dark time in New York history through the eyes of a man whose best intentions compete with his rawest instinct to survive.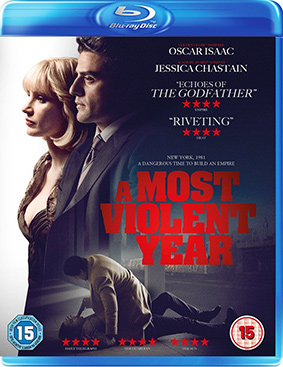 A Most Violent Year will be released on UK DVD, Blu-ray and digital platforms on 18th May 2015 by Icon Film Distribution at the RRP of £15.99 for the DVD and £17.99 for the Blu-ray. Digital prices may vary according to vendor.
Special features will include the following:
Featurettes

The Director
The Cast
Cinematographer
Costumes
The Story
The American Dream
Behind the Lens
Costuming an Era
Conversations with Oscar Isaac and Jessica Chastain

A Shared Foundation
Mastering the Craft
The Early Years
Trailer / TV Spots

Main Trailer (Runtime 02:07)
UK Teaser Trailer
International Trailer
TV spots
Stills / Behind the Scenes Photos