With their marriage in tatters Anna (Adjani) and Mark's (Neill) tense relationship has become a psychotic descent into screaming matches, violence and self-mutilation. Believing his wife's only lover is the sinister Heinrich, Mark is unaware of the diabolical, tentacled creature that Anna has embarked on an affair with. The unhinged woman visits her monstrous lover in a deserted Berlin apartment and will stop at nothing to protect him.
Possession was nominated for a BAFTA and the Palme d'Or and stars Isabelle Adjani (Subway, La Reine Margot), who's astonishing performance earned her Best Actress awards at the Cannes Film Festival and the French Césars alongside Sam Neill (Jurassic Park, Omen III – The Final Conflict). The film features impressive special effects by Carlo Rambaldi (Alien, E.T.) and striking cinematrography from Bruno Nuytten, BAFTA-award winner for Jean de Florette (1986) and César award-winner for Barocco (1976), The Best Way to Walk (1976), So Long, Stooge (1983) and Camille Claudel (1988).
A horror film like no other, Possession, directed by Andrzej Żuławski, is an intense shocking experience that was originally banned in the UK on the notorious 'Video Nasties' list.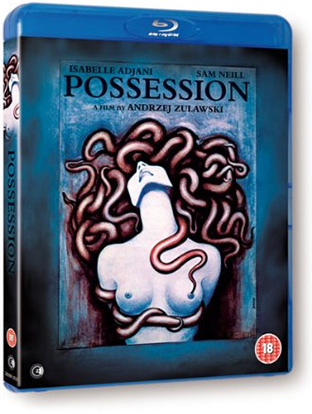 Described by Mark Kermode as "'An unsung masterpiece…the film that prefigures everything that's in Antichrist," Possession will make its UK Blu-ray debut on 29th July 2013 from Second Sight at the RRP of £19.99.
Extra features are:
The Other Side of the Wall – The making of Possession

Audio commentary with director Andrzej Żuławski

Audio commentary with co-writer Frederic Tuten

Andrzej Żuławski interview

Repossessed – The film's UK and US reception, the 'video nasties' furore and the US recut

A Divided City – Interview with the composer Andrzej Korzynski

Our Friend in the West – with legendary producer Christian Ferry

Basha – featurette on the artist who created the famed film poster

Theatrical trailer