2013 marks the centenary of celluloid legend of film and TV great Peter Cushing, as well as the 50th Anniversary of the first appearance on television of the legendary Timelord, Dr. Who. To mark the occassion, Studiocanal have announced a 27th May 2013 release on DVD and Blu-ray of the only cinematic incarnations of the Doctor's adventures, suitably putting him against his most infamous foes, The Daleks: Dr. Who and the Daleks and Daleks' Invasion Earth 2150 A.D.
Both films have been digitally re-mastered and will now be available in HD for the first time. These releases are accompanied by a host of specially created new extras including a look at the restoration work and brand new interviews.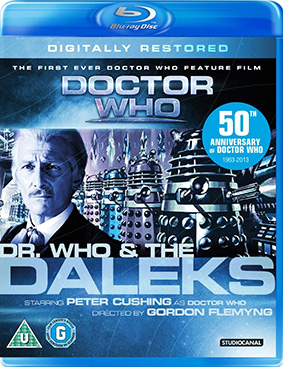 Dr. Who and the Daleks (1965)
British film legend Peter Cushing plays everyone's favourite Timelord (name three others), and having invented the TARDIS, a strange machine capable of travelling into other dimensions, the Doctor and his three young accomplices set forth on a quest through time and space. Their journey takes them into the dark, undiscovered depths of the universe and to the planet of Skaro. A primitive world devastated by nuclear war and populated by two warring species, a peaceful tribe known as Thals and a life form heavily mutated by radiation, encased in protective machines. A merciless force of destruction known as The Daleks!
Directed by Gordon Flemyng and written by Terry Nation (Blake's 7, Survivors) and Milton Subotsky (The City of the Dead, Tales From the Crypt), the film co-stars Jennie Linden, Roberta Tovey and a young Roy Castle.
Both the Blu-ray and DVD will have the following extra features:
Audio Commentary with actors Roberta Tovey and Jenny Linden
Dalekmania featurette
Restoring Dr. Who And The Daleks (new)
Interview With Gareth Owen (new)
Stills Gallery
Trailer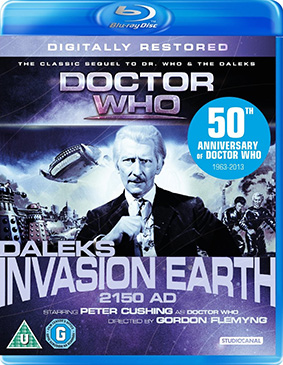 Daleks' Invasion Earth 2150 A.D.
The earth of 2150 AD is a desolate and hostile ruin of a planet, crumbling at the edge of civilisation, slowly disappearing into the darkness of space. For the future of planet earth now belongs The Daleks, adestructive arm of alien invaders who have turned the human race into cowering slaves. Meanwhile deep within the London Underground a group of resistance freedom fighters are planning an attack. But there's only one man who could possibly help them succeed in destroying their extra terrestrial enemies and take back control of planet earth. A man of mystery, a man of time and space, a man known only as The Doctor.
Once again directed by Gordon Flemyng and written by Terry Nation and Milton Subotsky (with additional material by David Whitaker, who previously worked as story editor on the Dr. Who TV series), the film also features Peter Cushing as The Doctor and co-stars Bernard Cribbins, Ray Brooks, Andrew Keir and Roberta Tovey.
The Blu-ray and DVD extra features will be:
Restoring Daleks' Invasion Earth 2150 A.D. (new)
Interview with Bernard Cribbins (new)
Interview with Gareth Owen (new)
Stills Gallery
Trailer
Each film will retail at £19.99 for the Blu-ray and £15.99 for the DVD.