Yesterday would have been the 80th birthday of B S Johnson (1933-1973). To celebrate this anniversary year, the BFI, Picador and the British Library are undertaking a variety of activity.
Although best known as the ground-breaking author of Albert Angelo, The Unfortunates and Christy Malry's Own Double-Entry, B S Johnson was also the director of a number of extraordinary and daring films. On 15th April, BFI Flipside will release You're Human Like the Rest of Them: The films of B S Johnson. This extensive collection, presented in a Dual Format Edition (a DVD and a Blu-ray disc) will bring his experimental shorts, humorous animation, provocative agitprop and uniquely personal documentary films together for the very first time.
From his award-winning 1967 experimental film You're Human Like the Rest of Them, which was based on his own poem, written in decasyllabics, to his ground-breaking TV films, including The Unfortunates (BBC) and the extraordinary Fat Man on a Beach (HTV), Johnson's work is fuelled by his passionate belief in the power of words and images to convey the truth of our existence, and is filled with his infectious sense of humour.
Amongst the ten premiere presentations in this unique collection is Not Counting the Savages, Johnson's uncompromising 1972 TV play, directed by Mike Newell. Considered lost for decades, it is presented from the only surviving material – a black and white video recording discovered only a few months ago in the Johnson family home – affording us the incredible opportunity to see this extraordinary and powerful work 41 years after it was first broadcast.
Extra features include a documentary on the British Library's B S Johnson Archive and an extensive booklet with new writings by contributors including directors Bruce Beresford and Michael Bakewell, Johnson biographer Jonathan Coe, and acclaimed comedy writer David Quantick (The Day Today, Brass Eye).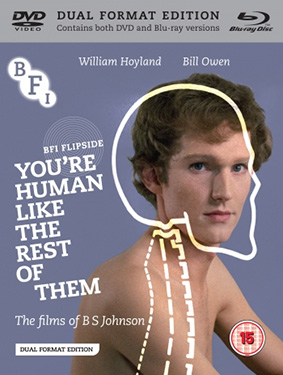 You're Human Like the Rest of Them: The Films of B S Johnson will be released on UK dual format (Blu-ray and DVD) on 15th April 2013 by the BFI as part of their Flipside strand at the RRP of £19.95.
The films included are:
You're Human Like the Rest of Them (1967, 17 mins): multi-award-winning tale of a teacher confronting his own mortality

Paradigm (1968, 9 mins): William Hoyland gives a performance of supreme virtuosity in this arresting experimental film

The Unfortunates (1969, 15 mins, DVD only): Johnson brings aspects of his book to life in this short BBC TV film

Up Yours Too Guillaume Apollinaire! (1969, 2 mins): humorous animated take on the calligrams of the famous poet and eroticist

Unfair! (1970, 8 mins): provocative agitprop piece with Bill Owen

March! (1970, 13 mins): documentary made for the ACTT union

Poem (1971, 1min): poignant short set to the words of Samuel Beckett

B.S. Johnson on Dr. Samuel Johnson (1972, 26 mins): a learned and full-bodied appreciation of the great writer

Not Counting the Savages (1972, 29 mins, DVD only): Mike Newell's adaptation of]ohnson's intense play, made for BBC TV's Thirty Minute Theatre

Fat Man on a Beach (1974, 39 mins): part documentary, part creative exploration, this was a highlight of 1970s TV programming
The extra features are:
The Johnson Papers (2013): inside the British Library's  B S Johnson archive

Extensive booklet with new writing by Steve Johnson, Bruce Beresford, Michael Bakewell, Jonathan Coe, David Quantick, Dr Julia Jordan, Carman Callil, Dan Fox, and the BFI's Vic Pratt and Jim Dempster
B S Johnson – out in print this month from Picador
On 14th February, to mark the 80th anniversary of B S Johnson's birth, Picador will publish a new collection, Well Done God!: Selected Prose and Drama of B.S. Johnson, co-edited by Professor Philip Tew, Dr. Julia Jordan and Jonathan Coe, and re-issue his novels Albert Angelo, Trawl, House Mother Normal and Christie Malry's Own Double-Entry with new introductions by writers including Andrew Motion and Toby Litt.
British Library Event: B S Johnson – His Life and Legacy – Fri 15 Feb at 6.30pm
A panel discuss the life and legacy of one of post-war Britain's most experimental writers. Speakers include Jonathan Coe, author of Like a Fiery Elephant – The Story of BS Johnson, Philip Tew and Julia Jordan, joint editors of the forthcoming Well Done God! Selected Prose and Drama of BS Johnson. More details at: www.bl.uk/whatson/events/event140205.html