The BFI have announced their DVD and Blu-ray release line-up for April-June 2013. As you'd expect, it's all good news.
This April the much-admired Flipside strand makes its highly anticipated comeback with the release of two typically exciting editions focusing on little-known films of great importance. The latest editions focus on the films of cult British poet and novelist B. S. Johnson and a number of controversial works by acclaimed filmmaker John Krish (The Elephant Will Never Forget, I Think They Call Him John).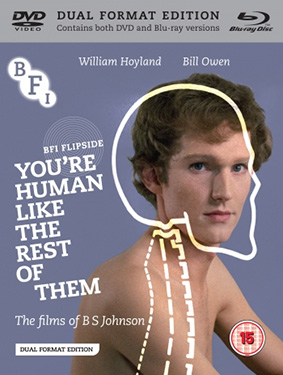 Although perhaps best known for groundbreaking novels such as The Unfortunates and Christy Malry's Own Double-Entry, B.S. Johnson was also the director of a number of extraordinary and daring films that have been out of circulation for decades. You're Human Like the Rest of Them brings these rare and fascinating works together for the first time, revealing Johnson to have been as radical and inventive a filmmaker as he was a writer. The set includes new HD transfers of such films as Paradigm and Fat Man on the Beach, and also features the newly-rediscovered BBC adaptation of Johnson's play Not Counting the Savages (1972), directed by Mike Newell.
John Krish's previously unreleased Captured (1959) is an intricate and powerful PoW drama which was branded 'restricted' for over half a century. Originally intended only for the eyes of high-ranking military personnel, this is the first time that the film has been released to a general audience. Presented with a selection of other hard-hitting Krish films, including H.M.P., a 1978 documentary about the prison service, this set also includes the first ever High Definition presentations of some of his most unforgettable and effective warning films (including the chilling The Finishing Line) as well as a newly-shot interview with the director.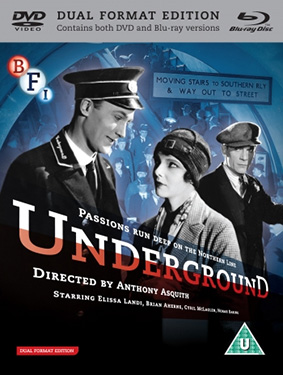 In June the BFI will release its acclaimed restoration of Anthony Asquith's 1928 silent film Underground – a subterranean tale of love, jealousy and murder – on DVD/Blu-ray for the first time. This classic tale features Neil Brand's celebrated orchestral score as well as an alternative audio track by the UK's leading sound recordist, Chris Watson. Also released in June will be the latest instalment of The British Transport Films Collection. Volume 11 is Experiment Under London, a two-DVD set gathering together rare archive films about the construction of the Victoria Line.
New world cinema releases from the BFI include Dual Format Editions of Roberto Rossellini's Stromboli (1950), starring Ingrid Bergman, Carlos Saura's 1976 masterpiece of Spanish cinema Cría Cuervos, John Cassavetes' Opening Night (1977), Pier Paolo Pasolini's Theorem (1968), plus the UK DVD and Blu-ray premiere of Jean Rouch's seminal Chronicle of a Summer.
British releases from the BFI National Archive between April and June include The COI Collection Volume 8: Your Children and You, which explores our ever-evolving attitudes to children and child-rearing, and The Children's Film Foundation Collection: Weird Adventures which contains the final collaboration from Michael Powell and Emeric Pressburger, 1972's The Boy Who Turned Yellow.