Born in Tokyo in 1962, Hirokazu Kore-eda has quietly built himself a reputation as one of Japan's leading contemporary film-makers. Kore-Eda's work often explores his own experiences with themes of memory, loss and coming to terms with the process of death. His quietly naturalistic style marks an intersection of documentary and fictional narratives.
Now Matchbox Films have brought together four of Kore-Eda's most celebrated recent films in a single box set for a February UK release.
After Life / Wandâfuru raifu (1998)
At a half-way station between Heaven and Earth, guides greet the newly dead. Over the next three days, they will help them sift through their memories to find the one defining, most blissful moment of their lives: an old woman remembers dancing for her older brother's friends as a child; a man recollects the breeze felt on a tram ride the day before summer vacation; a young girl wants to ride the Splash Mountain at Disneyland... The chosen moment is then recreated on film and re-lived for eternity. This humorous, passionate, thought-provoking and quietly moving film has received widespread critical acclaim (you can read our review of the previous stand-alone release from Soda Pictures here).

Nobody Knows / Dare mo shiranai (2004)
Inspired by an infamous true story that made headlines in Japan in 1988, this tough yet tender film follows the lives of four children left to fend for themselves by their wayward mother. With engaging performances by a cast of non-professional child actors, Nobody Knows effectively couples documentary realism with a lightly poetic, child's-eye view of the world whilst gathering an impressive and unstoppable emotional momentum.

Still Walking / Aruitemo aruitemo (2008)
This family drama, firmly in the Ozu tradition, is set over 24 hours of an anniversary gathering to commemorate a death. The three generations of the family exchange gossip and memories, grievances and resentments, without great drama, but all the more truthfully. The result is a film of great delicacy, warmth, humour and humanity that absorbs you totally into its world and resonates long after the moving final scenes.

Air Doll / Kûki ningyô (2009)
In a shabby Tokyo apartment, a life-size 'air doll' is the only companion of a lonely middle-aged man. He talks to her, bathes her and makes love to her every day after he returns home from work. This routine life is disrupted when fantasy turns into reality: the air doll suddenly comes to life. She sees a world waiting to be explored outside of the apartment and is fascinated by everything she sees and everyone she meets - but is unable to find an answer to what "being alive" means. An erotic fantasy that explores the complexities of love and loss, joy and pain, fantasy and reality, this bittersweet love story examines the intricacies and frailties of human existence.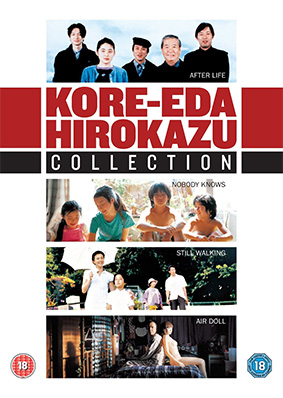 The Kore-Eda Hirokazu Collection will be released on UK DVD as a 4-disc box set by Matchbox Films at the RRP of £29.99.
No extra features have been detailed in the press release. Which doesn't mean there aren't any, of course...