We all have our preferences but I tend to chase melancholy. Whatever the reasons, and regardless of its potential impact on the daily outlook, things that have a certain wistful mood appeal to me. Films are great for this, in large part because they're limited, finite works vulnerable to boundless interpretations. Context can be introduced or stubbornly ignored. And sometimes the melancholic elements are buried enough to feel subjective. A film like Intimate Lighting [Intimní osvětlení], Ivan Passer's 1965 debut feature, may not overtly advertise its grayness but the presence is unmistakable if you're looking for it. More than perhaps any other country's signature film movement, the Czech New Wave was deeply mired in pathos, and Passer's picture almost sneakily embraces it.
There is no traditional narrative as such but plenty still happens. An opening scene with a conductor firmly leading his orchestra promises a film that doesn't really transpire. Instead a dynamic emerges between Bambas (Karel Blazek) and Petr (Zdeněk Bezušek) where the two former schoolmates are now approaching middle age with completely different lives. Bambas is an instructor at a local school, married with children, while Petr is passing through the small village as an invited soloist with his girlfriend Stepa in tow. These are two variations of the path and Passer's film seems intent on subtly exploring both men's longing for what the other has.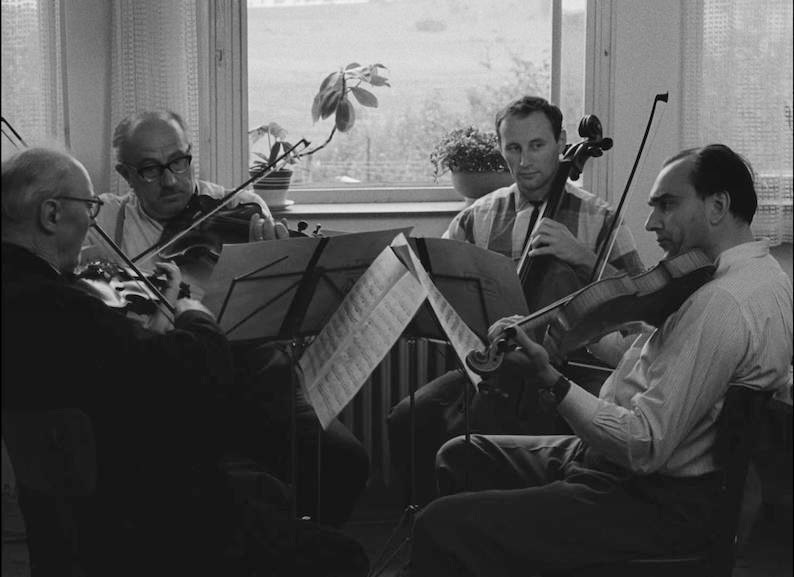 Passer came to Intimate Lighting after first making A Boring Afternoon (included on this disc), which was originally intended as part of the anthology feature Pearls of the Deep but apparently stood out enough to be released separately as a short film and even earned the Grand Prix at the Locarno Film Festival. He wasn't among the FAMU group of directors who'd honed their craft at the state film school. Indeed, he probably approached projects more as a writer than a director considering his collaborations with Milos Forman on the latter's Audition, A Blonde in Love, and The Firemen's Ball. This would be his only feature made in Czechoslovakia as both he and Forman were essentially banned from making films by the communist government and exiled to the U.S., where Passer first made the gritty NYC drug movie Born to Win and eventually directed the now-loved Cutter's Way. 
Intimate Lighting is a short stroll of a film that's seemingly – deceptively, perhaps – uncinematic, but it's filled with little scenes that end up meaning far more than countless movies weighed down in bombast and excess. I think of the small discussion weighing performing at funerals versus concerts and recognize it as something of a metaphor for much of the film. There's also the strange tendency of a chicken to stand atop the family car in Bambas' garage, an image sort of apropos of nothing that we're treated to twice. The makeshift musical session involving Bambas, his father, Petr, and a local pharmacist, explored in the booklet essay, is a real stand-out both for getting at some of the nuance the film has in its favor and for simply being an entertaining, enjoyable scene.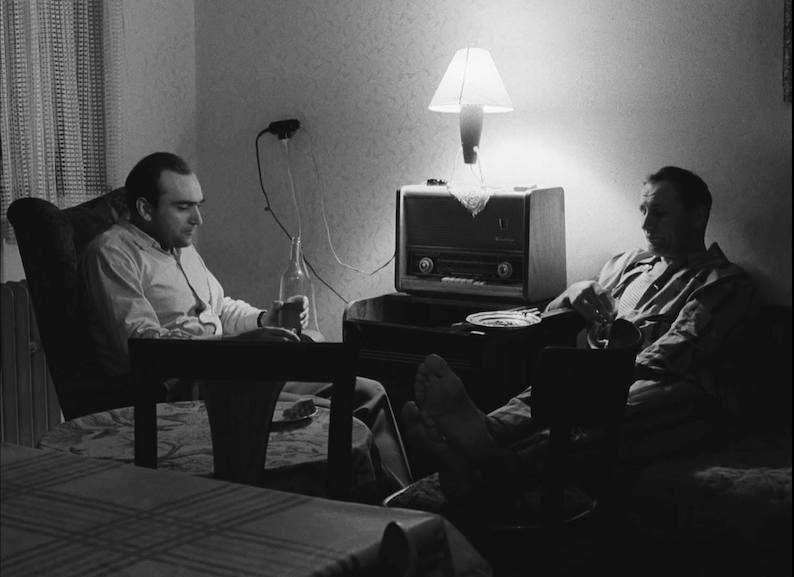 If you're fortunate maybe it'll come on a first viewing but there's more than enough reason to revisit and continue to explore what Passer and his co-writers Jaroslav Papoušek and Václav Šašek managed to do. Something in the film captures universal truths we rarely see in more plot-driven fare. The darkness also tends to emerge from those truths. It's an optional reaction, to be sure. The shared can join the specific. Those looking for the comedy will find it just as easily as those interested in skimming beneath the surface. Tone can be tough to maintain but Passer does it admirably.
The Czech New Wave films had a tendency to use humor as a theoretical means for levity - a device, too, for getting political ideas past censors - but often this also deepened the angst. Like a nervous laugh, the comedic elements existed for protection. But viewers of these pictures can see the harshness and oppression inherent to the time and place. Daisies seethes with anger. The Cremator is a nightmarish condemnation of fascism. The Firemen's Ball is probably as clever a criticism of communism as exists. Intimate Lighting, which in tone is quite different from these and others of its era, captures a sense of longing and unhappiness that actually transcends its setting while still more or less charming its audience into a steady grin. 
This is the second title Second Run has upgraded from a previously released DVD edition to Blu-ray. It's region-free and takes spine number 012 among the BD editions. The film is receiving its world premiere release on Blu-ray.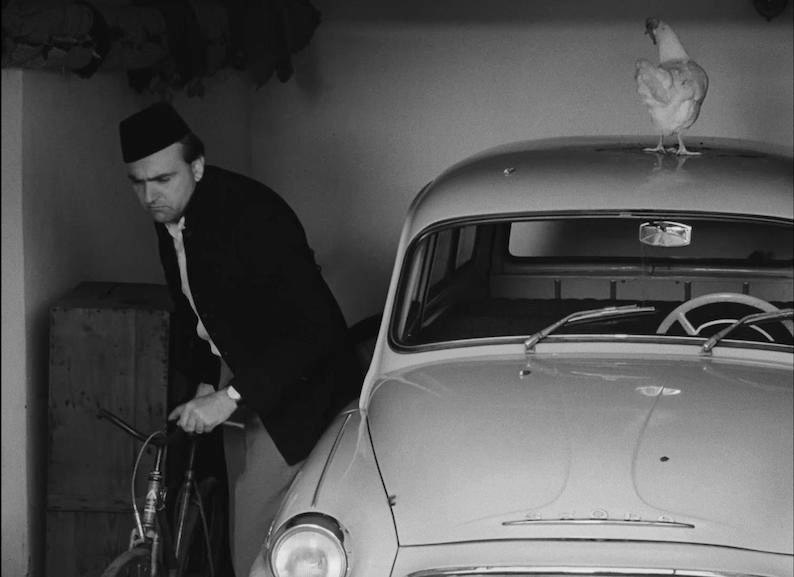 The transfer is advertised as having been sourced from a new 4K restoration of the film supervised by the Czech National Film Archive and using original materials. The original 1.37:1 aspect ratio has been used. It looks terrific. Grain lingers in the image without overpowering it. The black and white contrast registers exceptionally well, with a scene like the dimly lit drinking session Bambas and Petr engage in standing out nicely. Damage is a non-factor. It makes for a superb viewing experience and a definite improvement over the previous DVD. 
The Czech language LPCM 2.0 Dual Mono track lets the orchestral score flourish. Music and dialogue both sound clean and pleasing. Optional English subtitles are provided. 
A Boring Afternoon (19:25) is Ivan Passer's first directorial work, presented here from a new HD transfer. The 1964 short film has a similar laconic yet charming vibe as Intimate Lighting. It takes place at a little pub or bar as the older patrons and bartender all seem to lament the societal changes that have taken place as they've aged, with a younger man taking the brunt of their ire simply for sitting there reading rather than attending a local football match.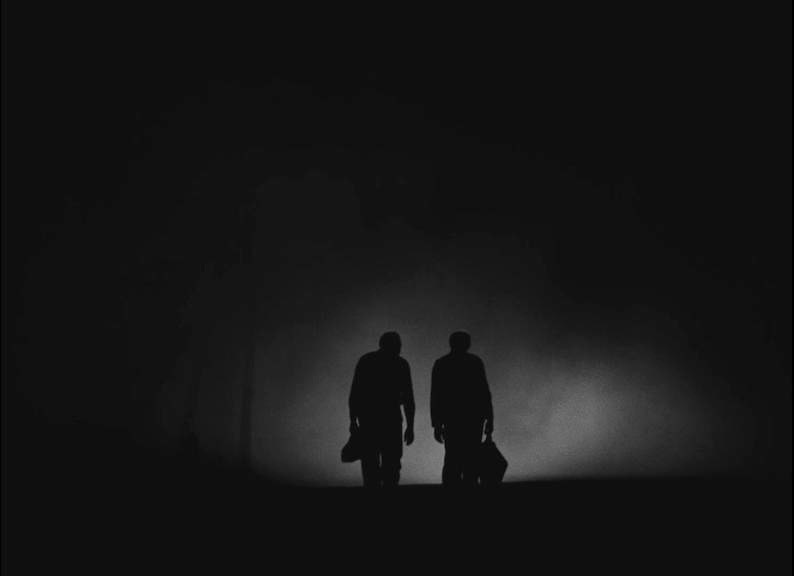 The interview with director Ivan Passer (14:09) is a carryover from the earlier Second Run DVD release, having been recorded in December 2005,  but remains a vital, interesting piece to watch. Passer details quite a bit here, from the surprising way he came to the project to stories about casting the lad and other bits of the production. 
A 20-page booklet contains a lengthy essay by Trevor Johnston that's well worth the read.  He covers various aspects of the movie but seems to pay special attention to the role the music plays. Another excellent written piece, this time by Phillip Bergson, follows in the booklet. This shorter article originally appeared in the first insert for the Intimate Lighting DVD. 
Intimate Lighting is simply one of the key films of the Czech New Wave, which despite being short-lived was as good as any of the emerging movements in world cinema of the 1960s. It invites multiple viewings and lets us find something new each time. I don't know if I've ever read anything particularly negative about Ivan Passer's debut feature and, as faint of praise as that might seem, such universality comes through strongly here. The more specific pleasures are where the film achieves greatness. Cheers to Second Run for revisiting its earlier release with an improved one (and giving us all the excuse to do the same).