"I never cared about leaving a legacy behind. After I'm gone: darkness."
Věra Chytilová, in Journey/Cesta, 2004.
To ponder whether the subject film is actually an exploration of the value of meaning within film, is well, a rather large, seemingly limitless and possibly unanswerable question. It is of the kind which theses are made. Though perhaps not as big as the meaning of life, the unwise and everything as travellers in Douglas Adams' galaxy oft pondered, and indeed, the answer to this question is not forty-two. There is a quality to Věra Chytilová's Daisies/Sedimkrásky which makes it obscure and indefinite, like looking at an object through mist or underwater. Since you are never quite sure of what you are looking at, the curiosity of wanting to identify it makes you keep looking in the hope that clarity will descend.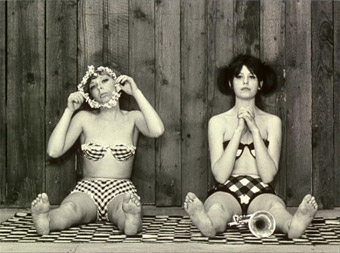 A better question, perhaps, is posed by Chytilová's heroines, the Maries, whether, "it matters," or "it doesn't matter," this is the heart of the film, around which various vignette 'happenings' are constructed. The girls consider their world has become spoiled, so, they too can be spoiled. Like all the best films, Daisies is a provocation and a divisive one. Whether it provokes reactions of awe, amusement, confusion, or perhaps, disgust matters little, but, what does matter, is what the film leaves you with. In the case of this one, it is a series of images and moments which are so striking, that once seen; they are almost indelibly seared into the mind.
I am loathe to use the word 'meditative' to describe Daisies, since it seems to be the go-to buzzword for films that lack obvious meaning or stucture in the classical sense, but it does feel that way. For all the readings that have been placed upon it – which Peter Hames explores in the accompanying booklet for this DVD – Daises feels strangely weightless, and you are left with the desire to grab onto the Maries before they drift off somewhere else, with someone else, musing over something else. Dream-like this film might be, but it is more arresting than restful.
As Adams' travellers found, learning the true meaning of everything was something of an anti-climax. Similarly, trying to fathom exactly what Daisies might be leaves one caught up in a labyrinthine tangle of everything from feminism to nihilism with a dash of biblical symbolism for good measure. The true value in and enjoyment of the film arises from its distinctive aesthetic, and in letting its strange, powerful imagery wash over you. There are few films – save for Kenneth Anger's Magick Lantern Cycle, the experimental films of Jane Arden and Jack Bond or the psychedlic hues of Richard Lester's Petulia – that are bolder and brighter than this, foregrounded by the digitally restored print.
For all that feeds our eyes, there is just as much to feed the ears. The use of amplified sounds, whether they are the creaks that replicate the rickety moves of a mannequin, the trumpet calls or the Soviet cinema undertones of the film's percussive score, they all work to enhance the experience of watching. This is a sensory film, and plays with our expectations, offering up images and sound whose dislocation jars us, unveiling surprises as it goes along, with equally surprising deftness, a shock in itself since this film is something of a rally cry against a unified look and feel. Whether this is a purposeful statement, mere artistic playfulness or a combination of the two is hard to decipher.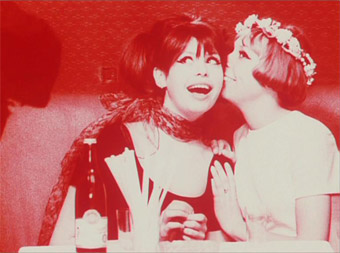 Stylistically and creatively, it is entirely unbound, and fittingly so, given that Chytilová wanted for freedom in every sense in order to bring her vision, her art, to life without the burdens of constraint. Perhaps then, it is less a thesis on semantics and more a manifesto for Czech new wave, helmed by its founding mother, unleashing her mischievous, rebellious child of a film on an unsuspecting, and for the most part, unprepared public, having more in common with filmmakers carving out a new wave of their own in France, than the output of her fellow countrymen. Chytilová's work clearly inspired that of her friend, Jacques Rivette, and his 1974 film, Celine and Julie Go Boating / Céline et Julie vont en bateau. A more obvious comparison can be drawn between Chytilová and her French equivalent, Agnès Varda. Upon seeing Jitka Cerhová (Marie 1) and Ivana Karbanová (Marie 2) on screen for the first time, I was struck by how much they reminded me of Corinne Marchand's self-absorbed heroine in search of something more, Cleo Victoire in Cleo from 5 to 7 / Cléo de 5 à 7. Like Varda, Cleo stands apart as the only truly feminine voice of the boys club that was the nouvelle vague, Chytilová and Daisies is just as rare and just as exemplary of the cinematic and artistic achievements that can be reached, when director's, in retrospect, come to represent work which is the exception to the filmmaking rules of the period.
If anything, Daisies feels like transnational film, rather than one bound to the shape and space of nation. Often, a film's country of origin can be discerned by intricacies of style, "it looks like..," music and dialogue "it sounds like," sets or costuming "it feels like" Here, again, Daisies stands not as a delicate national flower, and more of a lone reed. By way of a test, I muted the sound and turned off the subtitles, just to see how my experience of the film altered. Against my expectations, it retained its power, both in the visual and emotional sense. Of course, this comes as little surprise since some of the most affecting work in cinema stems from the silent era. After all, the bathos and pathos Chaplin and Keaton evoked is not lessened by the lack of sound in their pictures.
In answering a question, my experiment presented a further, commonly forgotten revelation: film, in addition to being a form of mass entertainment, is also an art, whether using celluloid or a flat canvas as the starting point. In the hands of artist filmmakers like Věra Chytilová and Chris Marker, this has never been truer, and the surrealist echoes of Daisies recall Salvador Dali as much as Luis Buñuel. Paused, as I write this, like a neatly constructed tableau, the Maries stand in the harsh glare of a gaudy spotlight, with a ruby red curtain like Dorothy's magical slippers as their backdrop, hands clasped together – one blonde, one brunette; one dressed in black one in white like in and yang, merging together until you never really know which is which or even if it matters.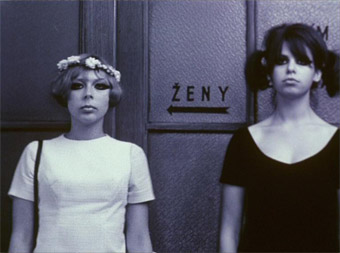 These girls are far from the pure and as the film progresses, their behaviour turns from mischievous to anarchistic, culminating in their gluttonous feast-turned-rampage in the final segment. Their actions prove they are not the little dolls that they pretend to be or as innocent as the daisy garland they adorn themselves with. But they, and the filmic world they inhabit, are beautiful. Amongst the all the excess and the spoils of their ever-changing world, their remains a purity about them, something childlike within them, something admirable about their desire to try everything and comforting in the depth and stability of their tightly bonded friendship, outlasting fights, their constant stream of loves struck suitors, and even, death. That is the film's triumph, even when the Maries exhibit ugly, selfish, behaviour; they are still beautiful and intriguing. In making them so, Chytilová poses further questions about the way we see world and how we are seen by others within it. The final seconds of this film may leave a bitter taste, but the sting in this tale is one of the many reasons why it is such a memorable one.
Searching for meaning within Daisies and deciphering it is all a part of the game, and is undoubtedly a part of its enduring appeal, even if that game feels impossible to win. It is a testament to the film's visual potency and Chytilová's considerable skill that a seventy-three minute film is still being discussed forty years after its release. Daisies is a challenging and thought-provoking film, with a timeless beauty which has seen it become both a source of admiration and inspiration; the fondness expressed for it has only blossomed over time. Though Věra Chytilová's cinema may be categorised as controversial and uncompromising, but it also bears the hallmarks of a filmmaker with the power, passion and conviction to stand behind her work. That, and the importance of Daisies is unquestionable.
This is one of those transfers that after just a couple of minutes of watching you just know has undergone some serious restoration work, either that or a top quality print has been found in an air-tight container in the depths of a Czech film vault. The picture, as this suggests, is very clear with a crisp level of detail and a solid contrast range, though the latter does vary with the film's shifting visual aesthetic, which includes a variety of tints and post-production processing. There is some detectable damage in the shape of the odd scratch here and there, but they never last long and have been reduced to the point where you hardly notice them. Film grain is evident throughout and also varies in its prominence, but feels very much part of the desired look.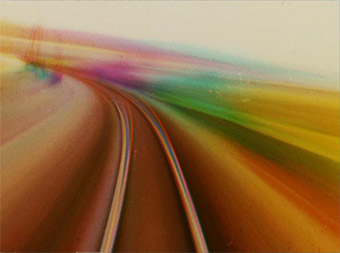 The mono 2.0 soundtrack is as clear as the picture and with a better than expected dynamic range and no obvious damage or distortion.
This release features a nice clutch of extras in addition to its digital transfer and improved English subtitles, beating the region one release by Facets considerably.
Journey/Cesta: A Portrait of Věra Chytilová (52:39)
Made in 2004, Jasmina Blaževič's celebrated documentary portrait on Chytilová is an, intimate affair, containing film clips, archive personal videos, and contemporaneous interview footage, which cumulatively come to resemble a series of philosophical discussions rather than a traditional question and answer session. This is geared more toward the director herself more than her work, but as such, this is a rare insight into director as human, rather than director as auteur, offering a unique perspective upon a unique figure.
Trailer (2:01)
Edited especially for this release by Robert Vandeven, and captures the mood of the film well. This is definitely geared towards showcasing the digital print, and emphases the film's vivid colour palette and aesthetic to great effect.
Booklet
I always view these as a lovely, glossy little gift, the cinephile's equivalent of the surprise in the famed kinder egg, and this is no exception. Alongside the obligatory production notes and a liberal sprinkling of production stills, it features a thoughtful and detailed essay by Peter Hames, author of The Czechoslovak New Wave, which, in addition to decision of discusses Chytilová's biography and reputation, focuses on the director's work, offering some illuminating interpretations of Daisies and other films. This a great read, accessible to those unfamiliar with Chytilová, but, with much food for thought for a more seasoned reader, fond of close textual analysis.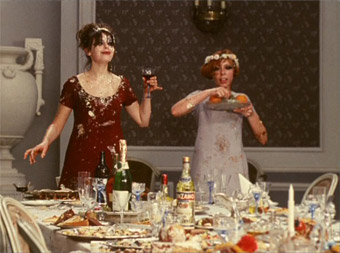 Also included is an equally glossy, full-colour Second Run catalogue, updated for 2009, with summary and tech specs for each release. A nice touch to get those readers already itching to collect is the inclusion of two pages of forthcoming titles, which are more than enough to whet the appetite.
The fact the Daisies is marked number thirty-nine just makes the completist in me want to collect the other thirty-eight and see their pretty rainbow hued spines all lined up on my DVD shelving. I am surely not alone in such aspirations. On a more serious note, the quality of their release choices is most certainly indicative of the company as a whole. Their care and attention to detail in bringing such varied, intriguing, important and challenging work to DVD is refreshing and most welcome. Not only is this a worthy addition to any world cinema collection, but this is also an excellent start toward cultivating a further collection of Second Run editions.
Daisies is as fresh and provocative as ever, and remains an enticing, wondrous and frustrating film in the best of ways; a landmark for Czech, world, and women in film. It is perfect for those who appreciate complex cinema which pushes the boundaries of the form. Whether you see it as a hidden gem, a controversial slice of the avant-garde that deserves greater praise or simply part of a commitment to widen your cinematic tastes, you will not be disappointed. As an introduction to both Chytilová and the Second Run company, this is a fine release, and comes highly recommended.