– Part 2: Tech Specs, Special Features and Summary –
All six 1080p transfers in this set were sourced from Sony HD remasters and all are in impressive shape. Walk a Crooked Mile, Walk East on Beacon! and A Bullet is Waiting are framed 1.37:1, whilst Pushover, Chicago Syndicate and The Brothers Rico are all 1.85:1. Black levels are always solid, as they should to be on noir titles, and are particularly beefy on Walk a Crooked Mile and The Brothers Rico, where they sometimes swallow a little shadow detail. The contrast is spot-on on Pushover, whose night skies and shadows are inky black but whose characters are always lit to be clearly defined. Detail and sharpness are generally of a very high order, though a few shots in The Brothers Rico are a tad softer, and some of the stock footage of city streets in Chicago Syndicate is markedly softer than the rest of the film. The only colour film in this set, A Bullet is Waiting, has that rather aged colour look commonly seen in films of this vintage, with some scenes having a warm , earthy hue, but at its best the results are still pleasing and blue skies look radiant. A fine film grain is visible on all six titles, and is slightly more prominent on Pushover and Chicago Syndicate, and all six films are scrupulously clean and free of visible damage – I think I spotted a frame-long blip on one of them but that's about it.
All six films have Linear PCM 1.0 mono soundtracks, and while all have the expected restrictions in dynamic range, there is some small variance here, with Pushover coming off best by a whisker, and while the dialogue is always clear with the expected treble bias, music scores often have a tad more heft, especially in the bass notes. Most appear to be clear of any damage or obvious wear, though there is some faint crackle in the background of quieter scenes in Chicago Syndicate, and a light hiss can be heard behind some – but by no means all – of the dialogue in The Brothers Rico. Otherwise, no complaints at all.
As you would expect, there are optional English subtitles for the deaf and hearing impaired on all six films and a fair few of the special features, including all of the Three Stooges shorts.
WALK A CROOKED MILE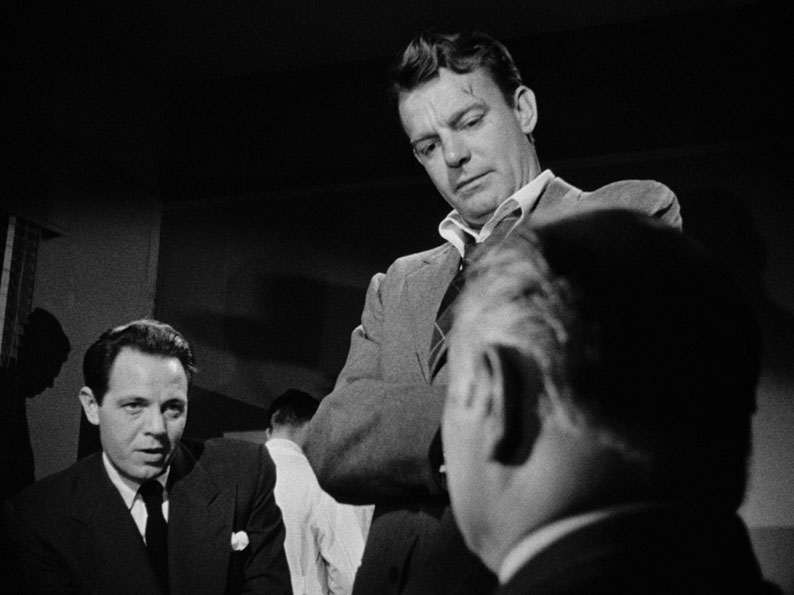 Image Gallery
A manually navigated collection of 19 pin-sharp monochrome production stills, some of which have been flash-lit and thus have just a whiff of Weegie the Famous crime photos about them, plus four posters, also ace quality.
Routine Job: A Story of Scotland Yard (1946) (22:12)
Produced by the British Film Council, this look at the work of Scotland Yard through the experiences of one Detective Roberts as he and his colleagues investigate the theft of a lorry carrying crates of tea (a valuable commodity just after the war) is a solidly assembled and rather enjoyable piece of police public relations. The leads are played by actors but the supporting characters are apparently all the real deal, and most of them appear to have been given lines to read and told not to worry about emoting. It's certainly interesting for the pre-computer methods of information retrieval, and is terribly British, with the ever-polite Roberts rarely seen without an unlit pipe in his mouth and working men ending sentences with "Guv'nor." The film has clearly been restored and looks lovely here, with only one minor but long-lasting scratch in the later stages to contend with.
The March of Time: 'Policeman's Holiday' (1949) (19:19)
New York Detective Lieutenant Roberts has returned from his vacation to London, and is regaling his colleagues with stories of visiting Scotland Yard and helping out on a case in a somewhat atypical episode from the March of Time series. For a start, the almost episode-long flashback to Roberts' time in London is narrated by Roberts himself instead of series regular, Westbrook Van Voorhis. The film is also decently acted and impressively directed, with flashbacks within flashbacks and action sequences that are almost on a par with their feature equivalent, while Roberts' distinctive New York twang gives a noir flavour to lines like, "The best detective in the world can't get much out of a dame when she's made up her mind not to talk."
The Three Stooges: Dunked in the Deep (1949) (16:54)
I was initially bemused by the decision to add a Three Stooges short film to every one of the discs in the first Indicator Columbia Noir box set, but over the course of the first three collections, I grew not just to like their inclusion, but to eagerly anticipate them. That said, this may be the first time that the Stooges short perfectly complements the feature film that it accompanies. It opens with a radio broadcast telling of the search for stolen government secrets, which is playing in the rented apartment of Bortch (Gene Roth), the very man who is responsible for the theft. His accent and his name lets us know that he is foreign and his Stalin-esque hairstyle and moustache offer clues to his country of origin, even though it's never named. Care to guess who his neighbours are? The plot involves him smuggling microfilm records of the stolen documents out of the country inside of three melons, which he stupidly asks Shemp, Larry and Moe to deliver to the dockside, which they unexpectedly do without somehow destroying the fruit, even when they inadvertently trigger an explosion. They end up trapped on board with Bortch, where we all know they will somehow foil this sneaky foreigner's plan. As Stooges shorts go, not at all bad, with a few decent gags and a farcical running-about sequence that you could easily rescore with The Benny Hill Theme. After watching this, check out the Stooges short on the second disc and see how quickly you become confused.

WALK EAST ON BEACON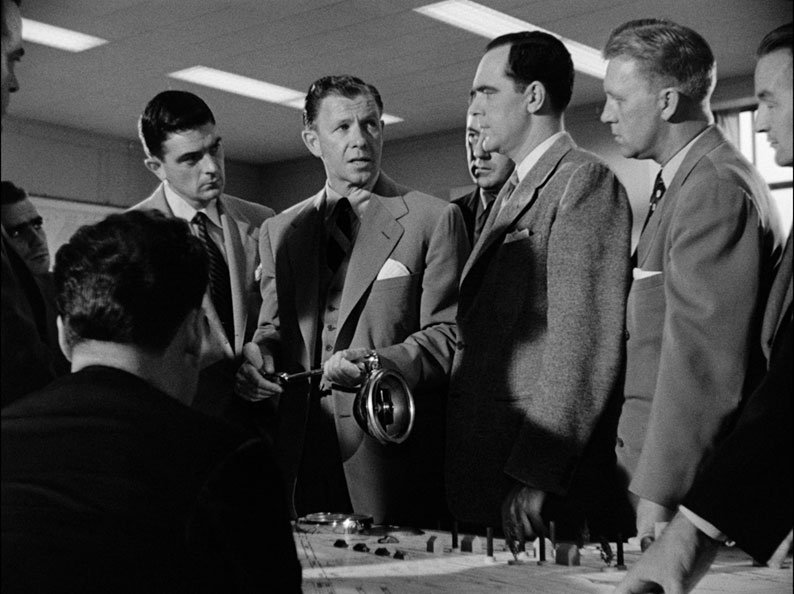 Audio Commentary with Frank Krutnik (68:18)
In a Lonely Street: Film Noir, Genre, Masculinity author and academic Frank Krutnik states up front that he intends to explore the context behind Walk East on Beacon!, context, he suggests that, "might be more interesting than the film." Frutnik really knows his subject, and using Henry Hathaway's style-setting 1945 The House on 92nd Street as a springboard, he examines the anti-communist and semi-documentary film cycles of the 1940s and 1950s in considerable and consistently fascinating depth. He looks at the career of producer Louis De Rochemont and how his work on The March of Time series eventually led to the making of Walk East on Beacon!, which is also analysed in some detail. Contemporary reviews are quoted from, many of which are on the negative side, though there was plenty of praise from prominent right-wingers for the film and its staunchly anti-communist star, who for me was probably the dullest thing in the movie. Particularly intriguing is the news that the FBI not only advised on the film, but also had a say on what elements should be included or removed and even on which actor should be cast in the lead. That explains a lot. Surprisingly, this commentary ends 68 minutes in, but does so because Frutnik has said everything he has to say, and just dragging it out for another 20 minutes would have served no purpose. A huge amount is of information is imparted nonetheless, much of which was new to me and interesting as hell. A very fine companion to the film.
Image Gallery
23 screens of black-and-white production stills, including four welcome behind-the-scenes photos, an Italian poster and two American ones, which carry the unfussy lead tagline, "See the FBI smash spies." Sounds thrilling.
The March of Time: 'G. Men Combat Saboteurs' (1941) (20:49)
Linked to the main feature in its focus on the work of FBI Government Agents – the G. Men of the title – this is a similarly reverential sales pitch for the FBI, providing an overview of the Bureau's work, introducing the now-famous training facility at Quantico, and dramatizing an apparently true-life case involving the theft of gas mask filters by enemy agents. Narrated with an air of dramatic urgency by series regular, Westbrook Van Voorhis – who also provides the voiceover for Walk East on Beacon! – the acting is a wooden as an old barn door, but some of the technical aspects of the Bureau's work are still of interest, being earlier incarnations of techniques still in use today. The March of Time films are of particular relevance here, having been written and produced by Walk East on Beacon! producer, Louis de Rochemont with his brother Richard, while the series' blend of documentary and re-enactment was clearly an influence the style of the later feature.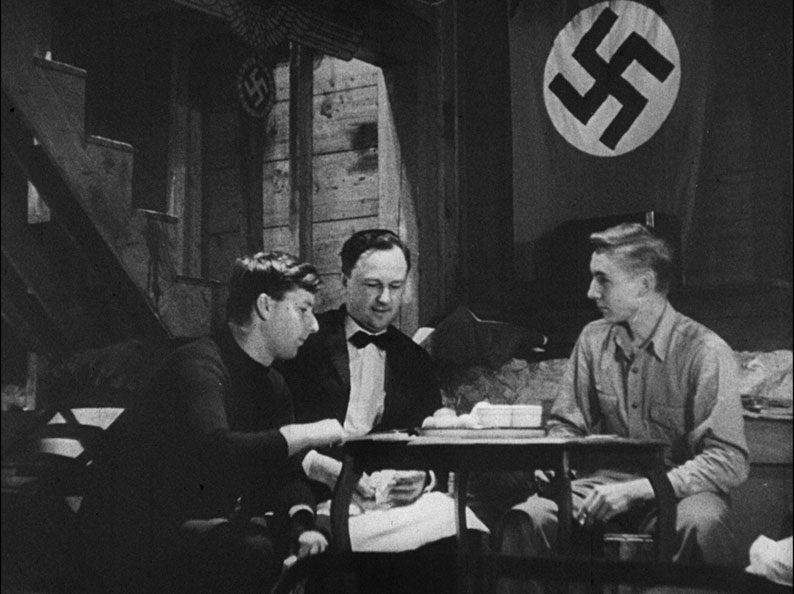 The March of Time: 'G. Men at War' (20:01)
Similar in tone to the above, and again narrated by Westbrook Van Voorhis, this also salutes the work of the FBI, who here are investigating and arresting Nazi fifth columnists. The early newsreel scenes of agents and technicians at work give way to another staged reconstruction, which is again performed so woodenly I began to suspect that the characters were played by captured Nazis forced to participate at gunpoint. At one point, a teletype machine delivers the message, "Aliens apprehended," and I half expected Fox Mulder to pop his head round the door.
The Three Stooges in 'Commotion on the Ocean' (1956) (16:36)
Talk about matching the short film to the feature. Having commented on the similarities between Walk a Crooked Road and Walk East on Beacon!, I sit down for the Three Stooges short that accompanies the latter to discover that has a similar plot to Dunked in the Deep, the Stooges short that accompanied that earlier feature. Then it really gets confusing. Following an opening scene in which Shemp, Larry and Moe are janitors at a newspaper officer and learn from a reporter that stolen government secrets are in the hand of foreign agents, we get to see the agent in question and…and…it's Dunked in the Deep! I'm not talking about a remake here, but a recycling of most of the footage from that film. A quick bit of research confirms this was the case and that the opening scene was largely cribbed from the 1948 Stooges short, Crime on Their Hands. This really is a work for the Stooges completists, but an important one, being the last of four films completed after Shemp Howard's death. All four of these post-mortem films drew heavily on footage from previous Stooges shorts, with actor Joe Palma standing in for Shemp in the newly shot material (of which there is precious little here) and finding creative ways to obscure his face. This gave rise to the term 'Fake Shemp', later coined and popularised by Stooges fan Sam Raimi on his debut feature, The Evil Dead, where it was used to give credit to an actor or crew member who was disguised to replace an actor who had since left the production.

PUSHOVER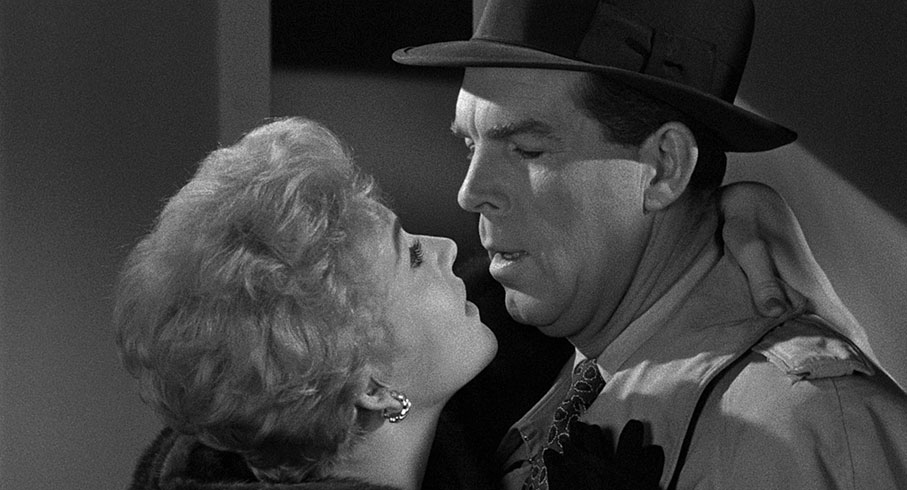 Audio Commentary with Alexandra Heller-Nicholas and Josh Nelson
Australian film critics and historians Alexandra Heller-Nicholas and Josh Nelson kick off by dismissing the claim made by some that Pushover is a poor man's Double Indemnity and revealing that Jean-Luc Godard claimed it was an influence on his 1960 debut feature, Breathless [À bout de souffle]. They look at how voyeurism becomes a key theme of a film that also explores the notion of masculinity in crisis, and how this is reflected in the characters of Paul and Rick. They have a lot to say about Rick, whom they both regard as the most disturbing character in the film, a viewpoint that they make a detailed and rather convincing case for. They talk about the actors, the characters, director Richard Quine, whether film noir is a genre, how this movie differs from the two novels from which it is sourced, and more. They also note the similarities to – as well as differences from – John Badham's 1987 Stakeout.
Partners in Crime and Comedy: Glenn Kenny on Kim Novak and Richard Quine (18:19)
A typically informative overview of the film careers of director Richard Quine and actor Kim Novak, with particular focus on the work they did together and including some significant details of their personal lives. It's peppered with stills, film clips and promotional artwork, which is frankly the only time I was able to look at the screen, as elsewhere Kenny's colour-drained address to camera pointlessly and distractingly bounces so frequently between wide shot an close-up that I suspected it was being filmed on a faulty iPhone that was randomly popping between the wide and telephoto settings. I thus ended up listening but averting my sensitive eyes. But it is interesting.
Image Gallery
32 screens of excellent quality production stills, those horridly coloured-in lobby cards, and some rather nice posters.
Theatrical Trailer (1:50)
"The word is out – she's the find of the year!" the narrator barks about Kim Novak, whose allure this solid enough trailer initially plays on, also pushing Fred McMurray as a hard-nosed cop.
The Three Stooges in 'Blunder Boys' (1955) (15:58)
In another neat tie-in with the main feature, here Shemp, Larry and Moe are police detectives, who in a series of flashbacks recall how they made the journey from battlefield soldiers through Police Academy to this point. Variations on the same introductory name gag quickly wear out their welcome, and despite the opportunities offered by the multiple flashbacks, there's not much in the way of variety or original gags here. The oddest sequence has them wrapping themselves in towels and applying lipstick in an attempt to pass as women, a disguise that proves effective for about 10 seconds.

A BULLET IS WAITING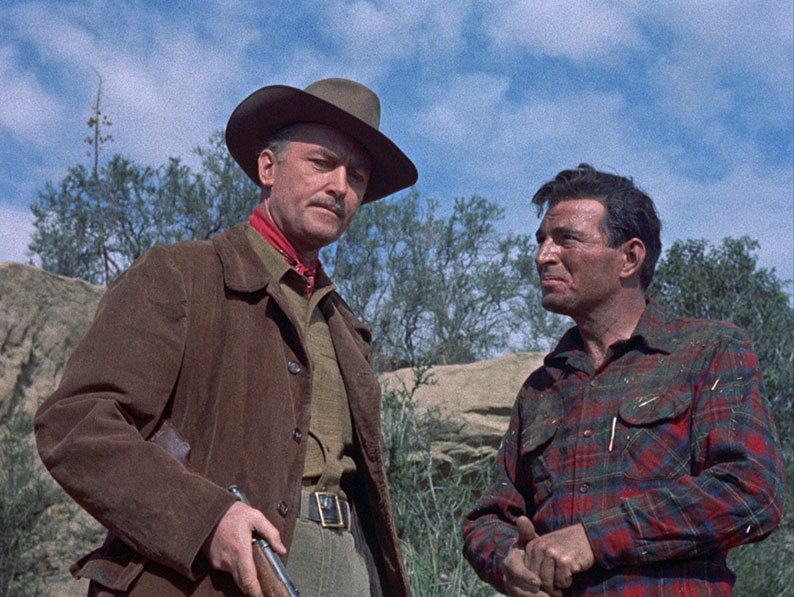 Audio Commentary with Barry Forshaw and Kim Newman
A lively audio commentary with film writers Barry Forshaw and Kim Newman, one that kicks off with Newman questioning whether A Bullet is Waiting really qualifies as film noir, but suggesting that it does have a single noir character in the shape of Sheriff Munson. It'll come as no surprise that these two really know their movies and have clearly spent some time analysing this one. and they thus have plenty to say about seemingly every aspect of it. There's lot of discussion about the three lead actors and director John Farrow, but also coverage of the development of Stone and Cally's relationship, the homoerotic overtones of the fractious bond between Stone and Munson, the symbolism of a scene involving a snake, the difficulty of pinning down the genre in which the film sits, the structure of the screenplay, and a whole lot more. This is a most enjoyable listen that may well change you perception of the film, or at least parts of it. It certainly did mine.
From Cricklewood to Hollywood: Josephine Botting on Jean Simmons (20:35)
Archivist and historian Josephine Botting explores the life and film career of actor Jean Simmons, from her small early roles in British cinema to her breakthrough films in America and her marriage to fellow actor Stewart Granger, whom she was rumoured to be dating when he was still married and she was just 16. Her performance in A Bullet is Waiting does get a positive mention, but is not singled out or given special coverage.
Image Gallery
34 screens of crisp monochrome promotional stills, coloured-in lobby cards, and international posters.
Theatrical Trailer (1:58)
A functional trailer whose narrator lays out the basics of the story in typically dramatic fashion and with a particular fondness for the word 'time'.
The Three Stooges in 'The Yoke's on Me' (1944) (16:14)
When Curly, Larry and Moe are not accepted into the army, their father demands that they contribute to the war effort by becoming farmers instead. To that end, they buy a farm but get stiffed on the livestock, which consists solely of a chicken, a goose and an ostrich, but things take a lively turn when a group of escapees from a nearby Japanese internment camp turn up looking for a place to hide. Some amusing verbal gags and a couple of reasonable slapstick wallops are undermined somewhat by the arrival of the escaped Japanese, who are played by men of Asian appearance with 'comical' buck teeth, a bit of wartime racism that hasn't aged at all well. But don't worry, the Stooges kill them all with an exploding ostrich egg. Hmm.

CHICAGO SYNDICATE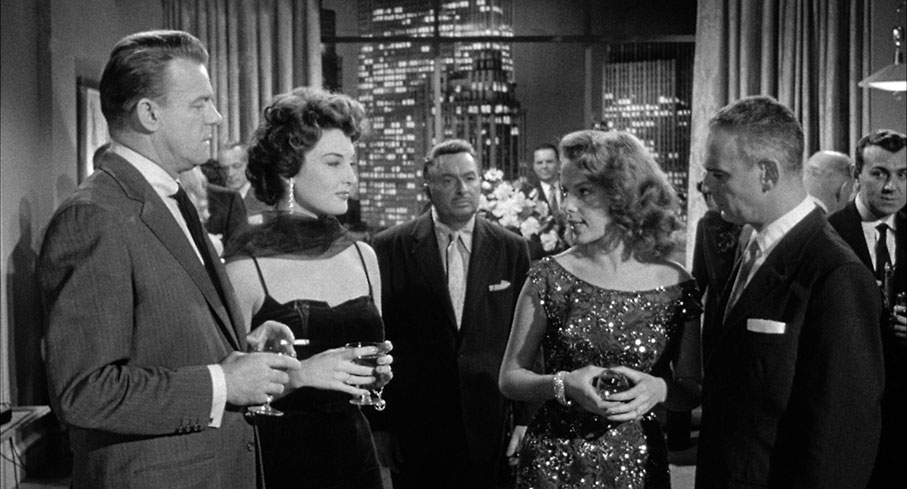 Audio Commentary with Toby Roan
On his commentary track for The Undercover Man in the first of Indicator's Columbia Noir box sets, respected writer and critic Tony Rayns is dismissive of commentaries that primarily catalogue the films and careers of the actors and filmmakers. I wonder what he would make of film historian Toby Roan's contribution here, which for the most part does exactly that. If you know little or nothing about the actors, the cinematographers, the director and particularly producer Sam Katzman, then there you'll certainly learn a thing or two about their film careers, but if you're after information on this particular film, or analysis of it, then you've come to the wrong place. Roan does read from some of the contemporary reviews and provides some interesting information about the network of tunnels that runs under the Chicago streets that I would otherwise would have assumed were constructed sets, but for the most part confines himself to biographical information.
Image Gallery
28 screens of production stills, lobby cards and posters. Unusually, each of the posters has a different tagline.
The Three Stooges in 'From Nurse to Worse' (1940) (16:47)
The boys attempt to pull off an insurance scam by pretending that Curly thinks he is a dog in the most manically paced and enjoyably anarchic Stooges short in this set. The black attendant who widens his eyes in fear and leaps through the window is a groan-inducing trope of the period that is thankfully dispensed with in a matter of seconds, but just about everything else is rather fun, and it may hold some sort of Stooges record for collision tumbles, many of which involve the same luckless individual. There is some visible chemical damage on the early shots, but it's not serious enough to be distracting.


THE BROTHERS RICO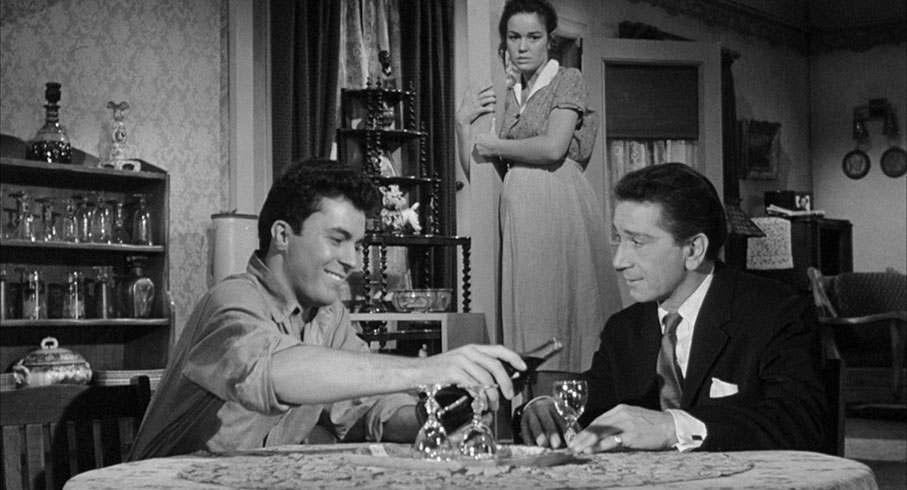 Audio Commentary with Jason A Ney
Professor and film scholar Jason A Ney delivers a nicely balanced blend of the factual and analytical, providing information on the actors – especially Richard Conte – director Phil Karlson, cinematographer Burnett Guffey, score composer George Dunning, and author Georges Simenon, whose source novel Ney compares to the film to highlight the key differences between the two. He picks up on elements that may have more significant meaning than first appearances suggest, including one involving Eddie's car that would otherwise be lost on a modern British viewer like me. He praises the sharp script and the performances of Diane Foster, Larry Gates and Richard Conte, whose work on the film is also singled out for special mention in some contemporary reviews from which Ney reads. He shares my view about how blind to the truth Eddie remains for so long, but we definitely part company on our opinions about the ending. I shall say no more.
Introduction by Martin Scorsese(3:31)
Filmmaker Martin Scorsese comments on the work of original story author, Georges Simenon, and his influence on the tone of the film, as well as the flatness of the cinematography and how the brightly lit, corporate nature of the criminality enables the tragedy of the film to cut deeper. This includes clips from the film that could qualify as spoilers, including the final shot, so despite the title of this piece, I wouldn't use it as an introduction.
A Bracing Brutality: Nick Pinkerton on Phil Karlson (29:54)
Author and critic Nick Pinkerton delves into the career of director Phil Karlson and examines the elements that define his work, which include, in his words, "rib-crackingly palpable violence." In the second half, there is particular focus on The Brothers Rico, with special mentions given to cinematographer Burnett Guffey, novel author Georges Simenon and actor Richard Conte. It's interesting stuff, but does feel as long as that running time suggests, particularly as Pinkerton is not the most animated of speakers and illustrative film clips don't make an appearance until the second half. It's absolutely worth sticking wirth it, though, as Pinkerton really knows his subject.
Image Gallery
35 screens of largely high quality promotional stills – including a jokey one of Richard Conte and three cowboy-dressed showgirls – garishly coloured lobby cards and interesting posters.
Theatrical Trailer (2:25)
Major spoilers aplenty in a trailer that includes footage of scenes I've avoided discussing even with a spoiler warning, and which misleadingly sells the movie as "One of the most exciting chase stories ever filmed." Then again, it also goes with, "Three hunted men… and their desperate women!" which is not quite as misleading as it may sound.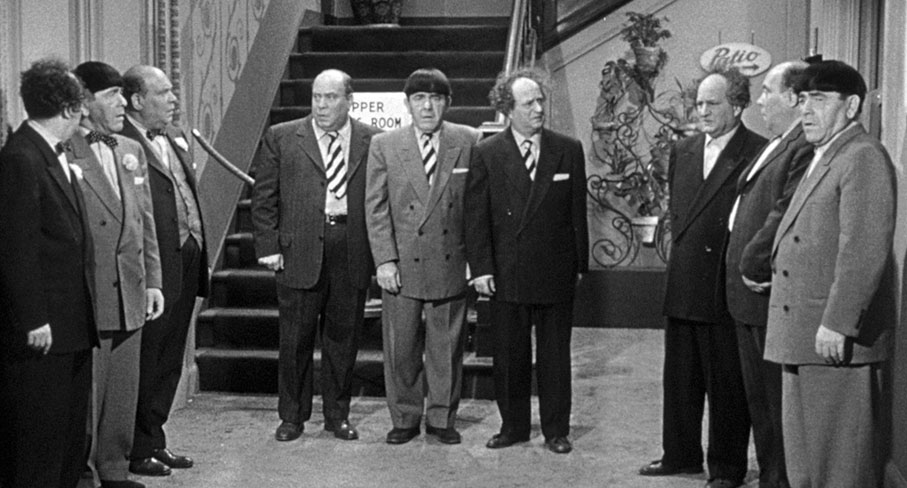 The Three Stooges in 'A Merry Mix-Up' (1957) (15:55)
In a manic update and expansion of the 1936 Laurel and Hardy feature, Our Relations, Joe, Larry and Moe play three sets of identical triplets in a setup so convoluted that it needs a narrator to lay things out for us. All three groups of triplets have lost touch with each other but now unknowingly live in the same city. Three of them are bachelors, a second three are married, and the third three have just got engaged. Thus, when the first three go out looking to pick up some girls, and the wives of the second trio and the girlfriends of the third end up visiting the same restaurant… oh, you can probably guess the rest. Identities are mistaken, the wrong people are kissed and slapped and chased by an angry waiter, and it builds to a triple-exposure shot featuring all three sets of triplets. Pretty funny, as it happens, and I even smiled at the verbal gag when the waiter asks them what they want to eat and Larry requests a shingle roof because "it's on the house."

PLUS
Booklet
Given that it's covering all six films, it's no surprise that this booklet is a bit of a whopper, coming in at a weighty 116 pages. The films are covered in chronological order, with credits for each followed by essays and interviews specific to that title, with a few more pages at the end devoted to the included short films. First up, Spellbound with Beth Ann publisher and blogger, Beth Ann Gallagher, examines Walk a Crooked Mile, with particular focus on the San Francisco locations, lead actor Louis Hayward, director Gordon Douglas and cinematographer George Robinson. This is followed by a 1968 interview with Gordon Douglas, conducted by Michel Ciment, Roger Tailleur and Bertrand Tavernier for the French film journal Postif, in which the director talks about his film career in open and engaging fashion. Author, actor and comedian, Bob Herzberg gets to work on Walk East on Beacon!, outlining the political background to the project, and although amused by some aspects, ultimately praises the film for delivering the Cold War espionage goods. This is paired with a fascinating piece by Jeff Billington that explores the real-life case of Ethel and Julius Rosenberg, who were executed in 1951 for their involvement in the covert operation to pass nuclear secrets to the Russians. It includes extensive extracts from an FBI document produced to justify the action taken against the Rosenbergs following an increasingly vocal call for clemency from some high-profile figures, including Pope Pius XII and Albert Einstein. Tackling Pushover is writer Sophie Monks Kaufman, who delivers a nicely written analysis of the film with a particular focus on Kim Novak. Novak and fellow actors Fred MacMurray and Phil Carey are the subject of the accompanying piece, which is bult around extracts from articles in four separate publications of the day. Film scholar, writer and curator Omar Ahmed offers his take on A Bullet is Waiting, particularly the filmmaking during the opening scene and the film's exploration of sexual repression. Following this is a 1953 piece by gossip columnist Harrison Carroll, who visited the set during the filming of a fight scene and spoke to director John Farrow and actor Jean Simmons. This concludes with a paragraph by fellow gossip columnist Hedda Hopper which reveals information about an upcoming film about Jesus to be made by Farrow, one that was postponed as was eventually made by Nicholas Ray as King of Kings. Writer and critic Jen Johans doesn't go into massive depth on Chicago Syndicate, but he still makes some really savvy observations, my favourite being that Abbe Lane is "this film's answer to Gloria Grahame." That hadn't occurred to me but is so on the money. Lane is also the prime focus of extracts from articles from several publications, all of them about her and with quotes from  her and her then husband bandleader, Xavier 'Cugie' Cugat, who also appears in the film playing a fictional version of himself. Freelance film critic Monica Castillo does a very nice job of identifying some of the things that make The Brothers Rico special, and Jeff Billington is back with a pleasingly detailed piece on author Georges Simenon, whose name I must have mentioned enough times by now to not have repeat who he is. Credits and overviews are provided for the three included March of Time shorts and Routine Job: A Story of Scotland Yard, and Jeff Billington gets a third swing at the bat (well he is the editor of this excellent booklet) for an interesting piece on The Three Stooges shorts in this set. As ever, the booklet is handsomely produced and peppered with promotional material for the films.
Another belting box set that has swallowed up two weeks of what spare time I have, this fourth entry into Indicator's Columbia Noir series may stretch the definition of noir a little on two or three of the titles, at least by the purist definition of the term. But three meet the criteria and are top-notch entertainment, and all six are of considerable interest, boast first-rate transfers and are backed by an enjoyable and informative collection of special features. If you have the other three sets, then this is no-brainer, if you haven't, then start at the beginning and work your way through to this fourth collection. Highly recommended.
---