– Part 2: Tech Specs, Special Features and Summary –
The 1080p transfers of Escape in the Fog, The Undercover Man and The Garment Jungle were made from 2K restorations by Sony, each supervised by Grover Crisp, while Drive a Crooked Road, 5 Against the House and The Lineup were sourced from Sony's High Definition remasters.
Escape in the Fog and The Undercover Man are framed 1.37:1, while The Garment Jungle, Drive a Crooked Road, 5 Against the House and The Lineup are framed 1.85:1. All six transfers are clean and have no juddering or movement of the image in frame, and all boast a strong sharpness and a fine level of detail. Occasionally wider shots can feel a little softer, as do a handful of shots in Drive a Crooked Road, but facial close-ups are impressive across the board, as are the textures of surfaces and clothing. The contrast balance is generally very good, though there is some variance in the strength of the black levels, being a tad softer on darker shots on the final three titles in this set, but as black as road tar at night during an eclipse on The Undercover Man. There is some minor flickering during the foggy scenes in Escape in the Fog, which is the oldest of the features here, but otherwise no trace of any former wear is evident. A fine film grain is visible on all six transfers and although more evident on some films than others, it's never obtrusively so. The Lineup looks especially lovely in every respect.
All six films have Linear PCM 1.0 mono soundtracks, and while all have the inevitable range restrictions, the dialogue is always clear and by the time we get to The Lineup the music has a little more oomph to it than it has in the earlier titles. There's no audible signs of damage or wear on any of the soundtracks, which have also been restored on Escape in the Fog, The Undercover Man and The Garment Jungle.
Optional English subtitles for the deaf and hearing impaired are available not just for all six films, but a sizeable number of the special features too. Bravo.
ESCAPE IN THE FOG
Audio Commentary with Pamela Hutchinson
Critic Pamela Hutchinson delivers a speedy and information-busy commentary in which she explores the careers of some of the key participants, including director Bud Boetticher and several of the actors. She also highlights some of the less convincing plot twists whilst praising others and the film's neat structure, as well as quoting from two contemporary reviews and pointing out the brief screen debut of Shelley Winters, which I hadn't picked up on. I really do need that overdue eye test.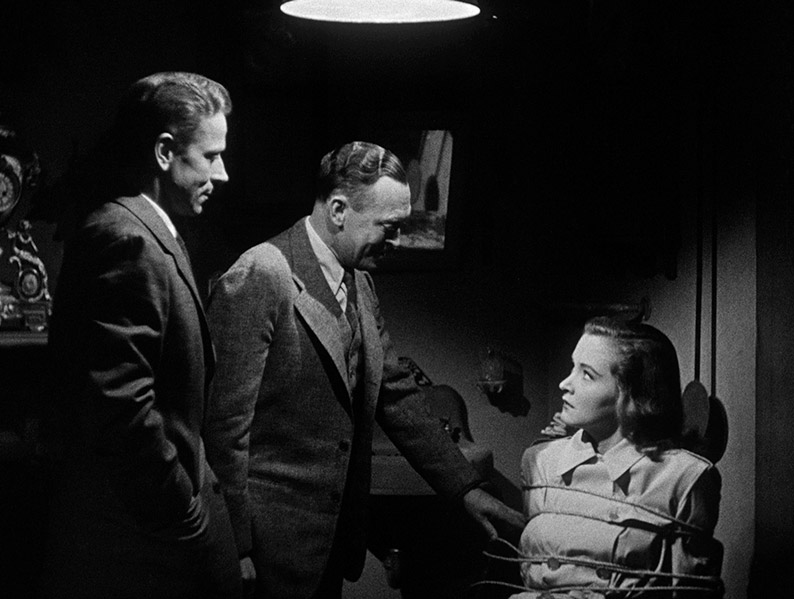 Image Gallery
22 promotional stills and a single poster.
The Fleet That Came to Stay (1945) (21:12)
A wartime documentary short compiled by Escape in the Fog director Budd Boetticher (as Oscar Boetticher) from combat footage shot during the lengthy battle in the sea off Okinawa in which American ships and planes fought off – and occasionally fell victim to – waves of attacks by the Japanese, which included kamikaze pilots. There's a rhythmic pulse of fluff on the soundtrack but it matters not, as some of the combat footage is remarkable and has been edited to create a real sense of the intensity of the battles.
The Three Stooges in 'You Nazty Spy!' (1940) (18:02)
The first of six Three Stooges shorts in this set, each one selected to partner a film to which it has some thematic similarity. You Nazty Spy! Is one of the comedy trio's most well-known shorts and one of a number of films made during the war that mocked Hitler and Germany's Nazi government. Here a group of power-hungry officials in the government of Moronica plot to replace the king with a puppet dictator and select wallpaper hangers Moe, Curly and Larry to be Dictator, Field Marshall and Propaganda Minister respectively. As expected, there is plenty of face slapping, head punching and eyeball poking and everyone has a gag name, but Moe's visual transformation into a Hitler clone is amusing, the umbrella-carrying stormtroopers jack-booting each other up the arse as they march is a funny sight-gag, and a surreal sequence involving a secretary who dresses and dances like a ballerina had me sniggering throughout.

THE UNDERCOVER MAN
Audio Commentary with Tony Rayns (89:44)
The venerable Mr. Rayns kicks off by noting what a fantastic director Joseph H Lewis was and makes Lewis's work on this film a key focus of his commentary, as well as discussing its plot and characters and highlighting what makes individual scenes work as well as they do. In what can't help but (no doubt inadvertently) play just a little like a rebuke to some of the other contributors to this set, he is dismissive of commentaries that just rattle off the credits of the actors and filmmakers – "you can look that up for yourself" – and unexpectedly keeps going for seven minutes after the film has concluded with an interesting look at Lewis's status as an auteur filmmaker.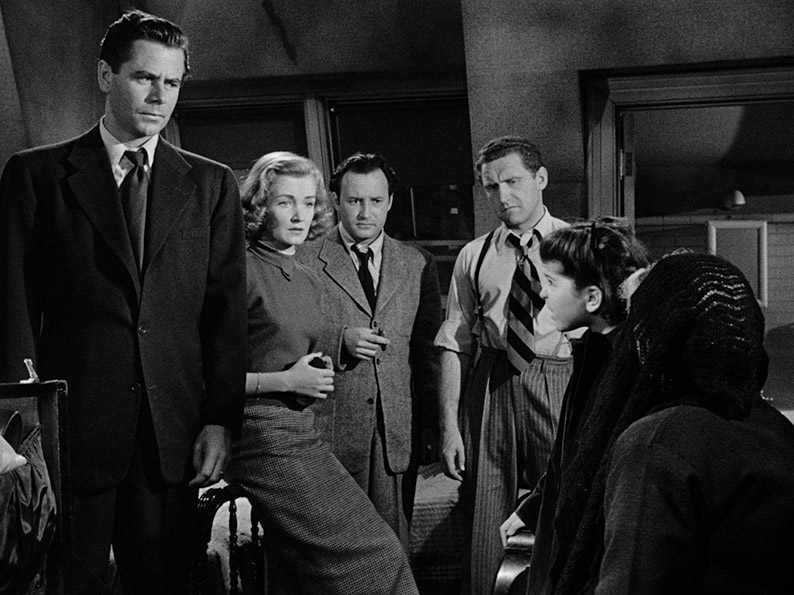 Image Gallery
26 screens of really crisp promotional stills, horribly coloured lobby cards, international posters and a behind-the-scenes photo.
Man on a Bus (1955) (28:53)
A professionally produced fundraiser for the United Jewish Appeal in which Broderick Crawford plays an Israeli bus driver whose vehicle breaks down in the middle of nowhere at night, where he and his passengers are forced to wait until morning for help. This gives the passengers – a heart-warmingly nice group played by Ruth Roman, J. Carrol Naish, Walter Brennan, Rosemary De Camp and Kim Charney – the opportunity to relate their individual past stories of extreme hardship, from concentration camp survival to the death of a loved one in a North African street demonstration, and reflect on how much better their lives are now. Sincerely made and acted, it does paint Israel as a land of endless opportunity and kindness, which I have absolutely no doubt it was for so many at the time, though I did occasionally find myself wondering how a displaced modern-day Palestinian might react to the more idealistic aspects of the film's content and tone.
The Three Stooges in 'Income Tax Sappy' (1954) (16:31)
This time the boys make such a good job of fiddling their income tax (I know, hard to believe) that they go into business and get rich doing likewise for others. Highlights here include a bowl of aggressive soup, a sandwich that bites back and Shemp operating himself in the manner of a human adding machine.

DRIVE A CROOKED ROAD
Audio Commentary with Nick Pinkerton
A solid commentary from critic, writer and film historian Nick Pinkerton, who does a fine job of identifying and examining the film's noir elements and provides career biographies of leading man Mickey Rooney, screenwriter Blake Edwards, director Richard Quine, cinematographer Charles Lawton Jr, and a number of the supporting players. We get information on some of the locations used, and Pinkerton praises Rooney's work and the air of easy naturalism in the dialogue and delivery, as well as exploring the journey undertaken by Eddie from the moment he is first snared to his later actions.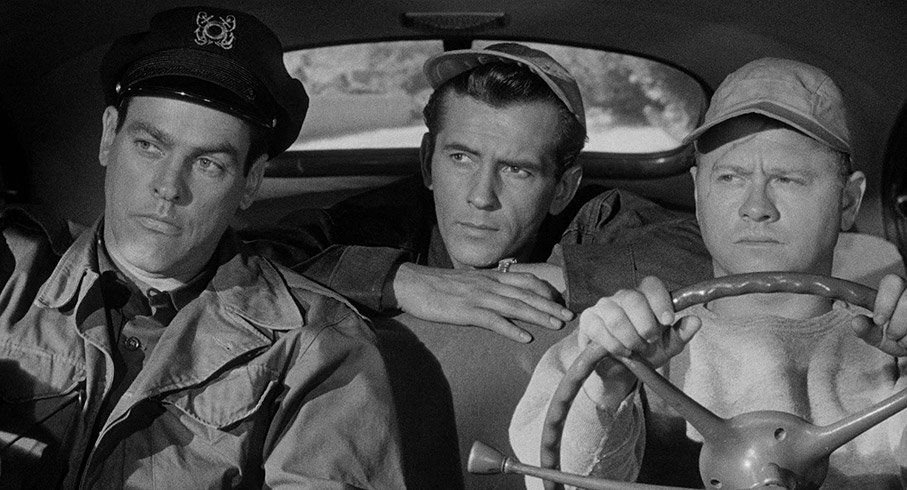 The Guardian Interview with Mickey Rooney (82:23)
Conducted by Tony Sloman at the National Film Theatre on 11 September 1988, this audio recording, we are informed by an up-front caption, was made for archival purposes rather than commercial distribution and has a range of technical issues as a result. I'm used to this by now and the value of the content provides plenty of compensation, but I do occasionally wonder why these archival recordings were not made at the highest possible quality anyway, given their value. But I digress. Rooney is in full flow here, cracking gags like a stand-up comedian, telling funny stories, railing against those who write unauthorised biographies of living actors, the death of the Hollywood system of old, and cheerfully resisting Sloman's attempts to interrupt and actually ask questions. It's a very entertaining listen, and it's always great to hear an actor of Rooney's stature condemn the actions of Senator Joseph McCarthy and his Hollywood witch hunt.
Introduction by Martin Scorsese (1:56)
Scorsese provides a brief but concise introduction, presumably for a TV or festival screening or a previous DVD release (the framing is 4:3), in which he praises the film and highlights the work of screenwriter Blake Edwards, director Richard Quine and especially leading man Mickey Rooney.
Theatrical Trailer (1:56)
Spoilers galore – including revealing footage from the final scenes, for heaven's sake – in a trailer you should definitely not watch just before seeing the film itself.
Image Gallery
18 screens of promotional stills, press book page scans and posters.
Screen Snapshots: 'Mickey Rooney, Then and Now' (1953) (9:51)
An engagingly dated short in which Mickey Rooney sits down with two movie execs whose names I probably should know in order to watch one of the many Mickey McGuire shorts he made as a child, a film-within-a-film whose charm is lost on a git like me.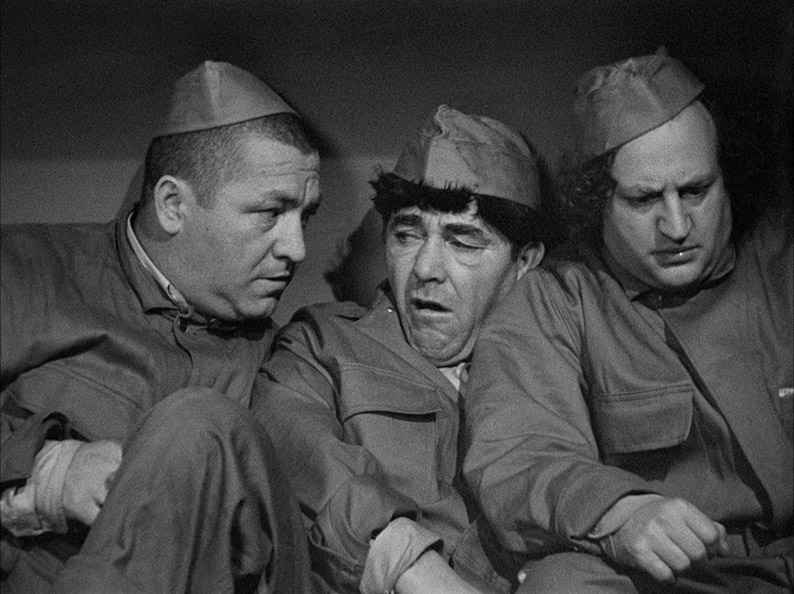 The Three Stooges in 'Higher Than a Kite' (1943) (17:32)
Here the boys are motor mechanics at an Air Force base and charged with finding the source of a squeak in a Colonel's car, which provides them with an excuse to stage some insanely violent gags involving spanners and jacks and a large metal tube that gets stuck on Moe's head. They end up hiding in the casing of a bomb that is dropped into enemy territory for some more wartime piss-taking of those dummkopf Nazis.

5 AGAINST THE HOUSE
Audio Commentary with David Jenkins
The soft-spoken David Jenkins, who edits the respected film magazine Little White Lies, talks about what makes the film work and why it's easy to believe that the four students are friends, as well as the fact that the lead actors are technically too old for their roles. He finds connections to the work of Jean-Pierre Melville and even to Bob Clarke's later frat comedy Porkys, and highlights key aspects of Phil Karlson's directorial style. Most useful of all are the direct comparisons he makes to Jack Finney's source story, and he notes that Martin Scorsese is a fan of the film and that it was likely an influence on that director's Casino.
The Guardian Interview with Kim Novak (66:47)
Conducted by critic David Robinson at the National Film Theatre on 2 February 1997, this on-stage interview with Kim Novak appears to have been shot in standard definition with a microphone that also picks up a worrying number of loud audience coughs, but the content makes this easy to live with. Questions are asked both by Robinson and audience members, and perhaps unsurprisingly her performance in Vertigo and working with Alfred Hitchcock is of primary interest. She also talks about how the replacement of Peter Sellers with Ray Walston after Sellers had a heart attack during Billy Wilder's Kiss Me, Stupid negatively impacted on the film, reveals that she hated her role in Pal Joey and that she holds The Man With the Golden Arm and Frank Sinatra's performance in it in the highest regard.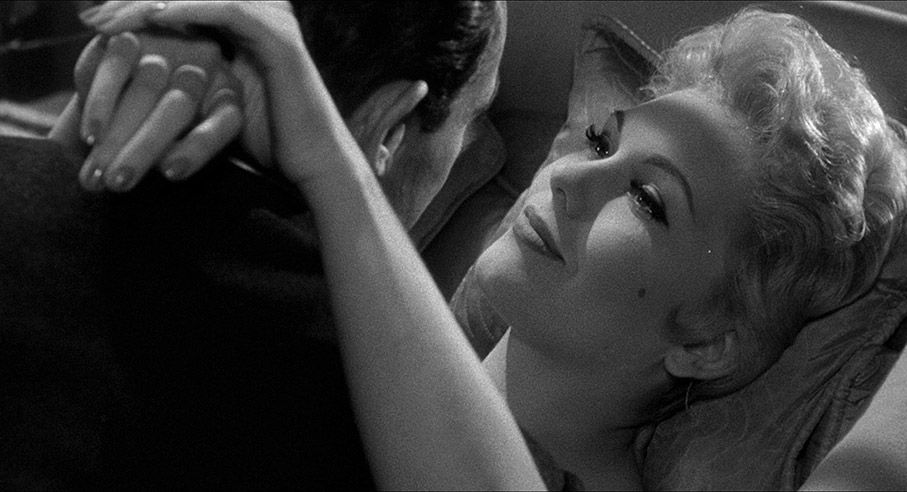 Theatrical Trailer (1:53)
"Four Guys, a girl, a gadget" and a bucketful of spoilers in a trailer best saved for after the movie itself.
Image Gallery
32 screens of stills, promotional book pages, lobby cards and posters.
The Three Stooges in 'Sweet and Hot' (1958) (16:23)
The formula that made the team so popular is dumped here in favour of having Moe, Larry and Curly Joe play characters in what barely passes for a story, one that includes four musical numbers performed by Muriel Landers, two of which are sung in flashback in the manner of a small child and are ear-splittingly painful to listen to. Larry has found success on Broadway and has come back home to tempt Muriel and her brother Joe to join him, but before doing so Muriel has to see a psychiatrist played by Moe with – of course – a cartoon German accent. One for the purists, I guess – I didn't even smile during this.

THE GARMENT JUNGLE
Audio Commentary with Kevin Lyons
If you listened to all seven commentaries in this set in a row as I did, hearing Tony Rayns mocking those who just list the credits of people who worked on a film, then two commentaries later encountering one that consists almost entirely of biographies of the actors and filmmakers did raise a wry smile. Then again, given that Kevin Lyons is the editor of the Encyclopaedia of Fantasy Film and Television website, this is perhaps to be expected and the detail he goes into goes far beyond the mere listing of titles that Rayns is so dismissive of. There's a lot of information on many people here, including a detailed look at the whole issue of Robert Aldrich's departure from the film and his lack of a screen credit.
Robert Loggia: It's a Jungle Out There (19:42)
Hosted by film historian Alan K Rode at the Egyptian Theatre, Los Angeles on 4 May 2007 after a screening of The Garment Jungle, this welcome interview with Robert Loggia starts off with talk about the film itself before moving onto how he first got into acting and discussion about the TV series T.H.E. Cat, which I confess to never having seen a single episode of. He also provides his own take on why Robert Aldrich left the project and what subsequently happened.
Tony Rayns: Law of the Jungle (15:05)
Tony Rayns is back to discuss the article on which The Garment Jungle was based and go into some detail about the conflicting stories of why Robert Aldrich was replaced with Vincent Sherman, as well as taking time to deconstruct the film's original poster.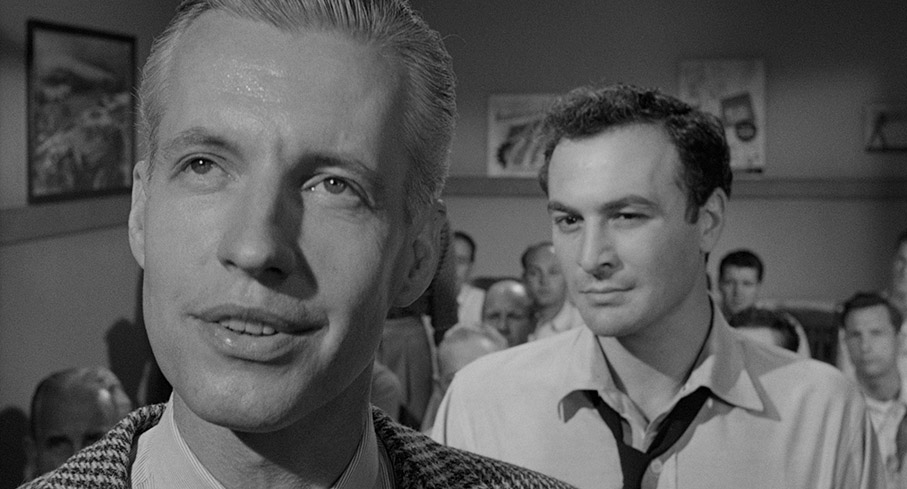 Theatrical Trailer (2:35)
High drama and some spoilers in a trailer that also can't resist a few shots of models in their underwear.
Image Gallery
44 screens of promotional stills, lobby cards, posters and a single behind-the-scenes photo.
The Three Stooges in 'Rip, Sew and Stitch' (1953) (16:39)
Here the boys are tailors in need of cash to keep a finance company off their backs and see an opportunity to cash in on a reward when an escaped convict hides out in their shop. Shemp does battle with an uncooperative ironing board, Moe uses a clothes press to make pancakes and just about everyone gets violently hit.

THE LINEUP
Audio Commentary with James Ellroy and Eddie Muller
This commentary from an earlier DVD release features president of The Film Noir Foundation Eddie Muller and renowned crime novelist James Ellroy, author of such esteemed works as the Black Dahlia, L.A. Confidential and American Tabloid. This is a lively and sometimes rambunctious commentary in which Ellroy, who describes himself at the start as "the white knight of the far right," misses few opportunities to make provocative statements, a few of which are likely to rub some up the wrong way. His assertion that cops should be given free rein to beat suspects has aged particularly badly in the face of the police brutality witnessed during the recent Black Lives Matter protests in America. Both men have high praise for Eli Wallach's performance, and while Ellroy sticks up for the early police procedural scenes, when it comes to the line-up sequence he quickly loses patience, barking, "This scene's been going on for five fucking minutes and it's going nowhere!" They discuss the homosexual overtones of the steam room scene, and have nothing but praise for Don Seigel's direction, though Muller does seem a little obsessed with what are frankly minor continuity errors.
Audio Commentary with David Del Valle and C Courtney Joyner
Film historians David Del Valle and C Courtney Joiner deliver a lively appreciation of a film that Del Valle's cousin Jaime Del Valle produced (he also produced the TV and radio series). There are a couple of crossover moments with the previous commentary, but on the whole this is very much a fresh take on the film that is bristling with interesting information and observations. They're very much of the opinion, as I am, that it's only when Julian and Dancer appear that it truly becomes a Don Siegel movie, though do side with Ellroy and Muller in opining that Silliphant and Siegel made that first 20 minutes more interesting than they had any right to be. It's here that Wallach's similarity to Joe Pesci's later psychopathic gangsters is noted, and they also remark that this was one of the first crime movies to deal openly with heroin trafficking and addiction and feature a silenced pistol.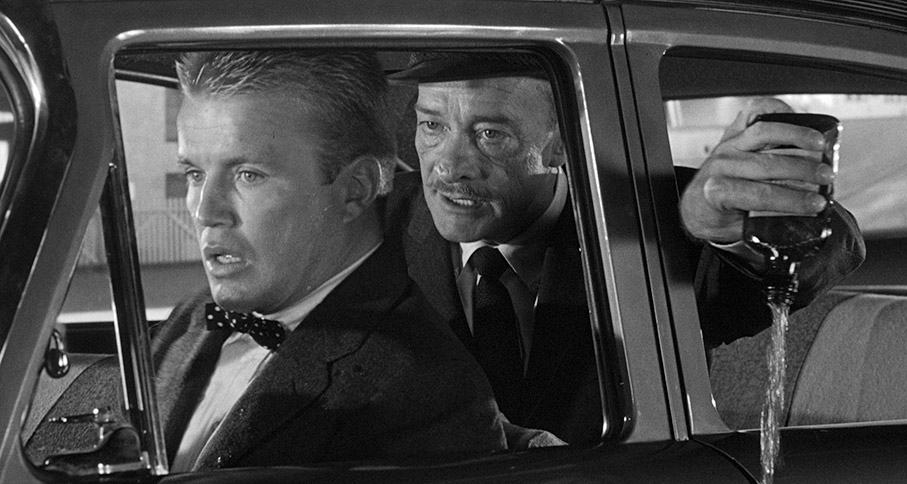 Christopher Nolan: The Influence of Noir (6:29)
The director of…oh come on, you don't need me to list this guy's movies, do you? Anyway, Nolan here talks about the nature and appeal of film noir and its influence on his work, during which he references several key titles, including The Lineup, clips from which are included and will act as major spoilers for anyone who hasn't watched the film first.
The Streets of San Francisco (7:08)
A tour of the San Francisco locations featured in The Lineup using clips from the film and explanatory captions.
'The Lineup' Radio Episodes
Three episodes from The Lineup radio series, each of which stars Bill Johnstone as Lt. Ben Guthrie and Wally Maher as Sgt. Matt Grebb. All three tell their stories exclusively from the viewpoint of the police investigation, as, I gather, did its TV equivalent. They're all sincerely performed, move at quite a lick and open with a line-up at which witnesses are asked to identify anyone they saw at the scene of this week's crime. The suspect is then interrogated and the investigation begins.
The Candy Store Murderer (1950) (29:50)
Written by Blake Edwards and guest starring Raymond Burr, Howard McNear, Jeanette Nolan and Hy Averback, this one follows the investigation of the murder of the owner of a candy store, as indicated by the no-nonsense title. A pivotal interrogation scene is particularly well written and performed, and the audio quality here is noticeably superior to that of the other two included episodes.
The Case of Frankie and Joyce (1951) (30:51)
Written by Charles E Israel and guest starring Howard McNear, John McIntire, Jeanette Nolan and Virginia Gregg, this episode has the team trying to track down the killer of the woman whose name is featured in the title. The sound quality is weaker here than on the previous episode, but the dialogue is still clear enough to follow what's happening.
The Harrowing Haggada Handball Case (1951) (25:56)
Written by Blake Edwards and Richard Quine, the team behind Drive a Crooked Road, and guest starring Hy Averback, Dave Young and Mary Schiff, this story revolves around the investigation of a payroll robbery. The fluffy audio quality has the effect of muffling dialogue during the opening line-up scene and making a later punch-up sound like a horse is galloping through the room.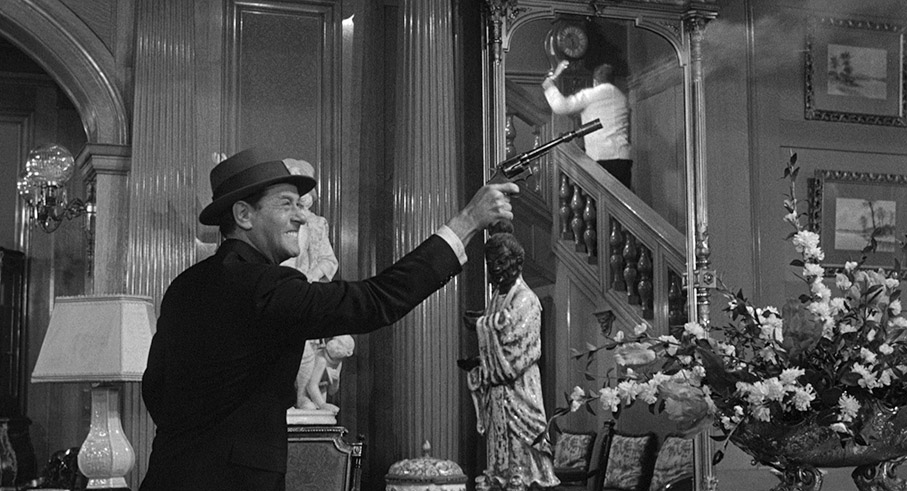 Theatrical Trailer (2:09)
A lively sell with only one minor spoiler and some shots not included in the film itself. I'd have gone to see it even if I wasn't a fan of the series, which it unsurprisingly references.
Josh Olson Trailer Commentary (2:45)
Screenwriter Joe Olson praises the film and particularly the characters of Dancer and Julian and the use Don Siegel makes of its San Francisco locations. He also notes the redundancy of the line-up scene and finds a possible connection to a later Bob Dylan song.
Image Gallery
5 promotional stills and 3 international posters.
The Three Stooges in 'Tricky Dicks' (1953) (15:57)
In one of their better films in this collection, the boys are hapless police detectives charged with catching a killer who walks into the station later and shoots the place up with a revolver that holds about 200 rounds in its chamber. There are a handful of funny gags here amongst the slapping and eye-poking, one of which involves a phone that rings like a fire bell, though my favourite comes early when a female shoplifter shouts at Larry, "How dare you look like somebody I hate!" and smacks him round the face.

ALSO
Booklet
Given that we're talking six movies here, it's not surprising that the accompanying booklet runs for 118 pages, and as ever it makes for terrific reading. It's effectively chaptered by the movies in this set, each opening with the credits for the film and moving onto articles relating specifically to the title in question. First up, we have a perceptive essay on Escape in the Fog by writer and curator Iris Veysey, which is followed by extracts from an interview with director Budd Boetticher, conducted by French critic and director-to-be Bertrand Tavernier in 1964, in which he talks about his early films, of which he is surprisingly dismissive. Concluding this chapter are reappraisals of the film by critics Andrew Sarris and Jacques Lourcelles. Chapter 2 kicks off with a piece in which writer and filmmaker Paul Duane examines Joseph Lewis's direction of The Undercover Man, primarily through the detailed dissection of a single scene, after which there are extracts from interviews with Joseph H Lewis in which he talks about directing the film. Chapter 3 begins with a neat appreciation of Mickey Rooney's performance in the film by writer and researcher Jill Blake, following which are extracts from the studio pressbook which focus on actor Dianne Foster. Rooney is again the subject of the final article in this chapter, with extracts from his autobiography and press cuttings about him, at the foot which are pressbook suggestions on ways to exploit the movie, which include holding a "Micky Rooney Night" with spot prizes for guests. Wheeler Winston Dixon, who is the James Ryan Emeritus Professor of Film Studies at the University of Nebraska (come again?), examines 5 Against the House, with particular emphasis on director Phil Karlson. Extracts of interviews with Karlson and screenwriter Stirling Silliphant in which they speak briefly about the film lead on to information on the real-life location of Harold's Club of Reno and a short extract from Jack Finney's source novel. Under the amusing title of Hemlines and Hoodlums, film historian and curator Nathalie Morris looks at the origins, making and costume design of The Garment Jungle, which the film's first director, Robert Aldrich, then discusses in extracts from four interviews with different writers. A sizeable extract from the autobiography of Aldrich's replacement Vincent Sherman presents an alternative viewpoint, one that often backs up Aldrich's take on events but does dispute how much of the finished film was shot by which director. Next we have an essay by writer and Viewfinder editor Sergio Angelini examining The Lineup and the TV series that inspired it, following which is an extract from the posthumously published autobiography, A Siegel Film, in which director Don Siegel recalls the making of the movie. His story of learning that you need to add a temporary soundtrack to a sequence before you show it to a producer is one I've heard a few times now, including from my esteemed co-writer and professional film editor, Camus. Credits for all of the Three Stooges films are complimented by an essay on the film work of the comedy troupe by Jeff Billington, as well as credits for The Fleet That Came to Stay, Mickey Rooney, Then and Now and Man on a Bus, each of which is also accompanied by a short essay. Finishing things off is brief information on the transfers, and the booklet is handsomely illustrated with promotional materials.
I'll admit that I was looking forward to making my way through this set, but it exceeded my expectations, and then some. Six terrific films, all looking great here, and a splendid collection of supplementary material, including seven commentary tracks, radio plays, short films, interviews and more. This has to be one of my favourite Blu-ray releases of 2020. Highly recommended. Roll on Columbia Noir #2.
---