Prano Bailey-Bond's Censor stars Niamh Algar in a mesmerising performance as a dedicated and intense film censor during Britain's infamous 'video nasty' era, whose work slowly becomes intwined with her past. Now this brilliantly dark and disturbing British horror is set for the highly anticipated Limited Edition Blu-ray treatment from Second Sight Films on 31 January 2022.
Enid (Algar – Deceit, The Virtues) spends her days meticulously watching and assessing gruesomely violent and disturbing movies, taking her work as a film censor very seriously. She holds a strong sense of responsibility in protecting audiences from extreme content, subconsciously driven by the guilt she holds from a disturbing childhood trauma. When a troubling film lands on her desk, Enid finds herself embroiled in the story and slowly starts to uncover some of her lost memories that seem strangely similar to the film. Consumed by the need to find if there is a connection between the production and the disappearance of her sister, her life spirals out of control, descending into darkness and danger.
'This thrilling, dizzying debut... is a nostalgic treat for anyone old enough to remember the infamous "video nasties" scare of the early 80s' – Mark Kermode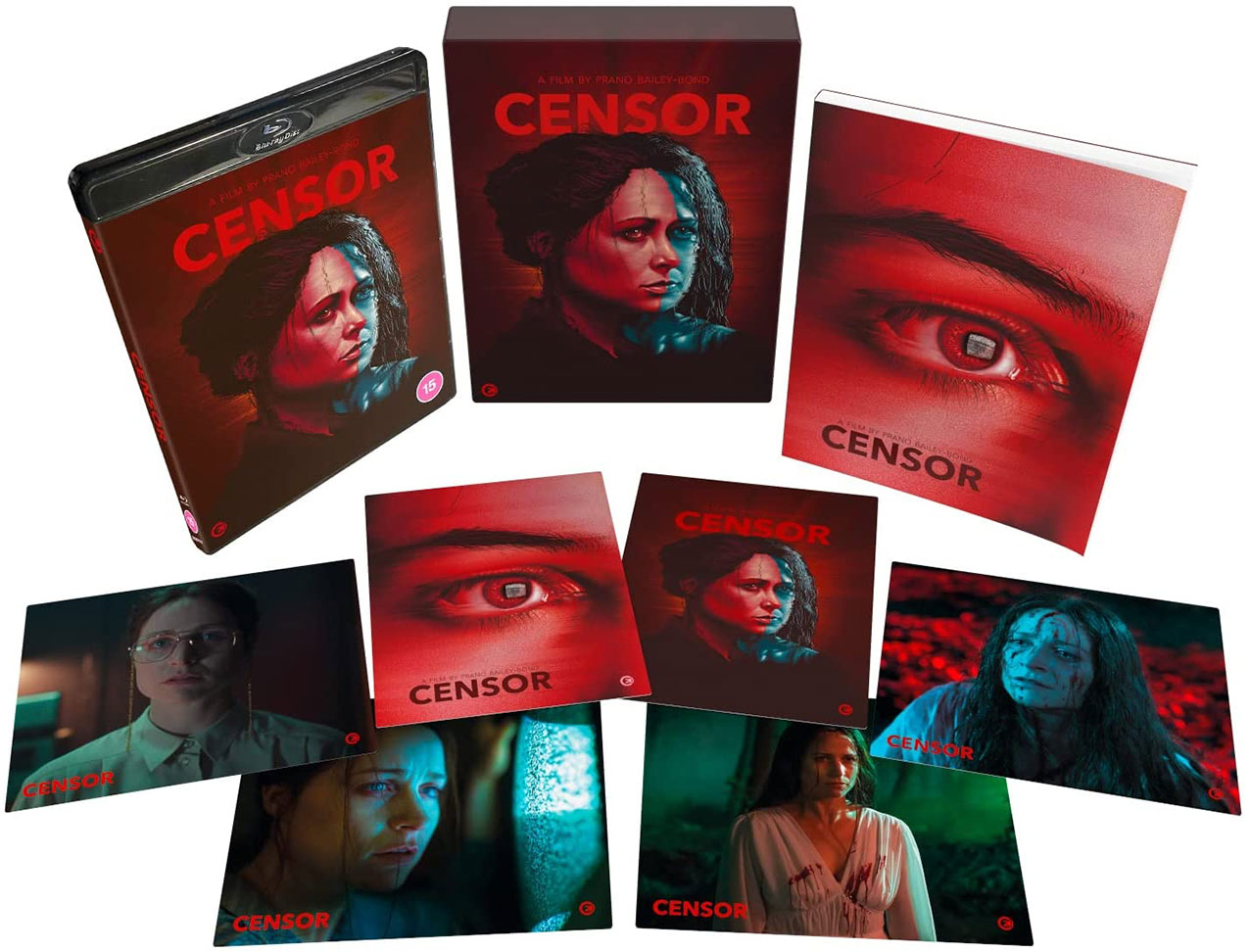 Censor Limited Edition Blu-ray comes as a two-disc box set presented in a rigid slipcase with new artwork by James Neal and a soft cover book with brand new essays and art cards, and will be released on 31 January 2021 by Second Sight at a too-be-confirmed RRP.
LIMITED EDITION BLU-RAY SPECIAL FEATURES:
New audio commentary by Prano Bailey-Bond, Director of Photography Annika Summerson, Editor Mark Towns and Sound Designer Tim Harrison
New audio commentary by Kat Ellinger, Lindsay Hallam and Miranda Corcoran
My Own Nasty: a new interview with Prano Bailey-Bond
Penning a Nasty: a new interview with Co-Writer Anthony Fletcher
The Censor: a new interview with Actor Niamh Algar
Nasty Images: a new interview with Annika Summerson
I'm Cutting It: a new interview with Mark Towns
Nasty Sounds: a new interview with Composer Emilie Levienaise-Farrouch
The Making of Censor
Deleted Scenes
Enid's Gaze: Alexandra Heller-Nicholas on Censor
Screening Q&A with Prano Bailey-Bond and Emilie Levienaise-Farrouch hosted by Jed Shepherd
Prano Bailey-Bond in conversation with BBFC compliance Officer David Hyman
My Nasty Memories by David Gregory
Ban the Sadist Videos! Parts One and Two feature length documentary
English subtitles for the hearing impaired