The BFI has confirmed the details of two key works from director Mike Leigh being released on UK Blu-ray and digital platforms on 29 November 2021, his 1971 debut feature Bleak Moments, and his searing 1993 drama Naked.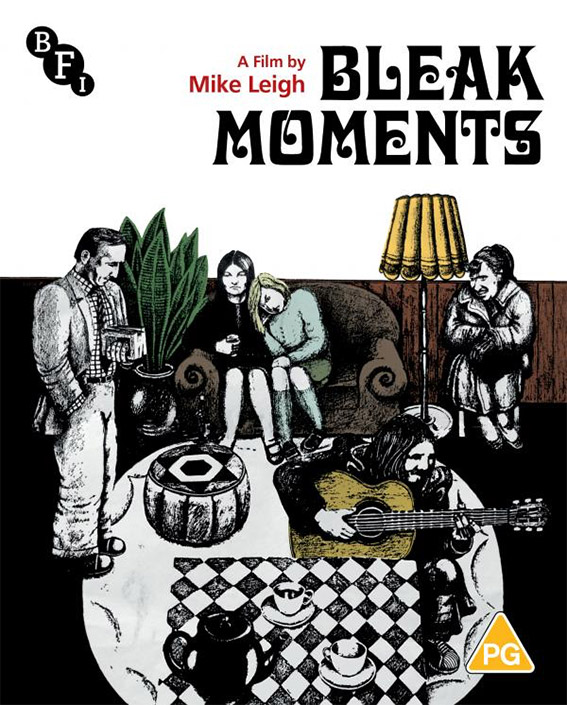 BLEAK MOMENTS | Blu-ray & digital platforms, including BFI Player | £19.99 (Blu-ray)
Released in 1971 to widespread acclaim, Mike Leigh's debut feature film is a haunting study of social isolation. Uncompromising and deeply affecting, the film introduced the director's unique and highly influential natural style that he has continued to develop over a 50 year film career.
Sylvia (Anne Raitt) leads a quiet life, working as a secretary in an office with her friend Pat (Joolia Cappleman) and caring for her sister Hilda (Sarah Stephenson), who has complex care needs, in the evening. Into Sylvia's life come two men, Peter (Eric Allan), a reserved teacher she knows slightly, and Norman (Mike Bradwell), a painfully shy, long haired young man who rents her garage to print an underground magazine.
A true landmark in the history of British film, Bleak Moments has been newly remastered in 4K by the BFI and is presented on Blu-ray for the very first time. Its release on 29 November is part of the BFI's major celebration of Mike Leigh this autumn which includes the Blu-ray release of Naked in November (after its theatrical release on 12 November), a complete retrospective of Mike Leigh's work at BFI Southbank from 18 October – 30 November, a Mike Leigh collection on BFI Player, a season of Leigh's work at HOME, Manchester and more. Full details at: https://www.bfi.org.uk/mike-leigh
BLU-RAY FEATURES: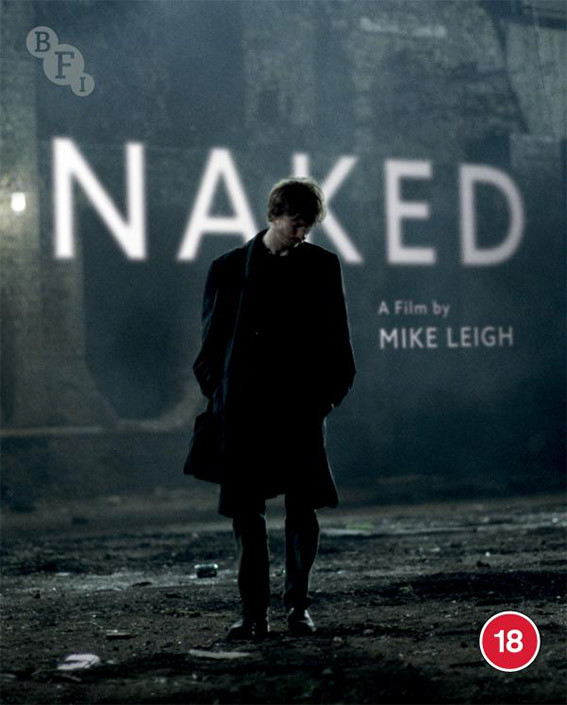 NAKED | Blu-ray & digital platforms, including BFI Player | £19.99 (Blu-ray)
Featuring a razor-sharp script and direction by Mike Leigh and brilliantly claustrophobic cinematography by Dick Pope, this Cannes-winning film is a masterful, controversial and totally unforgettable exploration of society in free-fall at the tail end of Thatcher's Britain.
Johnny (David Thewlis) is a frenetic and destructive outsider who tears through the lives of others like an emotional tornado. On the run from Manchester, he seeks sanctuary with his ex-girlfriend Louise (Lesley Sharp) in London, where he immediately targets her vulnerable housemate Sophie (Katrin Cartlidge) with his unique blend of predatory charm. From there he embarks on a nocturnal odyssey across the city, dragging other disaffected souls into his orbit as he spirals towards his own personal apocalypse.
Naked's remastering in 4K took place under the full supervision of cinematographer on every Leigh film since 1990, Dick Pope, and was approved by Mike Leigh. Scanning of the original camera negative and the magnetic track master was carried out at the BFI National Archive's Conservation Centre. Colour grading is based on the original bleach bypass process, referring to a contemporary release print held in the BFI's collections. The 4K remastering of Nakedreceived its world premiere at the 2021 BFI London Film Festival. It opens for an extended run at BFI Southbank on 12 November with a sold out screening and Q&A with Mike Leigh, David Thewlis and Lesley Sharp taking place on Saturday 13 November in NFT1.
BLU-RAY FEATURES:
Newly remastered in 4K by the BFI National Archive under the supervision of cinematographer Dick Pope and approved by Mike Leigh
Audio commentary with Mike Leigh, David Thewlis and Katrin Cartlidge
The Short & Curlies (1987, 18 mins): Mike Leigh's short film starring Alison Steadman and David Thewlis centres on a hairdresser and her daughter and the romance between a woman who works in a chemist and a man who mainly communicates through jokes 
Mike Leigh and Dick Pope on Naked (2021, 26 mins): newly recorded interview with Mike Leigh and his long-time cinematographer
The Guardian Interview: Mike Leigh (2002, 45 mins): the director is interviewed by film critic Derek Malcolm at the National Film Theatre
Image gallery
Trailer (2021)
***First pressing only*** Illustrated booklet with new writing on the film by Caitlin Quinlan and Lou Thomas and notes on the special features
You can read Slarek's review of the US Criterion DVD release of Naked here.