Arrow Video's January films include a fantastic crime drama starring Warren Oates in the shape of John Milius's Dillinger; the gloriously gruesome Stephen King adaptation The Mangler from Master of Horror, Tobe Hooper; Mario Bava's final frightener, Shock; exceptional Japanese war drama, Red Angel; and Sleep, a debut horror from a unique new talent in a fantastic limited edition.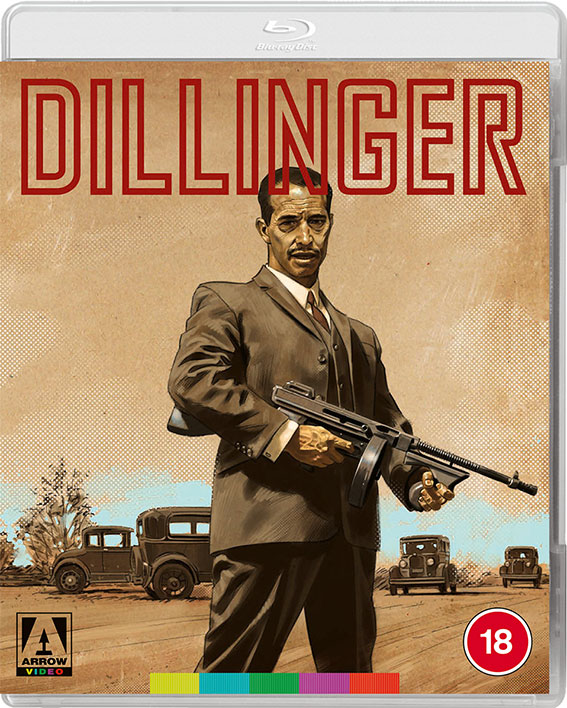 DILLINGER (USA 1973) | Blu-ray | 3 January 2021 | £24.99
The runaway success of Bonnie and Clyde in 1967 proved massively influential: it made stars of Faye Dunaway and Warren Beatty, introduced a new form of violence to the movies, and inspired a stream of imitators, including Roger Corman's Bloody Mama, Martin Scorsese's Boxcar Bertha and the directorial debut of John Milius, Dillinger.
Milius presents John Dillinger as an almost mythical figure, tracing the rise and fall of the depression era's Public Enemy Number One as he takes on the banks and the G-men, led by the infamous Melvin Purvis.
Starring Sam Peckinpah favourites Warren Oates and Ben Johnson as Dillinger and Purvis, and with a supporting cast including Harry Dean Stanton, Richard Dreyfuss and Michelle Phillips of the Mamas and the Papas, Dillinger is a top-drawer gangster picture: explosive, stylish and hugely entertaining.
SPECIAL EDITION BLU-RAY CONTENTS:
2K restoration of the film from original film materials
High Definition (1080p) Blu-ray presentation 
Original uncompressed PCM mono audio
Optional English subtitles for the deaf and hard of hearing
Audio commentary by Stephen Prince, author of Savage Cinema and Screening Violence 
Shooting Dillinger, an interview with director of photography Jules Brenner
Original Gangster, an interview with producer Lawrence Gordon 
Ballads and Bullets, an interview with composer Barry De Vorzon 
Stills gallery 
Theatrical trailer 
Reversible sleeve featuring original and newly commissioned artwork by Sean Phillips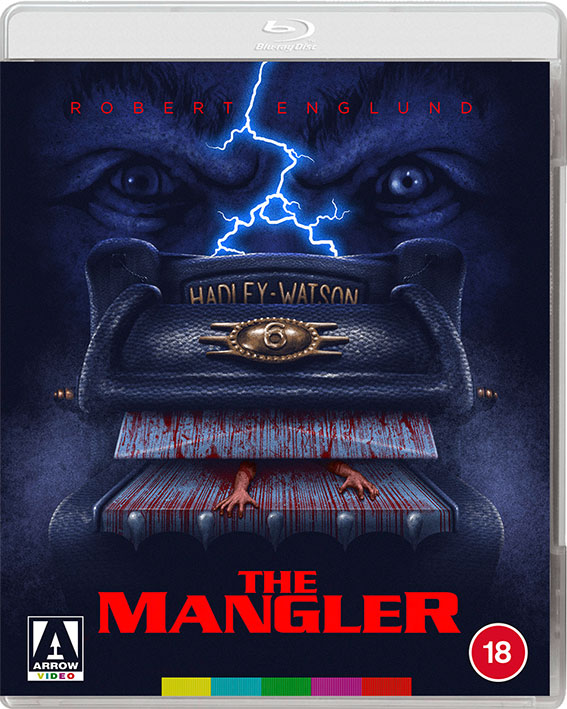 THE MANGLER (South Africa | UK 1995) | Blu-ray | 10 Jamuary 2021 | £24.99
Master of Horror Tobe Hooper (The Texas Chain Saw Massacre, Salem's Lot, Life Force) returns to the works of Stephen King with this baroque and blackly comic adaptation of The Mangler.
When a worker at Gartley's Blue Ribbon Laundry is pulled into the titular laundry press and folded like a sheet, police officer John Hunton (Ted Levine, Silence of the Lambs) is called to investigate. Was it an accident, or is something more sinister going on? As more deaths and injuries occur under the watchful eye of owner Bill Gartley (Robert Englund), Hunton, with his demonologist brother-in-law Mark Jackson (Daniel Matmoor) come to believe the machine might be possessed, and the town itself to be hiding a much deeper secret. 
Like an EC horror comic come to life, The Mangler is bold, brash and politically aware as Hooper once again points his camera at the American Nightmare, this time turning it on the bloodthirsty machinery of capitalism itself! 
SPECIAL EDITION BLU-RAY CONTENTS:
High Definition Blu-ray (1080p) presentation from a 2K restoration
Lossless DTS-HD MA 5.1 and 2.0 stereo audio 
Optional English subtitles for the deaf and hard of hearing 
Brand new audio commentary by critics Alexandra Heller-Nicholas and Josh Nelson 
Brand new audio commentary by critics and self-confessed 'Manglophiles' Matty Budrewicz and Dave Wain 
Audio commentary by co-writer Stephen David Brooks
Nature Builds No Machines, a brand new visual essay by Scout Tafoya, author of Cinemaphagy: the Films of Tobe Hooper 
This Machine just Called Me an Asshole!, a brand new visual essay by author and critic Guy Adams on the monstrous life of inanimate objects in the work of Stephen King 

Gartley's Gambit, an archival interview with star Robert Englund
Behind the Scenes footage 
Theatrical Trailer 
Reversible sleeve with original and newly commissioned artwork by Adam Rabelais
FIRST PRESSING ONLY: Fully illustrated collector's booklet featuring new writing by Michael Gingold, Johnny Mains and Henry Blyth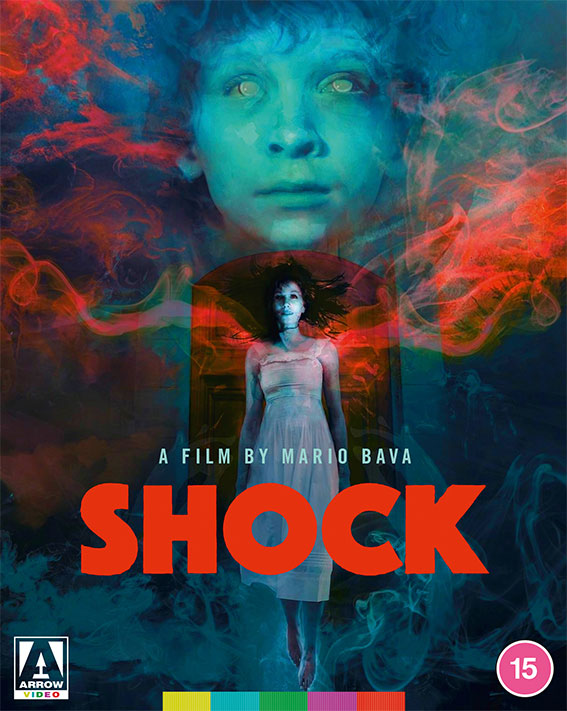 SHOCK [SCHOCK] (Italy 1977) | Blu-ray | 17 January 2021 | £24.99
In a career spanning four decades and encompassing virtually every genre under the sun, Mario Bava inspired multiple generations of filmmakers, from Dario Argento to Martin Scorsese and Tim Burton. Best remembered for his gothic horror movies, for his final feature, Shock, he eschewed the grand guignol excesses of Black Sabbath or Blood and Black Lace for a more intimate portrait of mental breakdown in which true horror comes from within.
Dora (Daria Nicolodi, Deep Red) moves back into her old family home with her husband, Bruno (John Steiner, Tenebrae), and Marco (David Colin Jr., Beyond the Door), her young son from her previous marriage. But domestic bliss proves elusive as numerous strange and disturbing occurrences transpire, while Dora is haunted by a series of nightmares and hallucinations, many of them involving her dead former husband. Is the house itself possessed? Or does Dora's increasingly fragile grip on reality originate from somewhere far closer to home?
Released in the United States as a sequel to Ovidio G. Assonitis's Beyond the Door, Shock more than lives up to its name, proving that, even at this late stage in his career, Bava hadn't lost his touch for terror. Now restored in high definition for the first time, the Maestro of the Macabre's chilling swansong disturbs like never before in this feature-laden release from Arrow Video.
SPECIAL EDITION BLU-RAY CONTENTS:
High Definition Blu-ray (1080p) presentation 
Brand new 2K restoration from the original 35mm camera negative by Arrow Films 
Original Italian and English front and end titles and insert shots 
Restored original lossless mono Italian and English soundtracks 
Newly translated English subtitles for the Italian soundtrack
Optional English subtitles for the deaf and hard of hearing for the English soundtrack 
New audio commentary by Tim Lucas, author of Mario Bava: All the Colors of the Dark
A Ghost in the House, a new video interview with co-director and co-writer Lamberto Bava 
Via Dell'Orologio 33, a new video interview with co-writer Dardano Sacchetti
The Devil Pulls the Strings, a new video essay by author and critic Alexandra Heller-Nicholas 
Shock! Horror! – The Stylistic Diversity of Mario Bava, a new video appreciation by author and critic Stephen Thrower 
The Most Atrocious Tortur(e), a new interview with critic Alberto Farina 
Italian theatrical trailer
4 US "Beyond the Door II" TV spots
Image gallery
Reversible sleeve featuring original and newly commissioned artwork by Christopher Shy
FIRST PRESSING ONLY: Illustrated collector's booklet featuring new writing on the film by Troy Howarth, author of The Haunted World of Mario Bava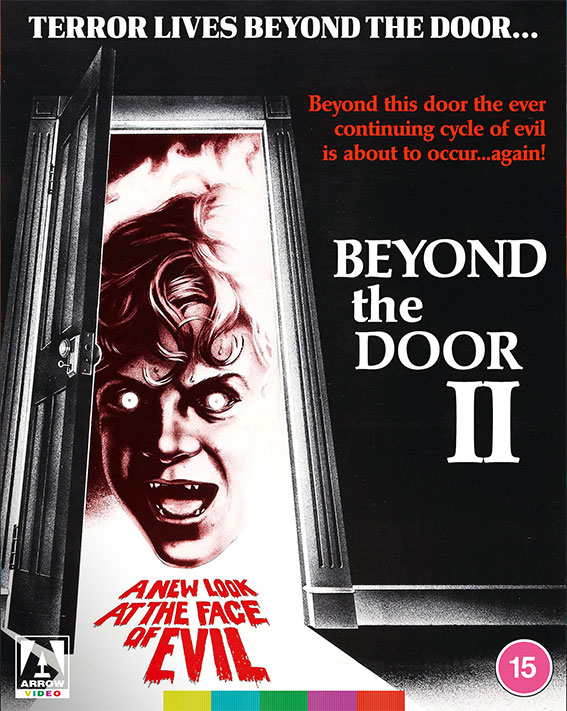 Shock will also be released with an alternate Beyond the Door II O-Card as an Arropw Store exclusive, also at the rRP of £24.99.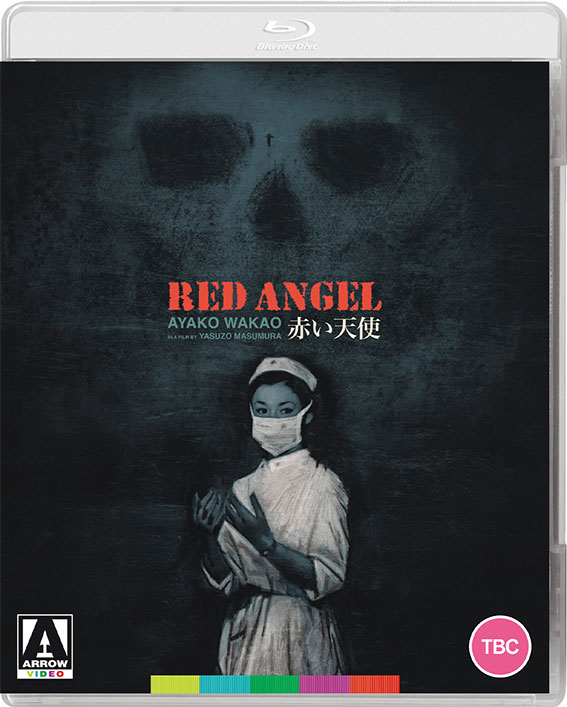 RED ANGEL [AKAI TENSHI] (Japan 1966) | Blu-ray | 17 January 2021 | £24.99
Directed by Yasuzo Masumura (Giants and Toys, Blind Beast), Red Angel takes an unflinching look at the horror and futility of war through the eyes of a dedicated and selfless young military nurse.
When Sakura Nishi is dispatched in 1939 to a ramshackle field hospital in Tientsin, the frontline of Japan's war with China, she and her colleagues find themselves fighting a losing battle tending to the war-wounded and emotionally shellshocked soldiers while assisting head surgeon Dr Okabe conduct an unending series of amputations. As the Chinese troops close in, she finds herself increasingly drawn to Okabe who, impotent to stall the mounting piles of cadavers, has retreated into his own private hell of morphine addiction.
Adapted from the novel by Yorichika Arima, Masumura's harrowing portrait of women and war is considered the finest of his collaborations with Ayako Wakao (A Wife Confesses, Irezumi) and features startling monochrome scope cinematography by Setsuo Kobayashi (Fires on the Plain, An Actor's Revenge).
SPECIAL EDITION BLU-RAY CONTENTS:
High Definition Blu-ray (1080p) presentation
Original uncompressed Japanese mono audio
Optional English subtitles
Brand new audio commentary by Japanese cinema scholar David Desser
Newly filmed introduction by Japanese cinema expert Tony Rayns
Not All Angels Have Wings, a new visual essay by Jonathan Rosenbaum
Original Trailer
Image Gallery
Reversible sleeve featuring original and newly commissioned artwork by Tony Stella
FIRST PRESSING ONLY: Illustrated booklet featuring new writing by Irene González-López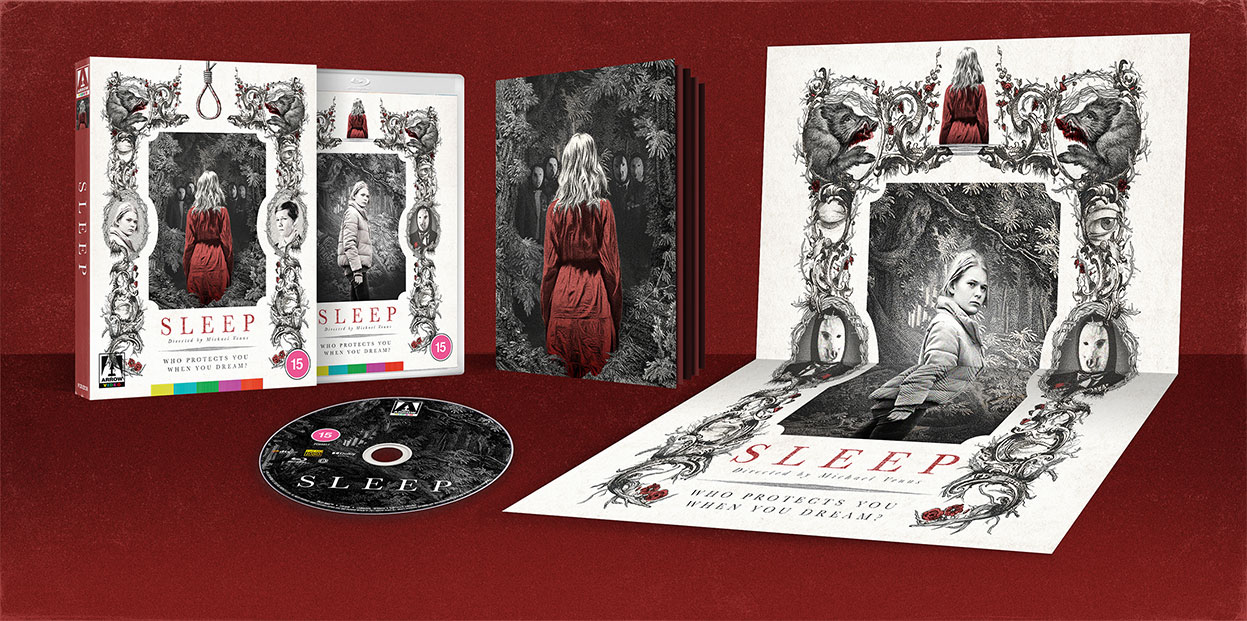 SLEEP [SCHLAF] (Germany 2020) | Limited Edition Blu-ray | 24 January 2021 | £24.99
Nightmare and trauma. Fear and repression. Guilt and atonement. Weaving together the emotional violence of horror with the cryptic motifs of German folk and fairy tales, Arrow Video presents Sleep, the debut feature from a major new talent in world cinema.
Tormented by recurring nightmares of a place she has never been, Marlene (Sandra Hüller, Requiem) cannot help but investigate when she discovers the place is real. Once there, she suffers a breakdown and is admitted to a psychiatric ward. Determined to discover what happened to her, Mona (Gro Swantje Kohlhof), her daughter, follows and finds herself in Stainbach, an idyllic village with a dark history. What is it that so tormented her mother, and the people of Stainbach? What is the source of the nightmares she suffers? And who is the mysterious Trude that lives in the forest?
Richly conceived and confidently told, director Michael Venus draws influence from Mario Bava, David Lynch, Franz Kafka and the Brothers Grimm, but his voice is uniquely his own. As invested in substance and story as he is in style, Venus claws his way down to the roots of what haunts a people, a community, a nation and comes up screaming.
"Will definitely keep you up at night" - Joey Keough, Wicked Horror
LIMITED EDITION BLU-RAY CONTENTS:
High Definition Blu-Ray (1080p) presentation
Original DTS-MA 5.1 audio
Optional English subtitles
Audio commentary by film critic and historian Kim Newman & author Sean Hogan
A Dark Strange Magic, a visual essay by film scholar Alexandra Heller-Nicholas
Sleepwalking through National Trauma, a visual essay by film critic Anton Bitel
Dream & Folktale in Sleep, an interview with anthropologist, dream researcher, and filmmaker Louise S. Milne 
This is No Dream, a short introduction by director Michael Venus and star Gro Swantje Kohlhof
Talking in their Sleep, director Michael Venus and star Gro Swantje Kohlhof in conversation 
A Dream We Dream Together, a compilation of film festival introductions created during lockdown by director Michael Venus and the cast of Sleep 
Making Dreams Come True, a glimpse behind the scenes of Sleep 
Four deleted scenes 
Marlene's Sketches, explore the many obsessive dream journal sketches that are only glimpsed in the film, created by artist Christoph Vieweg, presented here in full 
Trailer
Image Gallery
Reversible sleeve featuring original and newly commissioned artwork by Oink Creative 
Illustrated collector's booklet featuring new writing by Alison Peirse, an interview with director Michael Venus, and Brothers Grimm fairy tale "Frau Trude"
Double-sided fold-out poster featuring newly commissioned artwork by Oink Creative