After BFI Flipside's Short Sharp Shocks Vol. 1 became of the BFI's best-selling Blu-ray releases of 2020, we raided the archives again! Return once more to the heyday of the supporting programme with a second cornucopia of eerie, eccentric and edgy short films.
This strange cinematic journey traverses uncanny stories, twists in the tale, low-budget weirdness, stylish spectacle, peculiar public information, monstrous music and provocative experiment – all with oodles of atmosphere, and in High Definition too. Plus there are new interviews with some of the writers and directors. The films and special features are:
QUIZ-CRIME NO 1 Ronald Haines, 1943
Can you beat master sleuth Detective Inspector Frost at his own game? Take his vintage whodunit test, in the case of the golfing-holiday murder and the affair of the slain showgirl. 
QUIZ-CRIME NO 2 Ronald Haines, 1944
'Everyone likes a detective story,' chuckles the Detective Inspector. But can you crack the cases of kidnap in the Soho backstreets and a bloodily botched boarding house murder? 
THE THREE CHILDREN 1946
The public information film takes an eerie turn in this disquieting child-peril frightener crafted to unsettle neglectful post-war parents. 
ESCAPE FROM BROADMOOR John Gilling, 1948
An insane killer is on the run (Dad's Army's John Le Mesurier in an edgy early role) in this weird, torn-from-the-headlines thriller by John Gilling (The Plague of the Zombies).
MINGOLOO Theodore Zichy, 1958
A clockwork dog with a sinister secret haunts the dreams of all who see it. What is the nightmarish answer to its riddle?
JACK THE RIPPER WITH SCREAMING LORD SUTCH, 1963
Joe Meek-produced rock'n'roll and tasteless Hammer-inspired theatrics collide in a bloodcurdling proto-music video.
THE FACE OF DARKNESS Ian FH Lloyd, 1976
A politician (Lennard Pearce, Only Fools and Horses) out to reinstate the death penalty stirs a malignant medieval spirit.
THE DUMB WAITER Robert Bierman, 1979
A woman (Geraldine James, Beast) receives a mysterious phone call, beginning a night of knife-edge terror in this debut shocker from the director of cult favourite Vampire's Kiss.
HANGMAN David Evans, 1985
Industrial accidents are presented with graphic glee by a mysterious masked executioner, who seems to enjoy his work, in a video nasty-era public information film like no other.
THE MARK OF LILITH Bruna Fionda, Polly Biswas Gladwin, Zachary Nataf 1986
Black lesbian filmmaker Zena becomes involved with Lillia, a white undead wraith in a radical dismantling of the cinematic vampire mythos.
The Blu-ray will be launched with a special screening at BFI Southbank on Wednesday 27 October at 18:10 in NFT1 where The Face of Darkness, The Dumb Waiter and The Mark of Lilith will be shown. See www.bfi.org.uk/southbank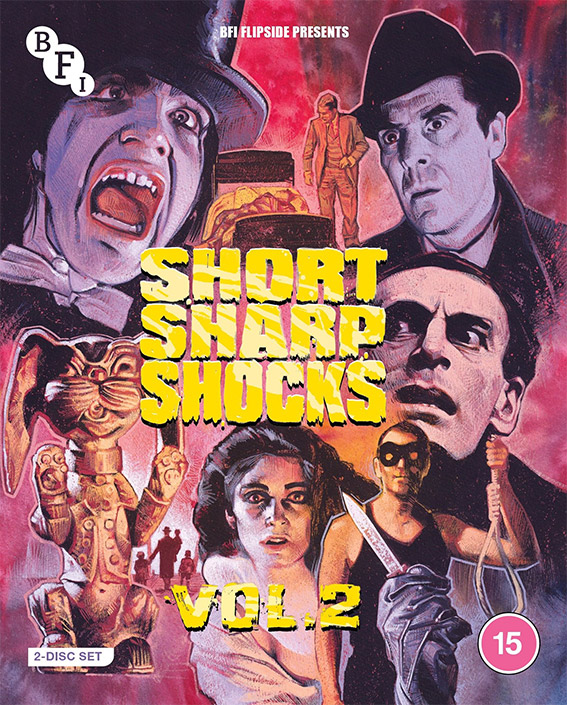 Short Sharp Shocks Vol. 2 will be released as a 2-disc Blu-ray set by the BFI on 25 October 20212 at the RRP of £24.99.
SPECIAL FEATURES:
Darkness Falls 

(2021, 43 mins): an interview with The Face of Darkness writer and director Ian FH Lloyd

Heads Will Roll 

(2021, 40 mins): an interview with The Dumb Waiter writer and director Robert Bierman 

Making Their Mark 

(2021, 33 mins): an interview with The Mark of Lilith directors Bruna Fionda, Polly Biswas Gladwin and Zachary Nataf

Puttin' on the Ritzy 

(2021, 13 mins): Ritzy alumnus Clare Binns celebrates the radical history of the legendary London cinema where The Mark of Lilith was shot
Image galleries for The Face of Darkness, The Dumb Waiter and The Mark of Lilith 

Newly commissioned sleeve artwork by renowned illustrator Graham Humphreys

***First pressing only*** Illustrated booklet with 

contributions from filmmakers Ian FH Lloyd and Robert Bierman and other writing from Vic Pratt, William Fowler, Josephine Botting, Jon Dear, Jonathan Rigby and Caroline Champion; 

notes and credits for each film and for the special features