Directed by Don Siegel (Dirty Harry), Invasion of the Body Snatchers was a milestone of science fiction that tapped into the paranoia and uncertainty of its times to present a chilling critique of post-war American society and remains an enduring and suspenseful classic.
When multiple residents of a Californian town begin to suffer from identical frenzied delusions, Dr Miles Bennell (Kevin McCarthy) suspects the community is in the grip of a new kind of epidemic. But his investigations soon reveal the terrifying truth, uncovering not a medical emergency but a hidden extra-terrestrial invasion that threatens mankind's very existence.
The film is being presented on Blu-ray for the first time in the UK, with a huge range of contextualising extras, fans can experience the thrills and horrors of this highly influential movie like never before.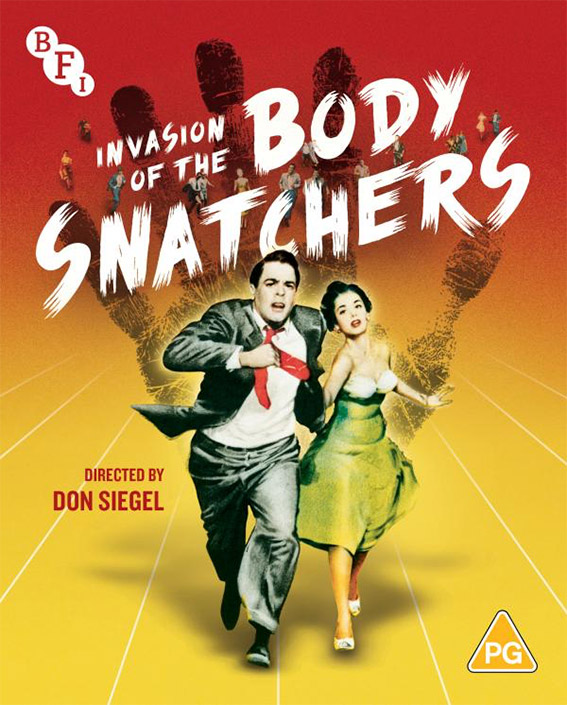 Invasion of the Body Snatchers will be released on Blu-ray in the UK by the BFI on 25 October 2021, just in time for Halloween, at the RRP of £22.99.
BLU-RAY FEATURES:
Presented in High Definition

Newly recorded audio commentary by filmmaker and critic Jim Hemphill (2021)

50th anniversary commentary with stars Kevin McCarthy and Dana Wynter, and Gremlins director Joe Dante (2006)

John Player Lecture: Don Siegel 

(1973, 75 mins, audio only): Don Siegel looks over his career with Barry Norman

Sleep No More: Invasion of the Body Snatchers Revisited 

(2006, 27 mins): a look at Body Snatchers' production history

The Fear and The Fiction: The Body Snatchers Phenomenon 

(2006, 8 mins): considering the film's themes and critical interpretations

What's in a Name?

 (2006, 2 mins): how the Invasion got its title

Return to Santa Mira

 (2006, 13 mins): key locations and the film's production design are explored

A selection of complementary archive shorts, with British propaganda short Doorstep to Communism (1948, 11 mins) and groundbreaking botanical cinematography in Magic Myxies (1931, 11 mins) and Battle of the Plants (1926, 11 mins)

Original theatrical trailer

Trailers From Hell: Invasion of the Body Snatchers 

(2013, 3 mins): Body Snatchers fan Joe Dante celebrates the film

Gallery

***First pressing only*** Illustrated booklet with new writing on the film by Dr Deborah Allison, an archival feature by J Hoberman from Sight and Sound, May 1994, a biography of Don Siegel by Charlie Bligh and notes on the special features.
Pre-order from the BFI Shop here.