From Marco Ferreri, perhaps best known for the wildly sensational satire, La Grande Bouffe, CultFilms presents one of the director's earliest and most controversial films, The Ape Woman [La donna scimmia] (1964).
The Ape Woman is based on the true story of 19th-century carnival performer Julia Pastrana. In Ferreri's film, an extraordinary Annie Girardot delivers an elegant and devastating performance as Maria 'the ape woman', a covent scullery maid whose body is covered in hair, from head to toe. Her life is uprooted when an unscrupulous hustler (Ugo Tognazzi), discovers and marries her in order to get her on the freak show circuit and cash in on her distinctive appearance.
Deemed too challenging for the 1964 Cannes Film Festival, an alternative 'happy' ending was created for the festival that eventually went on to pick up a Palme d'Or nomination that year. For this world first ever Blu-ray release, CultFilms presents Ferreri's own original edit now shown complete and uncut, finally doing justice to the director's condemned vision as well as the longer, alternative ending made for Cannes, both restored in 4K for the Venice Film Festival in 2017.
Pre-dating David Lynch's The Elephant Man, The Ape Woman is a powerful and personal film, which Ferreri said expresses his 'anger towards society', and stands as a hilarious and grotesque satire condemning the exploitative nature of a patriarchal system. In 2013, after a long campaign, artist Laura Anderson Barbata finally obtained permission and organised the repatriation of Pastrana's body to her native Mexico where she was finally laid to rest, 153 years after her death.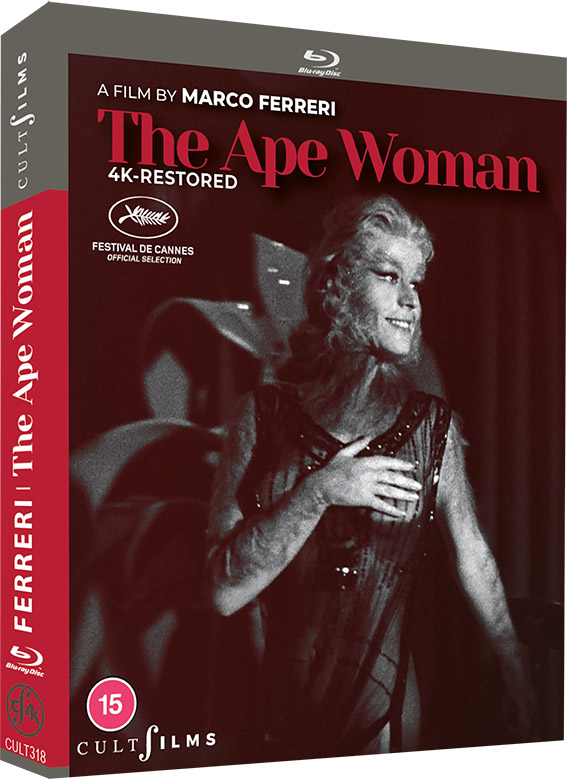 The Ape Woman will be released on UK Blu-ray by CultFilms on 11 October 2021 from a new 4K restoration, priced at £17.50 if you pre-order directly from CultFilms.
BLU-RAY SPECIAL FEATURES:
An exclusive 90-minute documentary on Marco Ferreri featuring Gerard Depardieu, Philippe Noiret, Christopher Lambert and Ornella Muti