Studiocanal today announce three new special editions of Terminator 2: Judgement Day in celebration of the 30th Anniversary of James Cameron's Academy Award winning Sci-Fi thriller which cemented Arnold Schwarzenegger's status as action royalty, and created a new archetype for action heroines in Linda Hamilton's role as Sarah Connor.
James Cameron's epic action, sci-fi masterpiece starring Arnold Schwarzenegger in his most iconic role, first hit cinema screens in 1991, 30 years later Terminator 2 is still considered one of the greatest action blockbusters of all time.
It has been 10 years since the events of Terminator. Sarah Connor's ordeal is only just beginning as she struggles to protect her son John, the future leader of the human resistance against the machines, from a new Terminator, T1000 sent back in time to eliminate John Connor while he's still a child. Sarah and John don't have to face this terrifying threat alone however. The human resistance have managed to send them an ally, a warrior from the future ordered to protect John Connor at any cost. The battle for tomorrow has begun…
Three new editions will be launched including a limited-edition Endo Skull set, a new Vinyl edition, including Brad Fiedel's masterful Original Motion Picture Soundtrack on Vinyl, as well as a new Steelbook edition.  All three editions showcase the new artwork created by celebrated American artist, Tracie Ching. The editions will be released on 6 December 2021.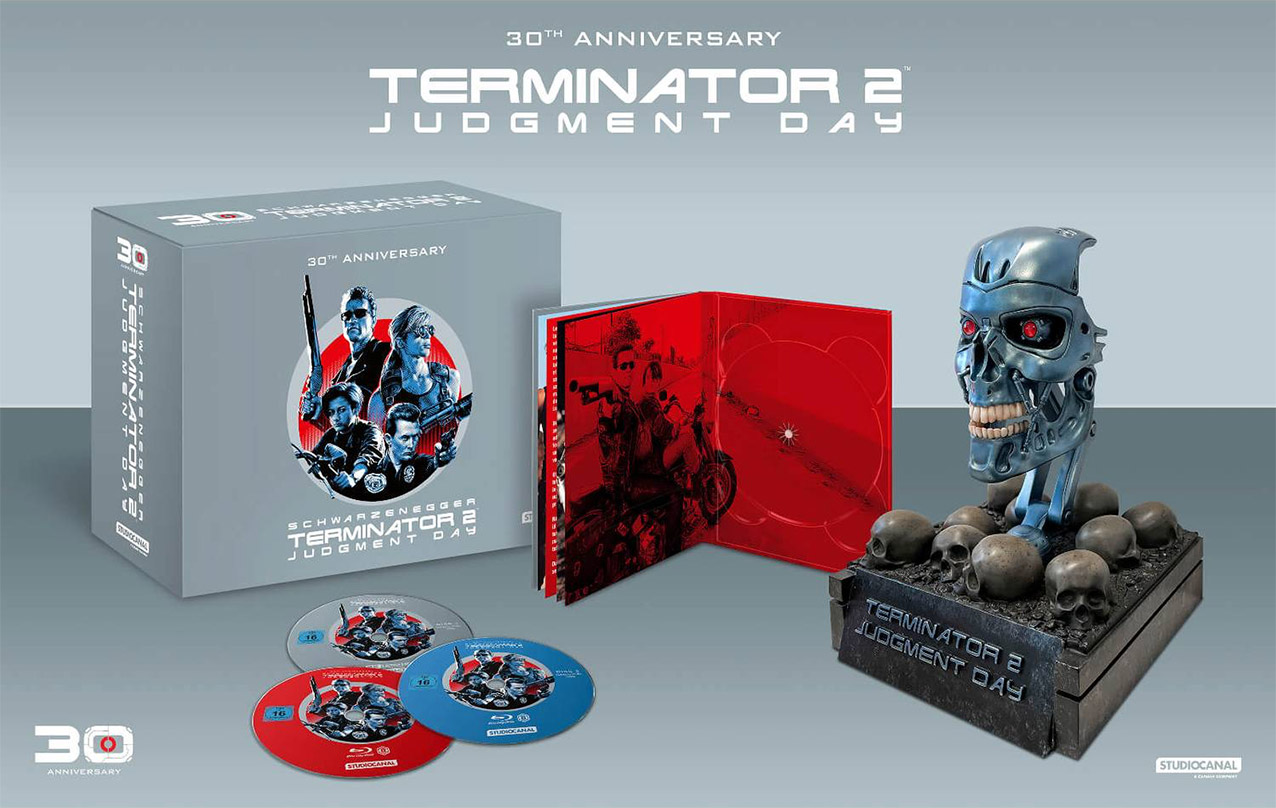 TERMINATOR 2: JUDGEMENT DAY – ENDO SKULL LIMITED EDITION (Zavvi Exclusive)
3 Discs: UHD, Blu-Ray & Blu-Ray 3D | Limited to 1100 Units | £149.99
SPECIAL FEATURES:
Booklet
T2: Reprogramming The Terminator documentary (including exclusive interviews with James Cameron, Arnold Schwarzenegger, Edward Furlong and many more) – 55 mins 
2 Feature Commentaries; 23 Members of Cast & Crew (1993)/Director James & Co-Author William Wisher
The Making of T2 (1993) 
Seamless Branching Of The Theatrical Version (137 mins approx.) 
Special Edition Version (154 mins approx.) 
Extended Special Edition Version (156 mins approx.) 
2 Deleted Scenes With Audio Commentary
Trailers – T2:3D (2017)
T2 Theatrical Trailer 'This Time There Are Two'/'Same Make New Mission'/'Building The Perfect Arnold
Endo Skull Sculpture Specifications:
Height: 28.9cm with base
Weight: 13.5kg
Box size: 458mm x 307 x 170mm
Limited to 1100 in the UK all sculptures will be numbered
The discs will sit in a digipack inserted into the base of the skull.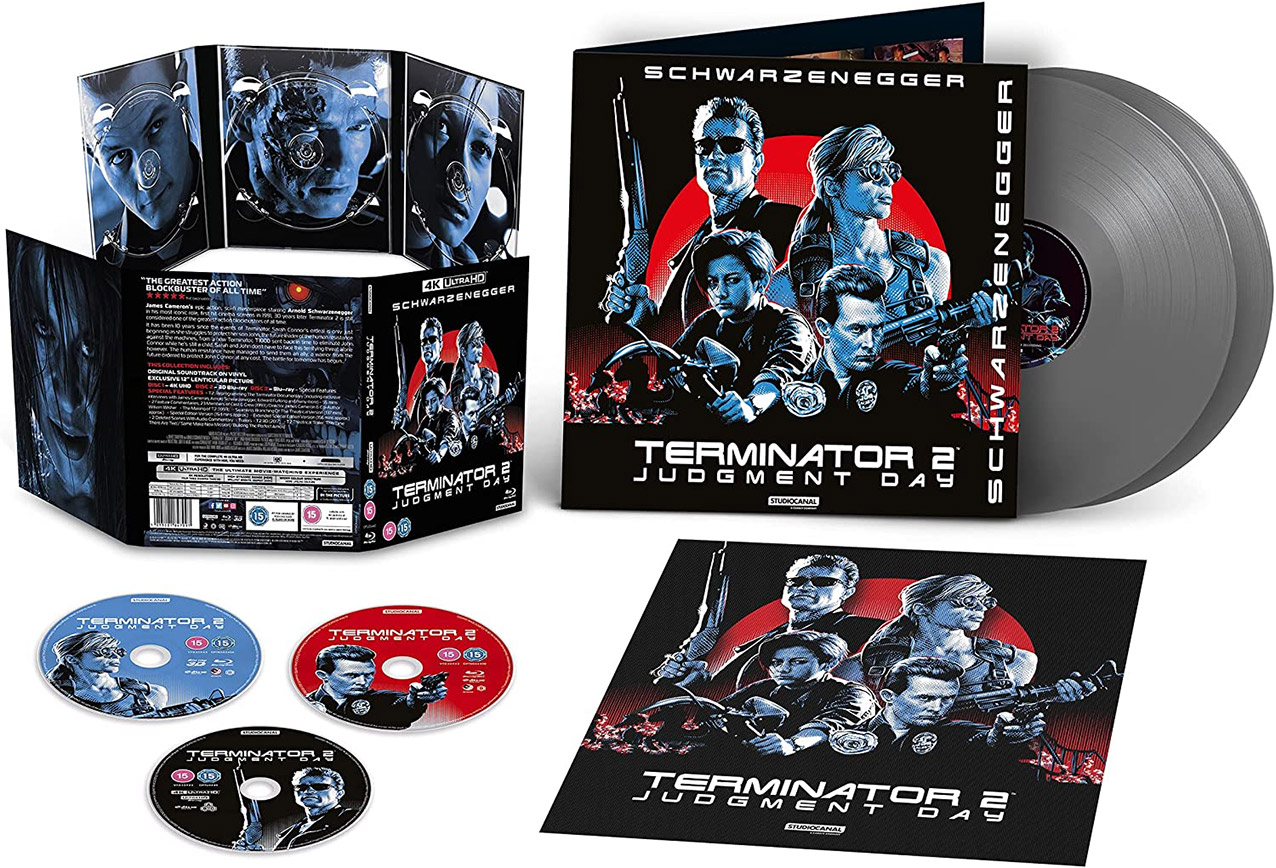 TERMINATOR 2: JUDGEMENT DAY – VINYL EDITION
3 Discs: UHD, Blu-Ray & Blu-Ray 3D | Includes vinyl soundtrack and 12" lenticular picture | £60
SPECIAL FEATURES:
T2: Reprogramming The Terminator documentary (including exclusive interviews with James Cameron, Arnold Schwarzenegger, Edward Furlong and many more) – 55 mins 
2 Feature Commentaries; 23 Members of Cast & Crew (1993)/Director James & Co-Author William Wisher
The Making of T2 (1993) 
Seamless Branching Of The Theatrical Version (137 mins approx.) 
Special Edition Version (154 mins approx.) 
Extended Special Edition Version (156 mins approx.) 
2 Deleted Scenes With Audio Commentary
Trailers – T2:3D (2017)
T2 Theatrical Trailer 'This Time There Are Two'/'Same Make New Mission'/'Building The Perfect Arnold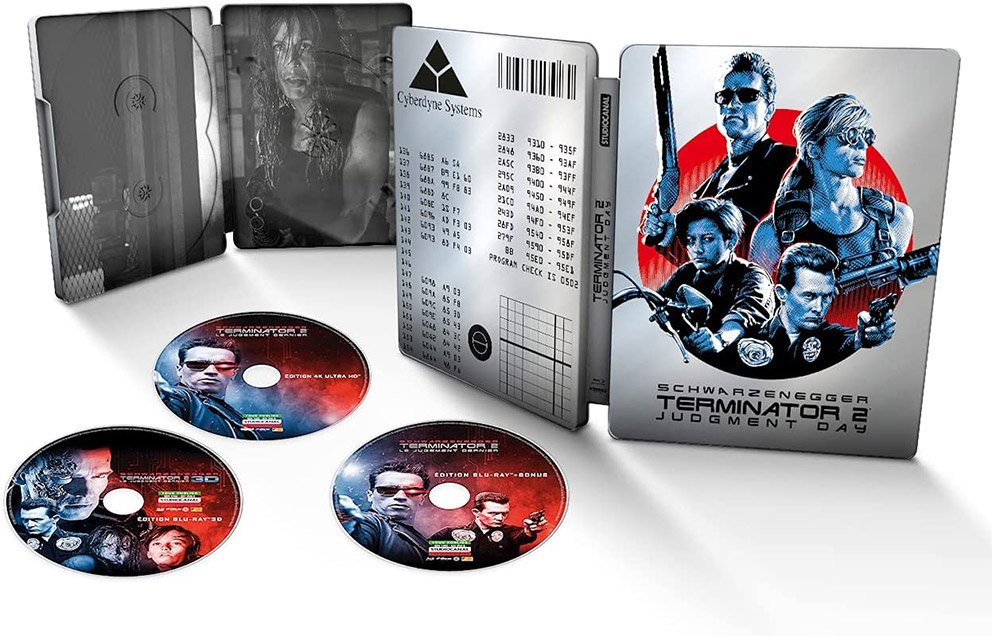 TERMINATOR 2: JUDGEMENT DAY – STEELBOOK EDITION
3 Discs: UHD, Blu-Ray & Blu-Ray 3D | RRP yet to be confirmed
SPECIAL FEATURES:
T2: Reprogramming The Terminator documentary (including exclusive interviews with James Cameron, Arnold Schwarzenegger, Edward Furlong and many more) – 55 mins 
2 Feature Commentaries; 23 Members of Cast & Crew (1993)/Director James & Co-Author William Wisher
The Making of T2 (1993) 
Seamless Branching Of The Theatrical Version (137 mins approx.) 
Special Edition Version (154 mins approx.) 
Extended Special Edition Version (156 mins approx.) 
2 Deleted Scenes With Audio Commentary
Trailers – T2:3D (2017)
T2 Theatrical Trailer 'This Time There Are Two'/'Same Make New Mission'/'Building The Perfect Arnold